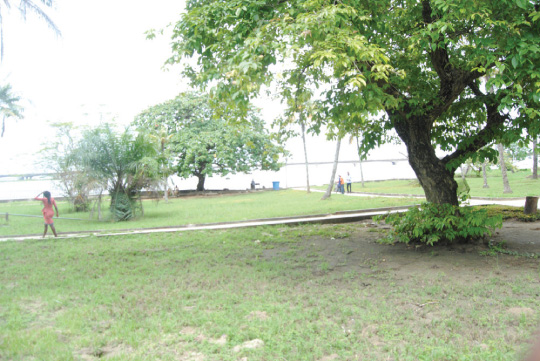 SATURDAY VINTAGE 
Ferdinand Ekechukwu recently visited the University of Lagos Waterfront and writes that it's an untapped tourism destination
The University of Lagos waterfront is a major tourist attraction to the university community. Its tranquil setting explores natural ambience. The inspiration that flows from the place is wistful. On a usual day, a good number of people visit it for various reasons. Being one of the most popular leisure spots at the campus, students come there to read, some on romantic picnics, while others for adventurous and licentious trysts. Yet some traverse there just to meditate on their academic misfortunes and woes.
Prosper Okeke who has been there five times this semester said: "Because of the trees and the natural ambience, it's actually a cool place to come and relax. Most students come here to think of worries. Like now, I came here actually (sighs) because I just wrote a test and I saw the test score was very bad."
People, young and old, children, from within and beyond the university; Akoka and its environs are patrons. For most first time callers to the school, the waterfront is the major attraction that easily comes to their minds. Relatively a safe location depending on the time of visit, it is not unusual to find people at the edge of the lagoon for one reason or the other due to its idyllic ambience. On any visit here, one is likely to meet motley of friends playing, relaxing or sightseeing. Crab holes litter the surroundings. Trees of various kinds dot the place.  For Alex Okwuaku, whose last visit was five years ago, the place is okay but could be better with more recreational facilities.
"I actually grew up around this area. So I come here when we were young. I remember the time when we were crazy about crabs; you know, trying to hunt for crabs and stuffs like that. I don't know about the younger generation but I think I don't hear much about the story when people say 'we are going to Lagoon Front'. Even then, those who were not in school were crazy about coming to the spot. For now, within the younger folks, except for people that are in Unilag or people within the area, I don't see that urge to come here again.
"But what it is offering me is probably just the Lagoon Front and the calmness of the place. I could do more here if I have some facilities other than just looking at the lagoon and relaxing. If they put those things in place even if it has to be revenue driven, they can turn it into a big park."      
People having a feel of the evening breeze or simply enjoying the ocean views from the shores of the Lagoon Front are regulars at this site. Notable as spot for picnics, pictures and meditation, hence day-trippers, couples, young lovers and photographers are always here for one social engagement or activity at different spots under the coconut trees. The erstwhile Lagoon Front, now Unilag Waterfront provides a landscape view of the third mainland bridge, said to be the longest bridge in Africa. Its prime view from the lagoon and its serene atmosphere gives a sprawling overview of the bridge with automobiles on speed. "It's mostly serene, calm, cool breeze and nothing much… and yes the quietness", reckons Olatunji Moses, 300 level Law students who visit twice weekly.
He says, "Anytime I come here, I get to do what I want to do so fast and so easily. And inspirations like that pop in. Everybody here is doing their thing seated in every angle depending on their mission here. Majorly students but sometimes, the art people come here; outsiders too come here to do pre-wedding photo shoot, birthday photo shoot and stuffs like that. Sometime ago, I think I saw Gabriel Afolayan come here and they shot some videos with some other actors. Yea I think there should be some renovations and stuffs; there should be enough chairs for people to sit and do stuffs. I think it's somehow dirty. So if there are some sorts of innovations as regards the cleanliness and other stuffs, it will be more befitting to come over here."
During a recent visit, scores of students were seen in groups. There was a group of boys discussing while smoking at the left end near the wall that borders the lagoon and the Unilag Guest House. Just at the extreme part was another group of a Muslim society identified with the hijab. Apparently, they were observing their weekly ritual in a peaceful manner. Another set of final year students from Banking and Finance department were there for a photo shoot, preparatory for their year book and complemented by the presence of some budding artistes who were rehearsing songs.
At the  extreme right of the lagoon front were a group of Christians in a prayer session. From a distance, one could hear them chant religious songs while clapping and praising God. There were also the studious students seen in groups reading in what seems like a last minute revision for their impending exams. They barely have five weeks to the end of session. Others were just lounging and idling away their time in frivolous discussion as observed. There were also pupils from the university's foundation school on excursion, guided by their teachers.
Although transportation by boat or canoe has been prohibited around the vicinity, one observed a canoe brought in a student from the Bariga, Oworonshoki axis despite the notice that cautions canoe operators. The seawaters clap gently against the stoppers, the atmosphere is one of cool breeze. The barricade by some parts of the shoreline has gone off. Empty plastic water bottles and other garbage pushed in by the waves littered the waterfront.  The large rubber waste bins put at strategic points there are as good as useless.
There were officers of the works and physical planning department of the school seen around the location. One of them claimed the place was being cleaned daily. However,  the overgrown weed covering large expanse of the area put paid to the claim as that appears far from the truth. From all indications, the place lacks proper maintenance. The structures there seem abandoned. Broken slabs here and there, most of the walkways that network the footpaths are unkempt, and the security posts in a shabby and derelict state. Once it is getting dark, visitors are quick to leave.
The last time the area was given a serious facelift was in 2008 during the tenure of Prof. Tolu Odugbemi. Further attempts to dignify the area recently, during the schools golden jubilee, have added to the near ruins that lie at the place. Like the multimillion naira Waterfront Fountain which has remained fallow since it was constructed and the University of Lagos 50th Anniversary Park facilitated by late Deacon Gamaliel Onosode, the Pro-Chancellor and Chairman of Council 2009 – 2013. Interestingly, the Unilag Waterfront is akin to Whispering Palms at Badagry which was designed and beautified by a former vice chancellor of the school, Professor Deji Femi Pearse.
To Dr. Patrick Okpah, who with his family, was incidentally among picnickers met during the time of this report, "I have seen this as a major relaxation spot. I was told that there were efforts concerning this with respect to the guest house, the swimming pool and this axis. But I would rather say that this has the potential to become the major tourist attraction on the Lagos mainland. So much can happen here. Even as we speak now, families are here, people are playing, people are reading, people are praying too.
"So, I want to say it's a place where people can have time by the lagoon front which also means that a lot of possible boat cruise and others can happen here. I am somebody who is passionate about tourism potentials of every location I am….and knowing that this is one of the closest to my neighbourhood, I know that I have made personal enquiries and efforts, I can tell you that, and I'm aware that it's a process."
Is there any plan by the school authority towards revamping the place and making it befitting to boost the tourism potential of the Waterfront? Director of Works and Physical Planning, Unilag, Dr. E A Adeniran, was not on seat to respond to this question.
PIX: Unilag.jpg and Unilag.1.jpg