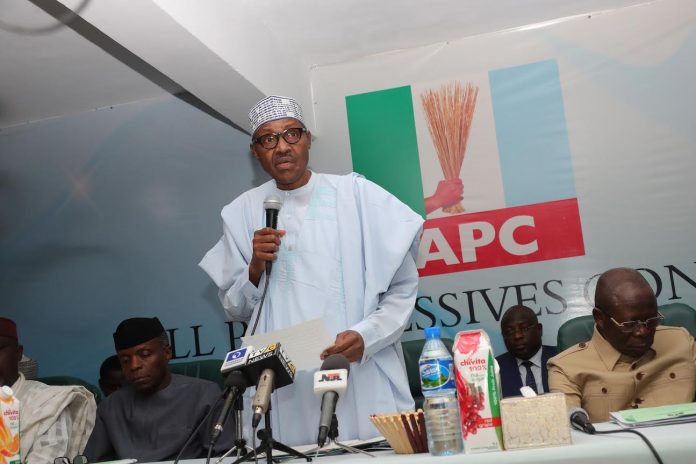 By Onyebuchi Ezigbo in Abuja

The Ondo APC Mandate Group has asked the leadership of the All Progressives Congress (APC) to wade into the alleged bribery scandal involving a chieftain of the party in Ondo State. 
It alleged that said party chieftain had connived with the Ondo State Governor, Rotimi Akeredolu to substitute aspirants names with favoured ones.
The leader of group, Mr. Gbenga Bojuwomi, who made the call on Friday in Abuja, when he led some protesters to the APC national secretariat, urged President Muhammadu Buhari to help address the crisis in Ondo State  to forestall defeat of the party in 2019.
Bojuwomi claimed that the state governor in collaboration with some of the party`s stakeholders was imposing his will on the people, said there was need for the party's national leadership to intervene in the situation.
"We hereby call on our amiable National Chairman, Mr. Adams Oshiomhole to wade into the alleged bribery before it paints black and dent the good image of our dear President Muhammadu Buhari," he said.
The leader of the group said  it was disappointing that despite President Buhari's quest to eradicate corruption in all spheres of Nigerian system, a top hierarchy of the party could be involved in scandal.
He further alleged that the Federal and State House of Assembly list had been tempered with names being substituted.
Bojuwomi also accused the  state factional chairman, Mr. Ade Adetimilehin collaborating in the deal.
He stressed that unless the party's national leadership dissolved the Adetimilehin factional executive in the state and canceled the result of the parallel congress, the crisis in the state chapter of the party would persist.
He said a caretaker committee should be inaugurated to carry out the party's affairs in the state pending when a new executive was put in place.