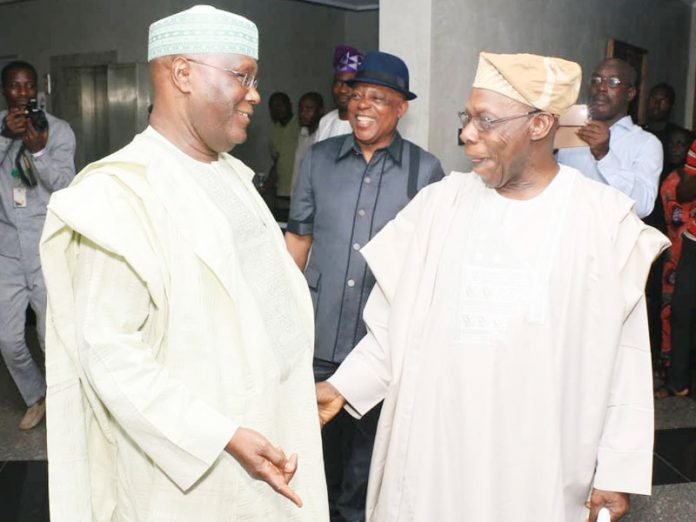 Kukah, Gumi, Oyedepo send religious signal
Afenifere, Ohanaeze, Middle-Belt, South-south to declare support
Presidency: Buhari won't be distracted
Femi Ogbonnikan in Abeokuta, Segun James in Lagos
The Peoples Democratic Party (PDP) presidential candidate, Alhaji Atiku Abubakar, received a heavyweight endorsement thursday as his former boss and adversary, former president Olusegun Obasanjo, bowed to pressure from the Yoruba socio-cultural group, Afenifere, and blessed Atiku's presidential aspiration.
Obasanjo, during a reconciliatory meeting in Abeokuta, brokered by the Afenifere, said he had forgiven Atiku and stated that given his personal knowledge of him, he had better capacity to perform better than the incumbent, President Muhammadu Buhari.
The meeting was witnessed by the Catholic Archbishop of Sokoto Dioceses, Bishop Matthew Kukah; Founder of Living Faith Church, Pastor David Oyedepo; a leading Moslem cleric, Sheik Ibrahim Gumi; and Afenifere leader, Chief Ayo Adebanjo, among others.
The endorsement, which immediately drew the reactions of the presidency and the Muhammadu Buhari Campaign Organisation that dismissed it as a distraction and non-event, appears to be reshaping the battle for the presidency in 2019 as it indicates the realignment of political and religious forces in the country.
The involvement of the religious leaders, THISDAY learnt yesterday might indicate the direction the two leading religions and their dominant denominations are looking. With Bishop Kukah of the Catholic, Oyedepo from the Pentecostal flank and Gumi, a Moslem cleric who had been politically vocal, in the mix, the paper's analysts suggest there might be a coalition against the re-election of Buhari, whose reign had been mired in massive killings both faiths' faithful by gunmen largely suspected to be Fulani herdsmen.
The political forces, THISDAY also learnt are gathering behind Atiku against Buhari, largely because they see his three and a half years in the saddle as the most divisive of the nation in its 58 years of independence, fearing that another four years for him might push the country over the precipice.
Atiku's endorsement by Obasanjo, according to sources close to the emerging coalition of forces, is said to be the outcome several months of pressure on the former president to drop his opposition to his former deputy, who many of the political leaders estimate is the most viable politician that could unseat Buhari.
THISDAY learnt further the club of retired military generals, including Ibrahim Babangida, Muhammed Gusau and Abdulsalami Abubakar had been working on Obasanjo to shift position on Atiku, telling him that unless he did, Buhari's chances of returning to office would remain bright given the deep division in the opposition parties.
With Obasanjo's support, they reason, both local and international business and political leaders would take the Atiku candidacy more seriously, particularly because he is thought to have the most viable capacity to rally the opposition forces together.
Although Obasanjo was said to be adamant on his stance up to last weekend, the intervention of Afenifere leaders, who Atiku was said to have given firm commitment on the restructuring of Nigeria, broke the ice on Tuesday.
A strong Afenifere source told THISDAY Thursday that at its leaders' meeting with Obasanjo on Tuesday, the former president still felt Atiku should be stopped. Upon pressure, he was said to have promised that rather than support his former deputy, he would remain aloof. But the Afenifere leaders reportedly insisted that what was needed was open support.
"We told him that he alone could repair the damage he had done to Atiku. And that if he did not want Buhari to win, then all hands must be on deck to queue behind a viable candidate, which they argued was Atiku," the source said, adding, "He grudgingly agreed, saying Atiku had actually requested for a meeting with him but that he was not too keen. At that stage Baba Adebanjo appealed to him to grant Atiku audience."
Afenifere, the source said, is rallying its partners, the Ohanaeze Ndigbo, the Middle Belt Forum and the South-South leaders to support Atiku, adding that the groups would announce their endorsement by weekend.
Obasanjo's support, said the source, is hugely significant because it would send a positive signal to the international community that already appears disgruntled with Buhari.
Obasanjo had been on Atiku's case since 2003, tarnishing his image with multiple accusations of corruption. But he seized the moment yesterday, arresting the attention of the nation as had glowing, but sober words of praise for his former deputy.
Playing host to the former vice president, and his entourage comprising the PDP National Chairman, Chief Uche Secondus; former Governor of Cross River State, Senator Liyel Imoke; Director-General, Atiku Campaign Organisation (ACO) and former governor of Ogun State, Chief Gbenga Daniel; ACO spokesman, Mr. Segun Sowunmi, among others, who called on the former president to seek for blessings, ahead of the upcoming 2019 presidential election, Obasanjo took the entire entourage by surprise when he declared, "I congratulated President-to-be, Atiku Abubakar, for his success at the recent PDP primary and I took note of his gracious remarks in his acceptance speech that it all started here".
He told his former deputy and his entourage that he had forgiven him.
According to Obasanjo, the disagreement between him and Atiku was over the succession plan, after his second term tenure in 2007, but said he had reviewed what Atiku did wrong against the PDP, government and the country, at large.
He said, "Yes, when it started, it was meant for Atiku to succeed Obasanjo. In the presence of these distinguished leaders of goodwill today, let me say it openly that we have reviewed what went wrong on the side of Atiku.
"And in all honesty, my former vice-president has re-discovered and re-positioned himself."
He said from what transpired in the last couple of hours the former vice president had shown remorse; asked for forgiveness and had indicated he had learnt some good lessons and would mend fences and make amends as necessary and as desirable.
He advised him to carry along all those who he contested with and admonished him to do more house cleaning.
According to Obasanjo, "There are still areas, nationally and internationally, where you have to mend fences and make amends. You will know how to handle what is already out and what may yet be put out by the opposition. But, I am convinced that if you continue with the attitude that brought you here with these distinguished leaders of goodwill, with remorse and contrite heart, the rest of the coast within and outside the country can be cleared. And if there is anything I can do and you want me to do in that respect, I will do.
"I am sure with the right attitude for change where necessary, and by putting lessons learned by you to work, you will get the understanding, cooperation, support and mandate-all at the national level. With Nigerians voting for you, it will mean that you secure their forgiveness and regain their confidence. It will be with the hope or assurance of a Paul on the road to Damascus Conversion. After all, change and conversion are of man. I believe that with a contrite heart, change is possible in everybody's life and situation."
Comparing Atiku with Buhari, Obasanjo said the former vice president had the capacity to perform better than the president.
He said, "For me, relatively and of all the aspirants in the PDP, you have the widest and greatest exposure, experience, outreach and possibly the best machinery and preparation for seeing the tough and likely dirty campaign ahead through.
"From what I personally know of you, you have capacity to perform better than the incumbent. You surely understand the economy better; you have business experience, which can make your administration business-friendly and boost the economy and provide jobs.
"You have better outreach nationally and internationally and that can translate to better management of foreign affairs. You are more accessible and less inflexible and more open to all parts of the country in many ways.
"As Pastor Bakare, one-time running mate of the incumbent president said, 'you are a Wazobia man.' And that should help you in confronting the confrontable and shunning nepotism."
He added, "And when you become Nigerian President which, Insha-Allah, you will be, remember what we did together in government-we ran an administration by Nigerians for all Nigerians where merit and performance count more than blood relationship, friendship or kith and kin.
"Although some time and ground have been lost, you should endeavour to start from where we stopped and recover some lost ground, if not time.
"Please uphold truth, integrity, principles, morality and fight corruption, crimes and insurgency. The fundamental law of the land, our constitution must be scrupulously defended. I make one demand and one demand on you today, I need you to say before God and man that you will always remain irrevocably committed to upholding all the provisions of the Constitution of the Federal Republic of Nigeria and the whole country will remain your single indivisible constituency."
It's A Non-event, Says Buhari Campaign
In its reaction Thursday the Buhari campaign dismissed Obasanjo's endorsement of Atiku as a non-event.
"We are inclined to dismiss this gathering and "endorsement" as a complete non-event," Mr. Festus Keyamo SAN, its spokesman said in a statement last night, adding, "But we feel we have a responsibility to Nigerians to remind them of the character and antecedents of these individuals, lest they take Nigerians for granted and see all of us as fools."
It added, "We do not intend to dwell on all the unprintable things touching on the lack of character, lack of integrity and corruptibility of Alhaji Atiku Abubakar that Chief Obasanjo has repeatedly and consistently told the whole world about up until few weeks ago. These are well-documented and circulated for Nigerians to remember."
It said rather rely on Obasanjo for reelection, Buhari would rely on Nigerians' endorsement for the 2019 election.
"Nigerians should note that President Buhari was never reported to have groveled and "begged" anyone for forgiveness, just to be endorsed as a presidential candidate. Ultimately, he relied on the people of Nigeria to decide his fate. President Buhari would continue to rely on the endorsement of the people of Nigeria to be re-elected."
Presidency: President won't be Distracted
Also reacting, the presidency Thursday night described the endorsement of the PDP presidential candidate by the former president as a predictable somersault, saying the endorsement did not take it by surprise.
Senior Special Assistant to the President Muhammadu Buhari on Media and Publicity, Malam Garba Shehu, said the president would not be distracted by the move.
Describing the endorsement as a "rehearsed theatre," Shehu came hard on his former principal, saying both Atiku and Obasanjo would lose together.
"They will lose together," he said."
Shehu also described the statement by Obasanjo, advising Nigerians to vote against Buhari at the next presidential election, as pompous, claiming that the advice smacks of lack of understanding of Nigerian politics by the former president.
According to him, Nigerians voted for change in 2015 and Buhari has been focused on good governance, which he said PDP could not provide in 16 years.
Shehu, who also insisted that Buhari is focused on his goals of economic diversification among others, insisted that the president would never be distracted.