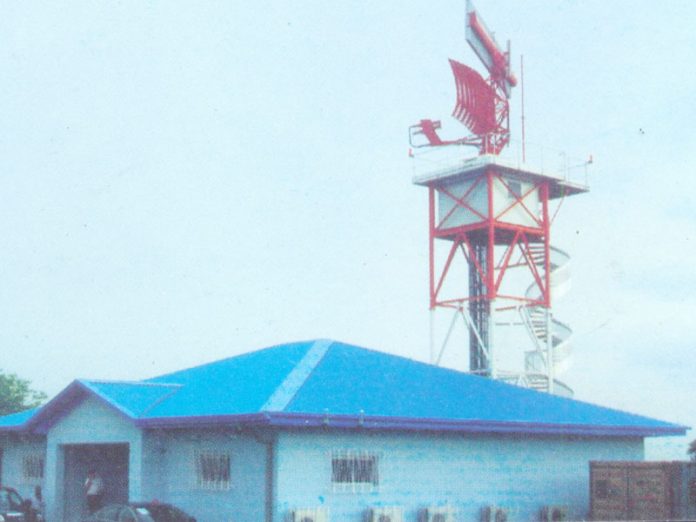 The Total Radar Coverage of Nigeria which plays significant role in the safety of Nigeria's airspace is faced with inadequate maintenance thereby threatening its existence and jeopardizing the airspace, writes Chinedu Eze
About five months ago during the inaugural flight of Cameroon national carrier, Camair-Co to Nigeria, the pilot in command of the flight, Captain Constant Bihina Kono after safely landing at the Murtala Muhammed International Airport (MMIA), Lagos, said: "We have not been flying into radar for a long time. Nigeria is so advanced when it comes to aviation that flying in the Nigeria airspace is like you are flying in Europe. So we are happy to be back to Nigeria."
The introduction of the Total Radar Coverage of Nigeria (TRACON) marked a significant trajectory for safety in Nigeria's airspace. This did not only improve safety but it also improved the rating of Nigeria's aviation industry by the International Civil Aviation Organisation (ICAO) and the United States Federal Aviation Administration (FAA), which gave Nigeria Category 1 safety status.
It has to be noted also that after TRACON was inaugurated in 2010 many international carriers that were hitherto not operating to Nigeria added Nigeria's destination to their routes.
But today informed source disclosed that the project is being threatened due to poor maintenance and lack of upgrade. Some parts of the equipment have been cannibalised at some of the stations and the parts sourced from there are used to repair other stations considered more important. This has infringed on its total coverage of the airspace, as some areas in the airspace now has blind spots.
Function of TRACON
TRACON is just a mix of primary surveillance radar and secondary surveillance radar with stations located at different parts of the country, which ensure that the nation's airspace is fully covered. This means that as an aircraft takes off in any part of Nigeria it is observed by air traffic controllers who monitor its movement on the radar, the altitude it is flying, the identity of the aircraft, its core sign and other details.
Without radar, controllers cannot see the aircraft and can only communicate with them through radio and use procedures to direct them on flight position in the airspace. Professional definition of the system explains that TRACON system provides a means to guide an aircraft according to the information in its flight plan for both terminal and enroute flights and provides automatic correlation of local and system radar tracks with the flight plan and ensure overall safety of the aircraft within the terminal approach area and the flight information region.
Radar specialists enumerated the benefits of TRACON and said that it improves safety in the airspace, increases airspace capacity, reduces separation minima, creates circumnavigation around adverse weather and enhances optimum weather routing. It also enhances better airspace management, increased revenue generation, reduced fuel consumption and reduced flight time among other benefits.
Problems
About a month ago during stakeholders' interactive forum organised by the Nigerian Airspace Management Agency (NAMA), the Director of Electronics and Engineering Services of the Nigerian Airspace Management Agency (NAMA), Farouk Umar, raised the alarm that TRACON had broken down due to lack of spares.
However, the management of NAMA denied Umar's report and said that TRACON was working efficiently. But THISDAY investigations revealed a contrary development.
When TRACON went on stream in 2009 before its inauguration in 2010, NAMA signed five-year support service agreement with Thales, the manufacture of the aircraft. But by 2014 when the agreement ended and was not renewed, it became increasingly difficult to maintain the equipment.
THISDAY learnt that after the expiration of the maintenance agreement with Thales, the French company and NAMA started discussion on the renewal of the agreement but Thales noted that the equipment has deteriorated and needed a rehabilitation to put it in maintenance status.
Because the project was no more getting spare from Thales, in order to continue to maintain the more active stations, like the radar station at the Nnamdi Aziliwe International Airport, Abuja, the primary surveillance radar at the Mallam Aminu Kano International Airport was cannibalized. The relay radar station at Talata Mafara in Kebbi state was also cannibalized to repair other stations.
THISDAY also gathered that while NAMA was holding discussions with Thales, it also held discussions with George Edar of Avsatel, which was the company handling the Safe Tower Project at some airports in the country.
What has made those conversant with the TRACON project to be worried is why NAMA has not been able to reach agreement with Thales on the support service of the equipment or even with Avsatel.
Rehabilitation
THISDAY spoke with a former NAMA official who managed the project from the beginning until when he left the agency.
He said the equipment need software and hardware upgrade, noting that Thales was right by demanding the upgrade of the equipment to put it on maintenance status in order to renew its support service with the system.
"We had unlimited supply of spare parts and software upgrade when we started. At every point in time there were two experts on the radar, one on Eurocat Processing System (the software system used by TRACON), which is a radar management system. It is a computer based system that makes it interactive for the air traffic controller to use. But today the equipment has been left for too long without upgrade, which mean that it is performing far below its optimum," the former official said.
He said that the equipment would have to be rehabilitated because "they have started pinching spares. They have issues on the ground so they need to put things in proper perspective. Thales has to review its support service and that is one of the condition it has given," the former official said.
"Without the radar there would be congestion in the airspace because the clearance you will be giving will be wider. Under the procedural (estimation) you give 10 nautical miles gap between two aircraft but with radar you will give five nautical miles between aircraft and give them expeditious clearance that will decongest the airspace.
"TRACON started working in 2009 but was inaugurated in 2010 with five years maintenance agreement with Thales, which expired in 2014. We had unlimited supply of spare parts and software upgrade then. So for four years now TRACON has worked without upgrade or spares after the expiration of the support service contract.
"They now cannibalised two stations in Kano and at Talata Mafara, which is a relay station. This means that we might not capture aircraft movement on the north west of Nigeria's airspace, which is the route of major airlines coming from Europe as over fliers to South Africa and other countries in that part of the world.
"Without further supply of spares there will develop blind spots in most parts of the airspace. This means it is no more sufficiently covered and will become a threat to air safety," former official of NAMA in charge of TRACON explained.
THISDAY spoke to George Edar of Avsatel, who said that his company was not involved in the TRACON project but in the Safe Tower Project.
"I am not in a position to say if we can work on TRACON or not, but we are certified with the Safe Tower Project and there is no certification for Avsatel from Thales but we may become interested if we get approval from Thales, but for now, we are not qualified to work on TRACON," Edar said.
Rescuing TRACON
THISDAY also spoke with an official of Nuel Ojei, Thales representative in Nigeria, Wolfang Fischer who acknowledged that negotiation between Thales and NAMA has been going on since the expiration of the support service agreement with NAMA but noted that despite on-going negotiation the two organisations have not reached any agreement.
He said that part of the negotiation is that the equipment must have to be upgraded before the support service activities would go on. This is because since after the last upgrade, the system must have degenerated.
"Immediately the support service agreement ended we started discussions since 2015, but so far nothing has happened, but thank God that so far the airspace is still safe. You cannot imagine what will happen if anything untoward happen. What we want to do is the usual upgrade to any kind of such system. The upgrade is necessary because some of the software might have expired. TRACON is one project which this country has got right and it should be protected and sustained," Fischer said.
He also explained that in service agreement there is also support agreement because it is the responsibility for Thales to supply spares to NAMA for the TRACON.
He also revealed that if NAMA wanted to deal directly with Thales without going through its Nigerian representative, Nuel Ojei that the French company would allow it, adding that even the latest discussion with NAMA was based on dealing directly with Thales.
"But we do not bother about this because what is important is that we provide Nigeria the good service it deserves so we are not bothered if NAMA deals directly with Thales. Thales will still sub-contract some jobs to Nuel Ojei in the area of logistics and security. It worked out in the past," he said.
The General Manager, Public Affairs of NAMA, Khalid Emele told THISDAY that TRACON has been in good working condition and that the agency has been getting spares from Thales. Though silent on whether some TRACON stations were cannibalized or not, Emele insisted that TRACON has never been in any bad state.
A document made available to THISDAY on Tuesday confirmed that NAMA and Thales have held discussions on the renewal of the service agreement but so far nothing has happened.
The document noted that Thales had given TRACON support service since it came on stream, but "since the support agreement has expired, NAMA and Thales have discussed about the scope for the renewal upgrade for the TRACON support agreement", but since that time, nothing has happened.