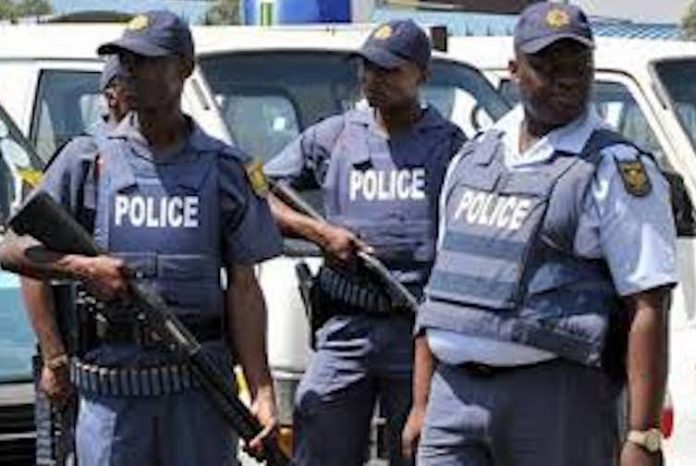 Eromosele Abiodun with Agency Report
A Magistrate Court in South Africa has released the eight South African police officers arrested in connection with the brutal murder of a Nigerian in 2017 on bail.
President of the Nigerian Union in South Africa (NUSA), Adetola Olubajo, confirmed the development to the News Agency of Nigeria (NAN) on telephone from Pretoria yesterday.
Olubajo said South Africa's Independent Police Investigating Directorate (IPID) had indicted the eight cops for the torture and murder of Mr. Badmus Ibrahim on October 10, 2017.
According to him, "The eight police officers (six men and two women) were released today (Monday) on bail of R3,000 (about N72,000) each among other conditions by the Vanderbijlpark Magistrate Court.
"One of the bail conditions is that the released police officers should not in any way interfere with witnesses. The eight police officers made application for bail at the magistrate court today (October 8) with three lawyers representing them."
He said IPID, an independent unit outside the South African Police Department, had opposed the bail application through the IPID Principal Investigating Officer, Tulani Makagula.
He said the magistrate granted the wish of the defendants and adjourned the matter until November 13 for further hearing.
He added:, "The court premises and room were filled with members of the police and Prisons Civil Rights Union, who were in solidarity with their members indicted for torture and murder of Ibrahim. The police union have thrown their weight behind their accused members, pledging legal support for them.
"Also, the Nigerian Union in South Africa senior officers were at the court with members of Nigerian community to witness the proceedings and ensure everything was in order."
Olubajo said the Nigerian community had earlier reported to the union the constant harassment and intimidation of Nigerians following the murder of Ibrahim.
Specifically, he said the principal witness in the case was arrested in August by the country's police and had remained in detention since the arrest.
He added, "NUSA commend the efforts of IPID for not leaving any stone unturned while investigating the murder case of late Ibrahim. Going by the briefing we received from IPID, we believe they (IPID) have a watertight case."
So, we are positive that justice will be served at the end of the trial. We advice Nigerians in Vanderbijlpark, outside the magistrate court to remain calm as we have confidence in the investigation done by IPID so far, and South Africa's justice system."
According to unofficial sources, up to 800,000 Nigerians mostly young people reside in South Africa.