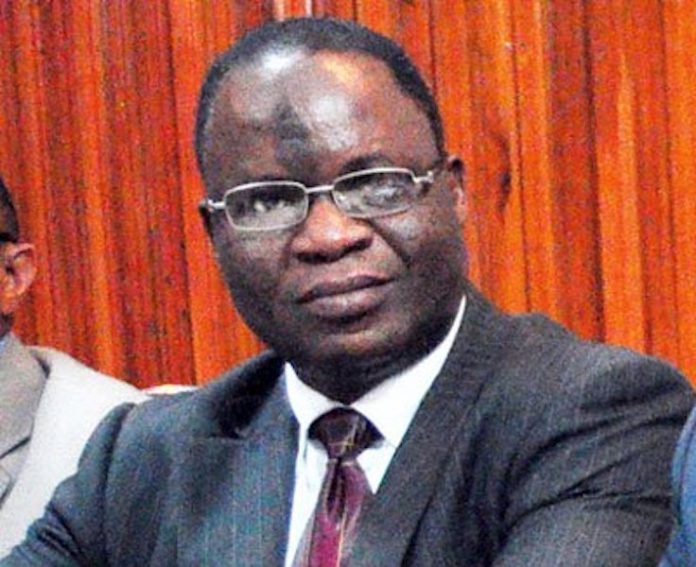 National Expert on Value Chain at United Nations Industrial Development Organisation (UNIDO), Dr. John Isemede, in this interview speaks on challenges militating against global trade. Jonathan Eze brings the excerpts
What is your assessment of the impact of illicit trade on Nigerian economy?
When you talk of illicit, it means illegal. It is a Latin word. Some of us who can speak multi-lingual languages know that when we say illegal, it is forbidden, it is not done. So this illicit trade we are talking about is not only restricted to goods importation alone, it encompasses on all sectors of the economy. Like Nigeria, we have signed a lot of trade agreements in Africa to boost bi-lateral trade relationships.
For instance, we have trade agreement with Benin Republic, Ghana, South Africa, Mali, Senegal and others in Africa. So what you think is forbidden here in Nigeria is not forbidden in those countries despite the trade agreements we shared together. So when you look at illicit trade in all ramifications, you will see that there is no country around the world that is not involved in illicit act. For instance, in US, illicit trade is there. In Benin Republic, it is there. In Argentina and so on and so forth. If you look at it historically, trade started from the time of the slave trade.
Then, human beings were not taken like human being, but they were taken like commodities with human face. It is the same way you bring yam from Ibadan to Lagos, that is, the way the slaves were taken away during the Stone Age. So when today some people are talking about repatriation of Africans, I say repatriation for what, because it was on the basis of illicit trade. So, illicit trade is a threat to global economy.
It is estimated to account for eight per cent – 15 per cent of global Gross Domestic Product, and reaching $12 trillion in 2014, according to World Economic Forum. In Nigeria, it cuts across a wide range of consumer goods and brands: including electronics, apparel and alcoholic drinks, vehicles and auto parts, drugs, arms, pharmaceuticals, cigarettes, counterfeit currency as well as humans, impacting virtually every product, industry, and the economy.
How has illicit trade affected African economies?
It has affected the growth and development of African economy in all ramifications. African has become the hub for illicit trade globally. The continent is at the mercy of actors of illicit trade of the world. For instance, China is a major source of the counterfeit goods. North Korea engages in illicit trades involving drugs, arms, and counterfeit currency. Precisely, in Africa, when you talk of child's trafficking as illicit trade, I saw it in Libya, Mali and Chad, including everywhere I had visited around Africa and beyond.
Go to the Nigeria-Benin Republic border (Seme), you will see under aged girls trading on Oranges on their heads at the border, but at the end of the day, they will be harboured by the security agencies there. Before you know what is happening, they moved them to Cotonou, in Benin Republic for trafficking. If you go to Senegal, you will shed tears on how girls are being trafficked. So, when you talk of illicit trade that of human beings is even the worse in Africa. Besides, do you know the number of people moving from here to Benin Republic to other neighouring countries on a daily basis? The Nigeria and Benin Republic border (Seme) is the busiest border in Africa. Then the best organised border in Africa is between Togo and Benin Republic and this is because of the Francophone arrangement.
What do you think is responsible for rising illicit trade in Nigeria and some other countries?
Today, we don't even have records in Nigeria on what our economy has lost to illicit trade, and you see people talking about African Continental Free Trade Agreement (ACFTA). In Nigeria, we have over 600 trade agreements with our African brothers and despite that our economy is still very weak. That shows that something is wrong with our import and export value chain distribution. When you talk of illicit trade in Nigeria, you have to mention production, supply, shipping and others.
But the bottom line is what is responsible for this illicit trade in our country. One key thing is taxation variation. In Nigeria, Valued Added Tax (VAT) is five per cent. In Benin Republic, VAT is 20 per cent. We are talking of smuggling of goods, illicit trade and commodity shunting, so there are many ways of describing illicit trade in Nigeria and Africa. Beside, when there is a sharp difference between Nigeria and Benin Republic in terms of tax, duty and tariff, why won't there be illicit trade or smuggling of goods along the Seme border, Idi roko, Ewekoro, Saki Iseyin road and other places. For instance, VAT in Ghana started with 12 per cent, from 12 per cent to 15 per cent, from 15 per cent to 17.5 per cent.
Then why do we seal trade agreements with neighbours and friends we don't even know in Africa? In this part of Nigeria, the organised private sector is so weak. You cannot do any business in Benin Republic without going to the chamber of commerce in Cotonou. Because today, you are talking about sub-standard products, you are talking of illicit goods, you cannot trace certificate of origin. But that is not the case in Benin Republic. I have been going to Benin Republic as far back as 1967 when we are going through Sango Ota. Then, when the border was opened in 1977 by General Olusegun Obasanjo (Rtd), I was there. So the rules are not alike when compare with Nigeria export.
What is your view on AFCFTA? Will you advice President Muhammadu Buhari to sign it?
Most of the people that are going to tell Mr. President to go and sign the African Continental Free Trade Agreement (AFCFTA) are only involved in illicit trade and don't know what import and export trade is all about in Africa I must tell you authoritatively. We are looking at Nigeria as a giant of Africa on a peripheral level. For instance, how did we sign the ECOWAS Trade Liberation Scheme (ETLS)? When it came up in 1992 by the African Union Organisation that Nigeria should sign the ECOWAS ETLS, at first, we were afraid because the Francophone states have eight countries in West Africa and before we knew what was happening then, Guinea Bissau has joined them and in Cape Verde, you cannot do anything there without going to Senegal. And we said to them, if we have to sign this ECOWAS ETLS, they should give us the first year for information, sensitization and registration. CBN was involved then.
That was the time the late Chief Asabia was leaving First Bank to Inter State. We started with a bank, PIBN in Benin Republic which did not work out before we started ECO Bank. We told General Ibrahim Babangida (Rtd), we are going to sign the ECOWAS ETLS but what will be the role of the Federal Government in this? What are you going to provide for us the OPS? So on this continental trade agreement, Nigeria will be left in the cold because the trade policy of Nigeria does not match that of Ghana, Sierra Leone and Gambia. And Liberia is an American colony.
For the organised private sector, what do we need to fly? It's not just to sign agreement without assessing the economic implication properly. As it is now, if we sign this AFCFTA, there will be no Nigeria again. We are not saying we are not going to sign, but the federal government must put certain things in place otherwise we are going to be in the backseat of African economy. We cannot compete with Morocco. I worked in Morocco for 14 years. We cannot compete with Egypt, Kenya and South Africa is in a different world of its own and we are saying we are the giant of Africa. I have travelled from here (Nigeria) to Algiers, the capital of Algeria by road. I have travelled from here to Senegal by road before. So let us be very careful with what we are saying on AFCFTA in this country because we are not ready for it.
For me, before the federal government signs the trade treaty, give assignments to each organised private sector group involving in trade export and import in Nigeria, so that at the end of the day we will see if in three years' time how it has impacted positively on our exports and economy. For instance, after the ECOWAS ETLS, we started exporting goods after the three years of signing the trade agreement. The first company to carry out legitimate export under the ECOWAS ETLS in Nigeria is Beta Glass in Agbara, followed by Nestle Plc and Unilever Plc. So those who are talking to the President to sign the AFCFTA, ask them which business have they done before. This continental free trade agreement is not fundamentally structured properly and Nigeria will be the loser at the end of the day if Mr. President goes ahead to sign it.
Why is Nigeria having challenge with Certificate of Origin for goods exports to other countries?
It is so sad that most of the things we do here in Nigeria are not traced back to their state of origins. What gives a product a premium price is traceability. When you go to Shoprite in Ikeja, you will see South Africa apples there. Even if they tell you to pay 10 times the price you prefer to pay for it than the one they sell in supermarket. Another issue on the certificate of origin is that where a product is coming from is different from where a product is produced. If you bring Mangoes from Kaduna State to Lagos, it is still within Nigeria.
But if you take it to Benin Republic, leaving the airport or seaport, the origin is no longer Benin Republic. That is why we are failing in export trade in Nigeria. If you go to the Far East China, Shea butter, sesame, cocoa and all that are from us cannot be traced back to Nigeria again. When it is good they put it in other packaging materials and say it was made by them. Then when I was working in Nairobi, Kenya, we were buying cocoa from Netherlands. There is no cocoa tree in the whole of Netherlands. Netherlands is not bigger than Borno State. Today, the biggest cocoa plant is located in Netherlands. Is this not what is called illicit trade?
What are the economic implications of multiple check points on trade facilitation?
I have driven across many countries in West Africa. I have driven from Guinea to Senegal by road. I have driven to Algeria border by road.
In the day time, there are more than 20 checkpoints from Mile 2 to Seme border, while at night there are over 40 checkpoints you will meet on the road along the Francophone Benin Republic and Anglophone Nigeria international highway. So I found out that there is persistent collection of illegal fees at the borders and along the corridors and this has been impeding international trade and integration at the border. Notably at Malanville, Hillacondji, Krake, Benin axis and at Seme, Nigeria side, the unwholesome trend have continued unabated with its dire consequences on the regional economy.