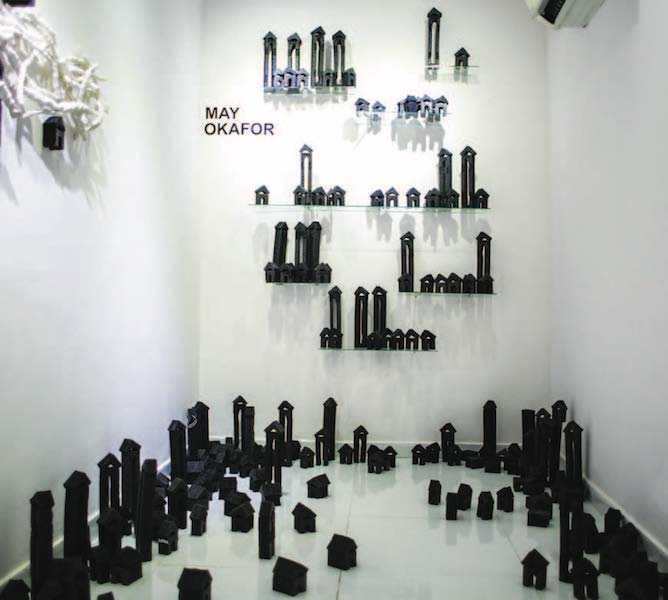 IN-TER-AC-TIONS, the theme of a recent futuristic spectacle at Rele Gallery, Onikan Lagos, gave voice to three artists who have been quietly influencing the contemporary art scene with conversations on urban and transcontinental migration. Obinna Okerekeocha, May Okafor and Patrick Akpojotor have individually and collectively articulated their thoughts on these subject matters using varying techniques.
With Okerekeocha, it was the business of immersing the viewer into the city life using video art, equipped with audio kit and quite surprisingly, the virtual reality (VR) headset. If you haven't experienced the VR in your lifetime, it may be strange to watch someone mount a certain headset over his eyes and act like a spacefarer. The eye tracking sensor enables a wearer to focus on a view or pan into any direction in the field of view.
Fortunately, young ones are often more technologically savvy with this tool than older ones so it posed no challenge for them to use it to appreciate video art. With a note of caution, Okerekeocha or the gallery could have warned the audience about panning too fast but then experience turned out to be the best teacher as panning too fast can suddenly bring a distorted surge of the images telling the story. It seemed wise to take a seat.
"The virtual reality element takes viewers on an experiential walk around Lagos Island to catch a glimpse of a bustling city,'' said Okerekeocha in the artist statement for his body of works titled, "Vignettes of A New Reality". His LAGTROPOLIS series is a mix of split screen images, converging and diverging views. The human movement experiment shows a sea of human movement blended into fabric-like patterns in fast sequence, communicating speed, animation and excitement. The Status Update series reflects the social media obsession in our day where changing profile pictures can indicate the varying emotions in a person.
Patrick Akpojotor's contribution to the theme are mixed media installations titled, "Developing Cities". The collection comprises of vertical abstract sculptures and metallic embellishments such as pipes, discarded automobile parts and other electronic waste. The tree-like structures also speak of migration from rural to urban central, driving development.
"This installation is inspired by the architecture and the landscape of growing cities which are often chaotic in nature. With Developing Cities, I invent these cities and bring to the gallery space the abstract energy of their urban landscape,'' Akpojotor remarked in the artist's statement.
Meanwhile, his technique of recycling found materials may also be understood from a broader economic perspective. Many developed nations in the world practice waste management and recycling which reduces environmental pollution, conserve energy, saves money and limits waste.
The only female voice in this show is May Okafor, a 2010 first-class degree holder in fine and applied arts from the University of Nigeria, Nsukka. She has a history of experimental techniques in exploring concepts that are at the core of Nigeria's contemporary realities. Okafor's collection titled, "Dwellings" are made of little houses, some in elongated black forms. Some of the houses are neatly arranged while some re slightly disorderly. That's the reality of our world.
"I have used black polystyrene to create several little houses. The houses appear like passages, suggesting that dwellings are in themselves transient. Like life itself which is transitory, people move from one place to another, to experience existent possibilities or in search of better circumstances,'' Okafor pointed out.
The exhibition runs till October 14.