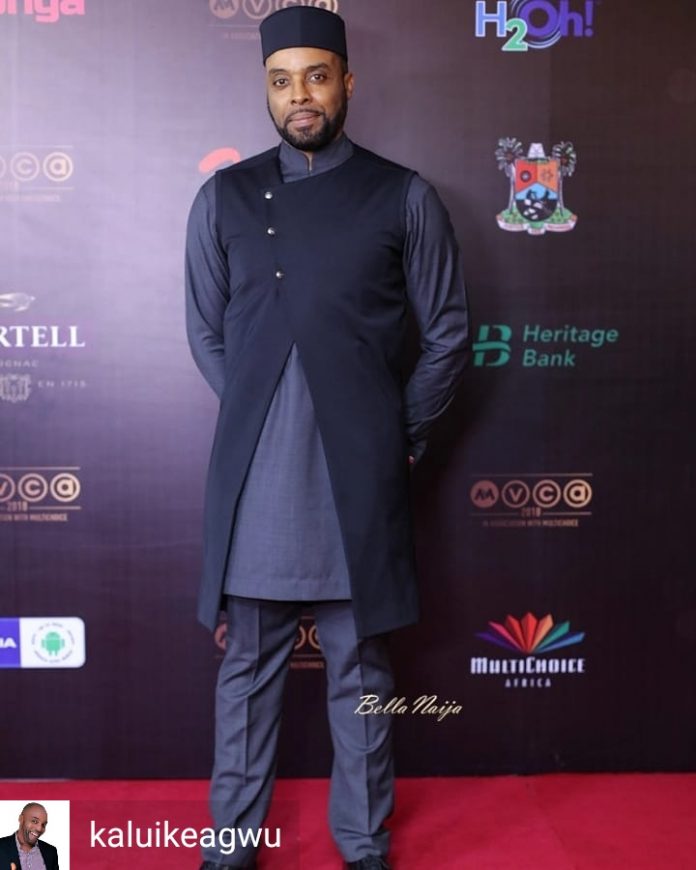 Actor, Kalu Ikeagwu, is a veteran who sees acting from a different perspective. He sees it as a calling and a spiritual exercise to positively affect the lives of his audience. The prolific writer, stage actor, teacher and life coach sees his career as a life ministry. He has featured in scores of movies including the Lionheart, which is the first Nollywood original movie on Netflix. Unlike many of his contemporaries, accolades mean nothing to him. He shared his married life experience, career as well as the role of Nollywood in nation building with Chinedu Ibeabuchi
Congrats on your nomination as best actor in a drama for the movie "Benevolence." Can you share what makes your character unique in the movie?
To be honest, I can't exactly say; that is for the audience to say. Mine was just to tell the story the best way I could.  
How was it like not clinching the award?
Exhilarating! To be honest, I only felt bad for my friends and fans that rooted solidly for me. It showed how much they cared about me. I love it when I never win because it forces me to stay focused on Lord Jesus. That way, I remain dependent on Him for my jobs, work and for honing my craft/skills.
You are a revered actor in the industry. What makes you different from the flock?
I don't know what makes me different from the flock. The only thing I'm aware of is the recognition of the fact that everyone runs his own race. I recently came to the realisation that I am on this earth for a purpose, and that it is my responsibility to find what that purpose is. I have recognised that I am a story teller, and as a story teller, I have joined a league of entertainers who help instruct, influence and mould people's perspectives and minds; to show them stark aspects of life's truths and realities however subtle they may be. I am aware that when I die, as I must someday, I will have to give an account of my life and my craft to my maker and this motivates me to work circumspectly in all that I do. So, in summary, my greatest competition is myself, the aspects of myself that pull me back to keep me from attaining my goals and my prize.
How would you describe the Kalu Ikeagwu's brand?
Kalu Ikeagwu as a brand is one that stands for integrity, who commits totally to every character he plays as an actor with a view to impacting his audience as his primary aim. He is also a prolific writer, stage actor, teacher and life coach of sorts. His brand is synonymous with the person Kalu Ikeagwu and his faith in God, all of which he sees as his ministry, life ministry.  
How was growing up like after relocating to Nigeria? Can you share interesting memory lane in trying to adapt to a new environment?
The first time I relocated to Nigeria was a very harrowing experience. Imagine a nine year old boy being ripped from the secure environment of his parents and being thrust into boarding school in a different state. Secondary school was the most traumatic period of my life; so much so I went to five different schools, one of them twice. That period was also one I am most grateful to God for because it's that period that taught me the joy of doing what you were born to do in life, and the agony of doing a job you absolutely hate – the very reason I am an actor and not a doctor today. I learnt to be tough, to fight, and to be relentless – as my name implies – in all my ventures today.
Your dad had feared that you might abandon your Igbo roots if you remain in England. How Igboish are you now? Proudly Igbo?
Hahaha! Very proudly Igbo my brother. There is not a day that goes by that I don't thank my father for instilling in me our Igbo culture from a very young age. I love who I am, the fact that I'm Igbo, being Nigerian and being black and above all, my name Kalu Ikeagwu, my most important asset. I love these particular things about me because I am very aware of the immense benefits that will accrue from them when I pass on from this world. All these things make me celebrate everything that belongs to me, heritage and all.
How did your acting career begin?
Quite by chance actually, in my first year in the university. I never thought I'd ever be an actor even though I loved it but was discouraged by my shyness and introverted nature. A chance audition took place in my department, Department of English – Literature, during its literary week wherein it was mandated to produce a play. I went, and to my utter amazement, I was picked. I went on to perform in several plays and even shot a series for NTA back then. Once the bug bit, I was chronically infected.
Did your dad also support your career choice as an actor or he wanted you to be something else?
My father's goal for me was to be a doctor but he inadvertently truncated that plan by introducing me to the wonderful world of literature by the age of four, firing up my imagination, never to be quenched. Oh yes, he fought and kicked against my decision to study English in university but I think he began to relax a bit when his colleagues at work began to tell him of my progress as an actor. Sadly he passed on before I entered the Nollywood industry but I'm sure he knew I had found my niche in this life before he left.
Would you say it's been a lucrative venture for you? 
Without a sliver of a doubt yes! It has fed my soul and given me my sense of purpose in this life, plus from it I found my lovely wife! It still doesn't pay as much as it should but it has given me an absolute sense of fulfilment, life's fulfillment and God has been very faithful in paying my bills and looking after my family from it. It literally is being paid for what I enjoy doing.
You had a stellar performance in the movie Benevolence. How would you describe Doris Ariole as a director or producer?
Doris is every actor's dream of what a director and producer should be; she pampers, cuddles, creates the very environment the actor needs to be creative and to express oneself. She studies the actor to know his temperament then works with what she finds. My ability to appropriately play the character in her movie Benevolence was mostly due to the brilliance of the script, the flow of the lines, the set – suitably depressing set – and the props; so much so that all I had to do was fit into the role that was just waiting for me to walk in. At the same time, she does not brook any rubbish or non-professionalism on her set, from the actor down to the p.a.
Acting takes so much time away from family? How do you marry your profession and marriage?
It does seem to yes but like I said, God is my manager and He regulates my working schedule to create that balance with Him, my family and my work. The times I'm away at work, I stay in contact to know what's going on, to make decisions but am mostly thankful that I have a good, strong and loving woman who holds the fort well back home. When I get back home I try to spend at least a week at home before leaving for the next project. I rarely go out during that time but spend all of it with my family and God – to rejuvenate myself and get ready for the next onslaught life may have for me round the corner.
Has there been any time your wife complained that your career takes more of your time than her?
No she hasn't ever, oh sorry, I lied, she has, and that was in the first year of our marriage. I was working all the time and we had just set up home at the time. We had only known each other for five months before getting married and obviously had a lot of bonding to do which I was oblivious to. All that was on my mind then was being the provider, to be the head and all, until my wife called my attention to what was really needed in a marriage – companionship and striking a balance in the needs of the home. Now, we have struck that fine balance and all is kosher.
Has marriage affected the kind of roles you play in movies? What roles can you not play?
Yes and no. Yes because there was a time I had to explain to my daughter why I kissed another woman who was not my wife after watching a movie I featured in. I had to explain to her that my work on screen was helping with storytelling while my love for her mother was real life. The most important of acting for me is telling stories as best and realistically as I can, devoid of melodrama, sensationalism and pandering to the gallery. 
What are those factors you consider before taking a script?
I like to look at the direction the script is going, its spirit and its philosophy. It is a spiritual exercise and I treat it as such because the target/clientele is the audience, one (at least) of whose lives your work could affect for the better. Accolades mean nothing to me; it is those people that watch your story that are the real prize.
The industry is rife with many issues among which is funding. Do you think the present government is doing enough for Nollywood?
The government is, I would boldly say, criminally negligent towards the country's future and progress because of its disregard and neglect of the Nollywood industry. Who takes a goose that lays golden eggs, throws into the bin in the backyard and goes hawking limp dead chickens alongside neighbours selling far better fowl? That is what this government is doing. Our movies have the potential to launder the bad image western media heaps upon us. This industry alone can direct tourism to this country with collaboration on content with the government by encouraging filming in most of the tourist sites strewn all over the country. Awareness of the country's rich and diverse culture can be exported to the world. The list goes on and on, and yet our leaders go cap in hand begging and grovelling before other countries for money and handouts. All we ask for is to have laws, executive laws, enforced laws to protect our intellectual property, to give producers a fair share of profit from their hard work by fighting pirates and other charlatans that clog the distribution end of the business, is all I'm saying.
Since you joined the industry, what would you say has improved?
The quality of production has greatly improved. Stories have become weaker in the sense that most pander to the cosmopolitan and away from the real issues the everyday man or woman goes through in Nigeria. The part that amazes me the most is the passion producers have for making movies, good movies however the budget. This period is the most challenging we have ever been as an industry especially with the present administration but the irony is that the harsher this climate is, the more resilient, dogged and passionate our industry is; one of the reasons I love this country.
When not acting, how do you relax?
As I get older, I find understanding life and what lies beyond it interests me the most. I love to read deep stuff, especially the bible. I love to ponder and meditate. I love to travel and check new cultures. I like hiking through forests and other things.
From your experience, what is your advice for upcoming actors?
God first, humility second, discipline third and education last. 
Any project at hand?
I have a few busy months. I'm on a movie project about kidnapping with Jade, award winning producer and director of the movie Isoken, and another which is co-produced by the legendary Ramsey Nouah.
And finally, can you share briefly your family background?
I came from a very conservative Igbo family background of whom I am the only actor and entertainer. Both my parents hail from Achara Ihechiowa in Arochukwu LGA of Abia State.