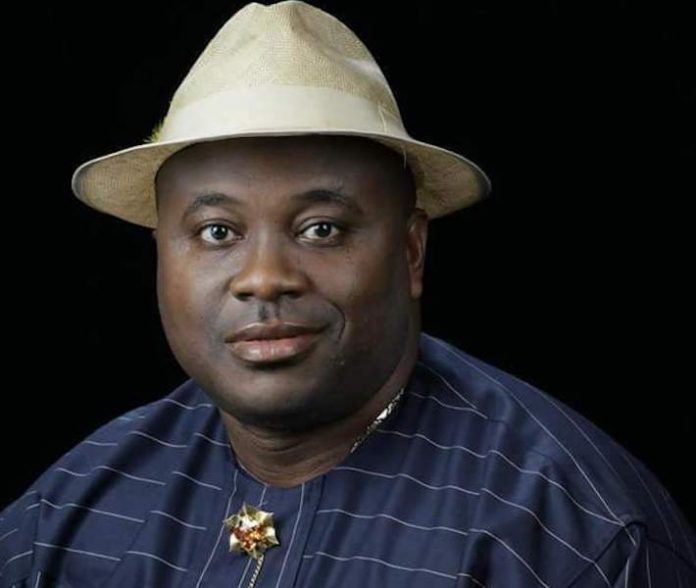 Where do you stand on the agitation from different quarters law making should be a part time job?
If I was in their shoes, I will feel the same way. I can tell you that a senator is more busy that a governor in this country. Law making is a full time job. Even in the US, it is full time. You work on a daily basis. If you are not sitting in a plenary, you are performing oversight, if you are not performing oversight, you are sitting at committee level. It is a crazy job. I can attest to the fact that senators are extremely very busy.
The other contentious issue is their remuneration, which is generally considered too high
It is grossly inadequate. How much does a senator in America earn compared to how much we earn and the enormous responsibilities of the office? My wage bill in a month is N5.6 million and I earn N13.2 million. I have been paying it since I came into office. I have never owed. The records are there.
Who do you pay these monies to?
I pay it to my constituents. I run a comprehensive real time online office. I am in direct contact with my constituents. Go to my office at The Sun Centre in Uyo. I run a 24-hour constituency office. I have a committee of 80 elders that cut across all the local government areas. I have 24 personal assistants-three per local government and they keep me informed on the plight of the people in their respective communities. These are the issues. Anybody who thinks the money is too much should contest elections, go round to seek votes and then win and come to the National Assembly. You will have a change of impression. Whatever you earn is grossly inadequate. What we earn per quarter is what the previous senate used to earn per month. What are we talking about? We have demonstrated consideration because we know where the economy of the country is at. We sacrifice our own security and safety for the wellbeing of the people of the country.
We are the ones who contest election. What does a minister earn? How much does a minister spend running his office? How many official cars does he have? There is no project that does not have administrative costs runs into billions built into it. What makes ministers better than senators? We are the ones who represent the people. We contest elections. We sell our manifestoes to the people. We get their mandate and we provide accountability. A minister just comes all the way from America or comes from Europe and takes all the money away. And you say we shouldn't ask questions? We came from the people and we are answerable to the people. We always ready to explain and put things in perspective whenever it is necessary. I believe that contesting an elective office is the greatest honour possible.
What really is the problem between the 8th Senate and the executive? Why do you have so much turbulence?
We have not had turbulence. What you have seen is normal in a democracy. All the senate is asking is respect for the sanctity of separation of powers as enshrined in our constitution-judiciary interprets your law; executive implements and the legislature, make your laws without let or hindrance. We cannot be an appendage of the executive, because we are the true representative of our people. We feel the pulse of our people on daily basis.
Because of your closeness to former Governor Godswill Akpabio, one would have thought that when he switched party loyalty, you will go with him
Godswill is my leader. He remains my leader. But when it comes to the trajectory that you must choose between loyalty and principle, you must go with principle. For me, every politics is local, going with him would be against the interest of my people. When push comes to shove, I must always defend their interest. I hold nothing against his move. He is entitled to his freedom of movement. I want to stay with Udom. I think he has done well for Akwa Ibom State. If given the opportunity for another four years, which by the grace of God, I think he will, he will consolidate on his industrialisation agenda. There is no governor since the creation of the state that has attempted to implement an industrialisation agenda like Udom. He has done six industries in three years. What would happen if he is allowed another four years? He is building a state beyond oil and that is the way to go. We cannot talk about sustainable development and industrialisation without talking of creating employment and giving people the opportunity to enhance their welfare.
I think Udom has done extremely very well within the limit of available resources. I was the Commissioner of Finance in this state. I know what the state used to earn on a monthly basis. I know what we earn now. By the time you remove administration and service charge, I know what is left for the government. For him to achieve the much that he has achieved, he deserves commendation and encouragement. He must be supported.
The state party chairman hinted at litigation and the damage it does to the party its elected representatives, is there not a need to make a law that deals with all pre-election matters
We have made the laws. We are waiting for the President to sign the amendment to the electoral laws. It is there in the law that every pre-election matter must terminate six months after. By the time you are sworn in, you must have done away with every pre-election matter. Whatever comes after the election goes to the election tribunal. It was to guard against all these long litigations that distract legislators from carrying out the work they were elected for. I was in court for over two years and by the special grace of God, we won at the Supreme Court. It is very distracting and I want to encourage all party members to reduce election legal issues.
Do you think it was tactical for Governor Udom Emmanuel to shield his predecessor from probe by the anti-graft agency?
Governor Emmanuel is a blessed man. He has a heart of gold. I must confess that he is the best for Akwa Ibom State in terms of leadership. He has the ability to maintain a calm demeanour in the face of provocation. He believes that moving the state forward is the most critical duty at this point in time. Instead of be labouring himself and his quality time on irrelevant issues. Having walked with him this far, I know he means well for the state and by the time he is done with the state, we will become an Eldorado and an industrialisation hub in this part of Africa.
Would you say that that the state's purse was well kept under your watch?
I leave that to posterity. I did my best. I cannot be a judge in my own case. To the best of my ability, I think I performed excellently well.
You have been reported saying that you may be forced to talk, if the EFCC comes for Godswill Akpabio, because you worked under a governor…
I didn't say I should not be forced to talk. Talk about what? Whatever comes before the court of law will be substantiated by evidence. What I said was that this whole EFCC matter was politically motivated and coercion and that I will stay in the PDP and support this governor, because the governor means well. As the Commissioner of Finance, I did not approve anything. Everything was approved by the governor. I reported to the governor. There is no basis for my trial without understanding the fundamental reason or procedure in government transactions. How can you put the houseboy in the dock, when the master walks away free? It doesn't make sense!
As the Chairman of the Senate Committee on Gas Resources, what are you doing on the issue of gas flaring?
It is a big concern to us as a committee and as a senate. I have sponsored a bill on gas flaring. That bill has gone through first and second reading. We have finalised. We have gone to public hearing. The last revolution on gas flaring in this country was done many years ago. The bill is on the verge of being passed into law, that was two months ago but we had to go on vacation. Once we resume next week, it will be considered. The gas oommercialisation policy is actually centred around domestic usage of gas resources. Nigeria is a gas nation, more than oil. It is our gas resources that will keep us beyond oil. Because of the challenges of renewable energy. We are doing everything humanly possible to ensure that we work progressively with the executive to ensure that the approved the gas monetization and commercialisation policy will achieve its objectives. We are working towards that direction, in terms of harnessing our gas resources for the good of the people.
IN THE MIRROR:
*Commissioner of Finance in Akwa Ibom State from 2007 to 2014.
*Elected to the Senate in March 2015, representing Akwa Ibom North-East Senatorial district. He is a member of the People's Democratic Party (PDP)
* Holds a BSc in Economics (Second Class Upper Division) and a Masters of Business Administration (MBA) degree from the prestigious University of Nigeria Nsukka
*Started his professional career in 1997, when he joined the International Operations and Consumer Banking/Retail Banking Unit of the United Bank for Africa (UBA).
*In 1999, he moved on to become Manager, Corporate Banking group at the Continental Trust Bank at the bank's Victoria Island Lagos, Head Office
*He later joined First Inland Bank Plc in 2003 as the Uyo Branch Manager, where he won the bank's best performing branch manager award in the South-South region. He also won the award of the best performing branch manager nationwide in the bank's midyear review of the 2004 financial year
*In 2005, he joined First City Monument Bank as Assistant Vice President, where he was the General Manager in charge of Akwa Ibom and Cross River States. He was responsible for directing and overseeing the day-to-day running of over 15 branches spread across the zone and as the Zonal Head, he articulated and developed key market penetration strategies for the bank, for sustainable market share and growth
*He was also the Chairman of the Inter-ministerial Direct Labour Coordinating Committee whose job was to ensure that government were completed using direct labour to save some money for the state
*In April 2009, Bassey Albert chaired the first ever Akwa Ibom State Revenue summit. The Summit with the theme: "Maximising Internally Generated Revenue (IGR) Potentials in Akwa Ibom State – A Collective Responsibility" involved participation by stakeholders from diverse socio-economic sectors in the state and was organized as part of strategic efforts to boost the Internally Generated Revenue (IGR) of the state
*He was instrumental in the negotiations between the state and Standard Chartered for the approval of a loan of £325.24m to execute projects in the state
*In 2014, Bassey Albert declared his intention to contest for the Governorship seat of Akwa Ibom State, but after the primary he lost out to the current incumbent Mr Udom Gabriel Emmanuel.
*Chairman of the Senate committee on Gas Resources