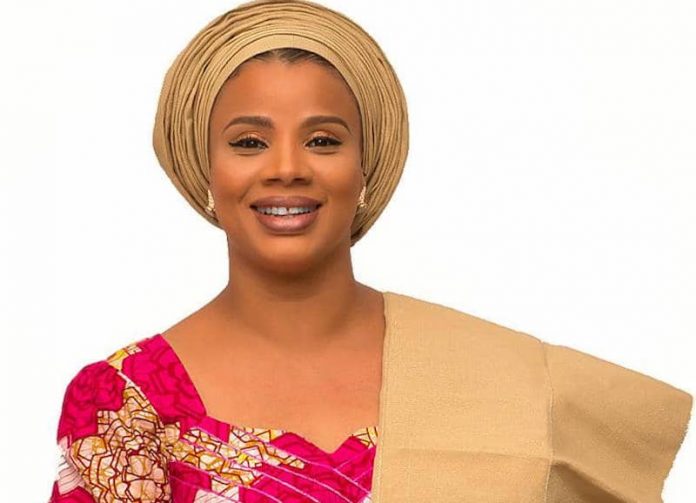 Udora Orizu recently probed Mrs. Bolanle Sarumi-Aliyu, who wants to be the first woman to govern Oyo State
Many people are not familiar with your profile, please, an insight to your persona
I was born on the 22nd of March, 1979 in Ibadan. I attended both primary and secondary schools in Ibadan. I studied Social Work and Welfare, Psychology and Sociology and also have a degree in Social Policy from Anglia Ruskin University, Cambridge, UK.
I'm a business woman, currently the CEO (Bees Bridal Ltd – an event planning, catering, decorating and bridal wears venture and Mia Uniform a uniform manufacturing company). I'm the Founder of Childhood Bridge International Initiative and BASA Foundation, both of which are non-governmental and non-profit making organisations, crusading for the upliftment of the less privileged in our community. I was appointed as Special Assistant on Social Development to the then FCT Minister, Chief Jumoke Akinjide. I have been actively involved in grassroots politics since, Currently, I'm running for the office of Oyo State Governor on the platform of the National Interest Party (NIP)
What inspired you to vie for the office of governor of Oyo State?
While growing up, I had a passion to help people in need. I have being doing this for over one decade through my foundations. However, in recent times I noticed that things have gone from bad to worse for our people and those people you and I would think should not be out there begging for help are all over the place now. It is not news that our university graduates are now commercial motorcyclist or labourers, and our mothers are being disgraced publicly or locked up in toilets for defaulting on N30,000 "Gbomu le lantern" loans. It has been almost 20 years since the military regime and all we have witnessed in Oyo State is poor representation and leadership even with the promised change of 2015. At some point, I had to ask, who has Nigeria particularly Oyo State really been changing for? Every day gets harder for our people and their families.
Health care is near zero, proper education is only for the rich, there is nothing balanced about our children's diet, endemic poverty is in the land and massive unemployment. All over the country our people have been deprived of the basic human rights as enshrined in Chapter Four of our 1999 Constitution. It's clear that the promised change hasn't come, and it's time for us as a people to take responsibility and act positively. All I want to do is to serve my people by implementing policies that would improve the quality of life of the people and more importantly ensure that no one is too poor to live.
We know that campaigning for elective office involves huge funding. How do you intend to source for funds?
Wwe are pioneering crowdfunding. It's never really been done. The National Interest Party believes strongly in crowdfunding because with the masses funding the movement, it will discourage and also disenfranchise political and corrupt God fathers. On social media, I have asked Nigerians to donate a minimum of N1000 and the money will be used to empower the people. I ensure that no corrupt person is funding it because I don't want my mindset to change and I don't want my ideologies to be tainted. I don't want anyone controlling me when I become Governor, because I want it to be with the people directly, so that the people can advise me on what they want and I listen to them and take care of them. That's what you call true governance and service.
How prepared are you, given the fact that Oyo state is heterogeneous?
This applies everywhere, not just Oyo State. Every society, community, local government, province and state exhibit this feature in terms of gender, class, culture, religion and political parties. However, I assume the question is directed at gender because this is actually the first time that a woman would be presented as a candidate of a political party in Oyo State which is actually an advantage to me. I continue to receive overwhelming support and prayers from men (young and elderly) everywhere I have pronounced my aspiration and my vision of a better Oyo State in the past few months. My manifesto would have direct and positive impact on all Oyo State citizens and residents irrespective of their gender, religion, culture, class and political affiliation. I am very prepared to maintain the momentum up to 2019 and beyond.
What are the policies you want to promote?
It is still early to start to share my manifesto because that would be campaigning before the official INEC guidelines but my policies would be centered more on the people's welfare and this cuts across access to medicare, quality education for all, rapid community development, enhanced security, women and child rights and agricultural revolution. My utmost goal is to create a state where people would not be too poor to live; where the poverty level would be drastically reduced and my people can live with the dignity that they deserve as citizens of this great nation.
What do you think about the current governor's term?
With due respect to His Excellency Governor Abiola Ajimobi, he did the best. However, I believe he could have done better especially in the area of people-oriented projects. That is, projects that would really alleviate the suffering of the people. Families need help. They cannot do it on their own. There is no country that is doing well today that does not take care of its people's welfare directly or indirectly. Nigerian families shoulder everything. It is not fair to see families with incomes less than N40,000 having to send two or more kids to school and pay fees in full, hospital bills in full, pay house rents in full, care for their elderly and relatives that are less privileged, and so on. The primary role of government is to take care of its people and not to watch them suffer or live in misery.
No woman has ever been governor of Oyo State, what message do you have for the electorate?
No woman has won because no woman has tried. This is the first time in our history that a woman will emerge a candidate of a political party to contest at a general election. Women are in seats of power all over the world are doing very well for their people. A woman would do it better as a governor in Oyo State. Naturally, women have more compassion and this would translate to better welfare for our people. I would not rest until every son or daughter of Oyo State and even non-indigenes that are resident in Oyo State can stand with dignity and pride in pursuit of their happiness. As a woman, I would garner more support from the international community. They would come in with support to ensure that my administration succeeds. I have confidence that Oyo State will witness the highest level of direct foreign investment and developmental grants. This would definitely translate to massive job creation for our people, improved infrastructure, more funds into education and health, and so on.
It is common sense that people would prefer to associate more with a woman than a man hence my message to the electorates is to take their chance with me.
Sen Aisha Alhassan recently withdrew from the All Progressives Congress (APC) and also resigned as the Minister of Women Affairs and Social Development after she was disqualified by the National Working Committee of the APC from contesting as the gubernatorial primary inTaraba State. Do you think she was disqualified because she's a woman, and what does this say for the future of women in politics?
In my opinion, I don't think it was about her gender at all. It was more about her relationship and allegiance with the former Vice President. I actually commend her for publicly pronouncing her allegiance. That's a true measure of undying loyalty which many do not possess.
You resigned from the Abundant Nigeria Renewal Party, can you tell us more about that?
I wasn't treated fairly and I couldn't do anything about it, so I left.
How much confidence do you have in the Independent National Eelectoral Commission (INEC)?
I have confidence in INEC as an institution. I believe that the professionalism and unbiased role they played in the 2015 general elections can still be maintained. However, I urge the chairman and his team to stand resolute as an independent body and do the right thing in the 2019 general elections by allowing the will of the electorate to prevail again.
Vote buying is becoming a norm in Nigeria's electoral process, do you support it?
Obviously not. It is shameful and must be stopped. The outside world is already looking at us as a joke. The so-called top political parties in this country have taken us nowhere as a people. Their generation lack the ideas and the will to change. We all can see clearly the sort of experience and solutions they have to offer the nation yet they say the youths lack the experience and that we should start from bottom of the ladder. It is time for them to go. They failed us all.
Are you not concerned that the ruling party in your state may have more influence on the electorate?
If they resolve to vote buying in the 2019 general elections, however, I believe that the electorates in Oyo State are now wiser to know that nothing good will come to them after receiving money for their votes. This money we are talking about cannot even last two weeks per head. I think why certain electorates take these monies is because they don't see a future better than what they have. These leaders have driven poverty into every household to the extent that our people see it as a norm. What I am doing is to show my people a better future, a prosperous one where everyone irrespective of who you are or where you are from can prosper in Oyo State. A large percentage of the poverty witnessed in the land is induced one. It's artificial. My people will embrace a better future this time around because it is far much better than a few thousands of naira for a few days of comfort.
How do you plan to tackle housing problems in Oyo State?
Common sense will be to build cheaper affordable housing units for the people using our local resources. We also plan to open up new areas and provide ready infrastructure like electricity, roads and pipe-borne water; to encourage investors to build more houses for rents.
Our rural areas should attract more attention in terms of development projects in order to stem down the rural urban migration. All these can be done in a little time.
The gale of defections among political parties has become a disturbing trend? What does this hold for party democracy in Nigeria?
It is understandable when people defect for reasons such as lack of shared understanding, suppression, failed or inconsistent ideology and insincerity of party stakeholders. However, the sort of defections we have witnessed from the top parties is more about desperation and vested interests. If we really look at it, they are all the same people.
However, It is part of our fundamental human right as a people to be able to associate freely wherever we choose and that's the beauty of democracy but the question is, "In whose interest are they defecting?"
What's your assessment of the just concluded Osun gubernatorial election?
I wasn't on ground in Osun. What I know are the things I read or heard, as well. Vote buying was at its highest in the history of our country and that's a shame. The effect of this is that our electoral process and the government of the day is losing credibility which is not good for us all.