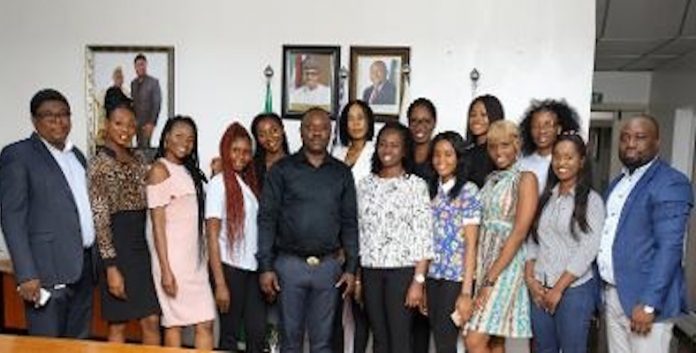 Ernest Chinwo in Port Harcourt
In a bid to advance the girl child education and sustain its annual scholarship programme, Belemaoil Producing Limited, an indigenous oil company has sent 10 Rivers State indigenes to the United Kingdom and Ghana for post-graduate and undergraduate studies under the NNPC/Belemaoil JV 2018/2019 foreign scholarship scheme.
The beneficiaries, who are all female, hail from Khana, Abua/Odual, Ahoada-East, Etche, Oyigbo, Ikwerre, Degema, Asari-Toru, Ogu/Bolo and Ogba/Egbema/Ndoni local government areas of Rivers State.
Eight of the beneficiaries, Kainde Chinenye Akaya, Precious Ogochukwu Ajim, Pearl Befee Ezekiel, Fame Obiageri Onyechere, Benebo Daviesba Josephine, Christiana Victor, Obunezi Onyinyechi Favour and Rejoice Nathaniel secured admission to the United Kingdom under the post-graduate category, while two other beneficiaries, Gloria Iyama Apikisierobia and Francisca Ibiso Francis were sent to Ghana under the undergraduate category.
The beneficiaries are to study courses which include International Relations, International Marketing Strategies, Human Resources, Accounting and Finance, Human Resource Management, Business Finance and International Management both in the UK and Ghana.
The Manager, External Relations, Belemaoil Producing Limited, Mr. Samuel Abel-Jumbo, during a farewell and on-boarding session with the beneficiaries in Port-Harcourt, said the scholarship is in fulfilment of the company's promise and commitment towards the advancement of education within its operational base in Rivers State, Niger Delta and beyond.
He urged the girls to excel in their studies and be responsible ambassadors of Nigeria, Rivers State and NNPC/Belemaoil JV.
According to him,: "This is the first batch. Others will join as we make progress and hopefully in 2019 we will also continue. Our coming here this evening is to ensure that we bid them farewell, we hold an on-boarding session and wish them well. We expect that they go out there as responsible ambassadors of Rivers State, Nigeria, Belemaoil and indeed NNPC too. We expect that they complete their studies within record time and come back with flying colours and be useful and valuable to their country. This batch is predominantly girls.
"We believe that the girl-child should be given the opportunity to excel. These were the crop of students among those of them that partook in the screening process that were able to come tops. And we believe that if we are able to impact positively the girl-child we are impacting the society more positively, we are impacting our state and nation more positively."
Jumbo said the 10 beneficiaries are the first batch of the NNPC/Belemaoil JV 2018/2019
Scholarship, adding that the scheme would continue in 2019.
The Executive Assistant to the Founder/President of Belemaoil and Head, Petroleum Engineering and Development, Mr. Sam Dambani, charged the beneficiaries to take their studies serious in order to have a better future.
"This is a good thing. I am very grateful to the Management of Belemaoil Producing Limited, led by our able Founder/President, Mr Jackrich Tein Jr. He has been of tremendous blessing to us and I would also want to say to the scholars, an opportunity has been given to you. If you go to the UK University and you come out with a distinction you stand several other opportunities that will come. Either you do your Ph.D. or you end up working with a UK school or you get very good employment in Nigeria."
Some of the beneficiaries who spoke to journalists moments before their departure commended the management of Belemaoil for giving them a lifetime opportunity to advance their academic pursuit. They promised to make the most of the opportunity and return back to add value to the society.
Precious Ogochukwu Ajim, from Ogba/Egbema/Ndoni LGA said, "I have always wanted to have an international degree for my post-graduate study and it's like a dream come true. I can't be thankful enough to Belemaoil for this privilege. It's a very big platform towards changing my life and achieving my goals. I will say it is very important to give back to society just as Belemaoil has done through their corporate social responsibility by educating the girl-child and promoting the girl-child education. To other organisation, I will advise them to be like Belemaoil because right now in Rivers State and in Nigeria, Belemaoil is like a model to other companies, for being able to make promises and keeping them."
Earlier, the Director, Production and Engineering of the organisation, Mufaa Welsh, who addressed the beneficiaries said their performance would be a test case for the sustainability of the oversea scholarship for others.
"The courage for us to send the next people will be based on your performance. So, if you don't perform, there will be no need for us to send the next set. You are going to meet a lot of people from all over the world, you will meet new friends but remember where you are coming from. You are a pace-setter for your family so you need to make your parents proud, you have to make the country proud, you have to make Belemaoil Producing Limited and you have to make our senior partners, NNPC proud," he said.