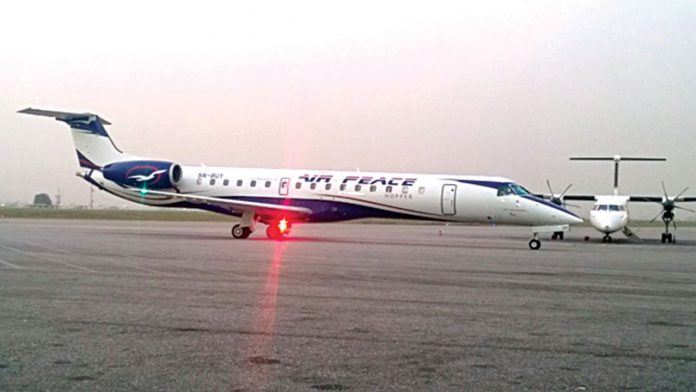 By Chinedu  Eze
Nigeria's largest domestic operator, Air Peace has announced that it would commence operations to Dubai and Sharjah in the United Arab Emirates, UAE by November this year.
The airline which has acquired aircraft to operate the destination, said it would be its long-haul service before embarking on other international destinations.
This was disclosed by the Chairman of the airline, Allen Onyema in Lagos at the weekend.
According to him, Air Peace has been designated on long-haul flight to London, Houston, Mumbai, Dubai, Sharjah, Guangzhou-China and Johannesburg by the federal government.
Onyema, said the airline was expected to fly directly from Lagos-Paris, Lagos-Frankfurt, Lagos-Amsterdam , Milan, Abuja-Jeddah, Kano-Dubai, Enugu-London.
The Air Peace boss said the airline was ready to compete with international carriers with modern aircraft and efficient service and make Nigeria proud by giving Nigerian travellers what they yearn for, noting that Air Peace is an airline they can call their own with the best of services and pocket friendly airfares.
He promised to be consistent on the route, assuring that Air Peace will not fall by the wayside like other airlines that have entered the route but did not survive though might not be a fault of theirs.
Onyema emphasised that the airline is ready to fill the gap that government was worried about, saying that was the reason the airline acquired enough aircraft.
"We want to fill those gaps being occupied by international carriers coming to Nigeria, we want to represent this country proudly, Nigerians will be proud like Americans are proud of their indigenous airlines, flying the flag of America outside America proudly," he said.
He explained that a formidable airline out of the Middle East is presently interlining and code sharing with Air Peace and currently integrating their system with the indigenous carrier.
"When we drop you in Dubai or Sharjah, another airline picks you from there; maybe, you are going to Malaysia, they are going to about 36 cities in India, so people will buy Air Peace ticket if you are going to Malaysia, India, some other Gulf States, Indonesia and others. You buy Air Peace ticket, check-in your luggage, you get your luggage in Singapore, we take you there, we have signed an interlining and code-share".