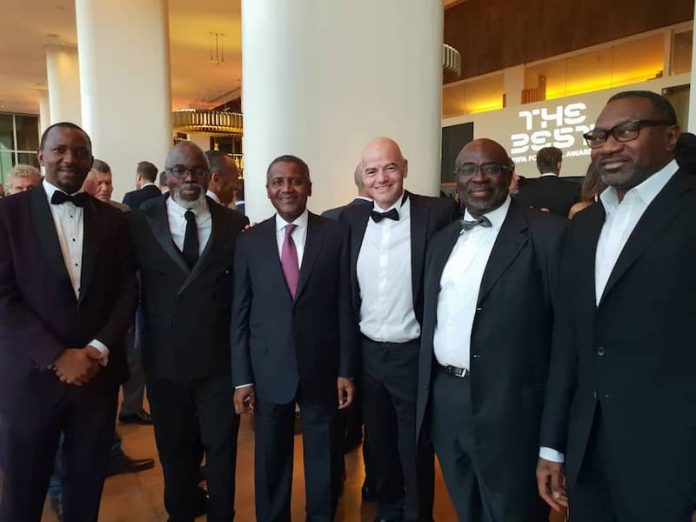 Unlike a beautiful worm which can creep but cannot fly, billionaire oil mogul, Olufemi Otedola is a man of blithe ambitions but one of them, for now, is not contesting for the governorship of Lagos State. For some time now, there had been a groundswell of innuendoes in and around Lagos that the successful businessman would throw his hat in the ring in the next general election.
However, despite the resources that have always been at his disposal, his contacts and connections, his robust intellection and profound humanity, Otedola stated recently that he is not contesting against Governor Akinwunmi Ambode. However, when FIFA hosted the 'The Best Awards', in London, last Monday, two prominent guests at the event were the Forte Chairman, Otedola and his best friend, the world-famous businessman, Aliko Dangote.
Dressed in sharp suit, they were understandably conspicuous at the event as they had enough time to chit-chat with other international businessmen. Indeed, it is not every day that an event held outside the shores of Nigeria would have the company of the two most prominent Nigerians, they were the special guest of Gianni Infantino, the FIFA President.
With their peculiar genii, they liven up industry; the exploits they dare, burnish the business world even as they dull the pointed edges of the cut-throat blades of commerce. And even though they come from two different cultures of economics and socio-politics, Otedola, Aliko and Gianni, projected a wonderful medley of industry and excellence as they met few days ago.
The billionaires during the dinner, cut an enthralling picture as they laughed and enjoyed the merriments of the evening. No doubt, for Otedola, there are no new worlds and fresh battles to conquer. Very few men excite interminable tribute of clamorous cheers in the wake of their most glorious exploits and attainments like the Chairman of Forte Oil. He commands the homage of unending cheers by his dazzling exploits – these days it reverberates as boisterous applause for the extraordinariness of the man who taught Nigeria and the African continent to trust in his entrepreneurial depth.