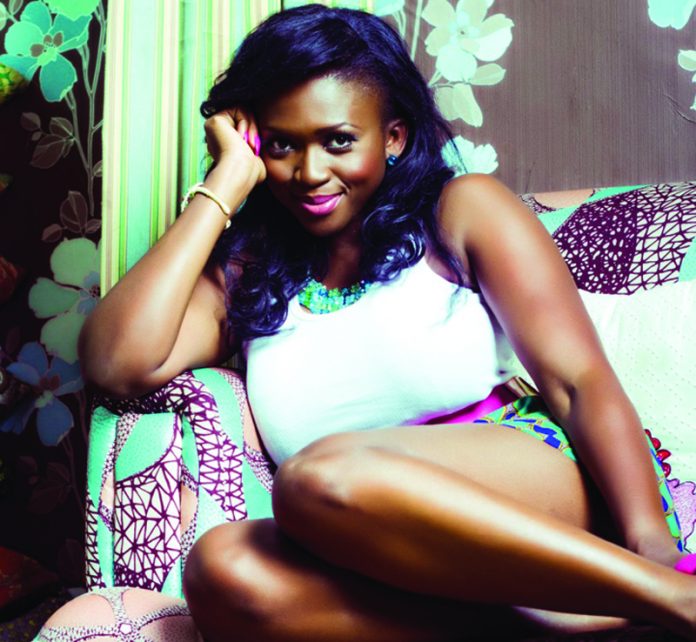 SUPER SATURDAY 
Multi-talented singer and song writer, Waje, (Aituaje Ebele Iruobe) took time off her busy schedule to chat with Vanessa Obioha on her passion, dreams and motherhood
 I Want to Do More Acting Because I Like Stage
The meeting was scheduled for 10am but she got to the venue before the time ahead of this reporter who was caught in traffic due to the heavy downpour that Thursday morning.
Despite the delay, singer, songwriter Waje didn't throw tantrums for having to wait when this reporter finally showed up. Instead, she was grateful that it availed her the opportunity to make some adjustment to her upcoming concert slated for October with her team.
"It will now hold in February next year," she revealed as we were served coffee.
Sitting across in a green and black flowing gown, Waje who recently turned 38 looked younger without makeup. I complimented on this as well as felicitated with her on her birthday.
"Thank you but where is my birthday gift?"
It wasn't the response I was expecting but it was a good and encouraging sign that I was engaging with a willing and amiable subject.
I tried to find out from her if she has a birthday tradition.
"Well, I always pray at midnight, at exactly 12. That's the only tradition I probably keep.  At that time when people are sending birthday messages to me, I just like to reflect and pray. Sometimes, not a long prayer;  a 10 or 15 minutes prayer, thanking God for the past year that has been amazing and hoping for a better year."
By amazing, Waje means eventful. Indeed her journey in the music industry has been an interesting one.
Born Aituaje Ebele Iruobe, the singer was beamed to her Nigerian fans when the former twins group P-Square featured her on their track 'Do Me'.
The song was such a hit but the enigma that came with the video made it a mega hit. Nobody knew what the Edo-State born artiste looked like since she wasn't featured in the music video. Social media was at its teething stage then, heightening the mystery around her.
By the time her identity was revealed, Waje had won the hearts of many with her vocals. Although she didn't fit the mental picture of a tall slender sexy lady, Waje still had a great following.
There were few female artistes making waves at the time, like Sasha , Weird MC who were famous in the rap genre. Her closest pal was singer Omawumi.
Despite recording a few singles and collaborating with artistes like M.I., Waje suddenly strolled into oblivion. Speculations were rife on her sudden muteness and quite a few wondered if she was not another one-hit wonder.
"There were things happening in my personal life at the time and was affecting my business. I really didn't know how to balance myself. I have to be honest with you; that was a difficult period in my life. I could as well tell you that I was busy with another project just because I want to be seen in a good light but the truth is I was going through a tough time. Let's call a spade a spade and not a cooking utensil. We are all human and we learn as we grow.
"I had management issues just like any other artiste would have but I have learnt how to rise above these things in the sense that I have come to realise that there is Waje, the singer, then there  is Ebele and Aituaje. Often times, I merged the three which ought not to be so. If Ebele is having a bad day, the business shouldn't suffer because of that. Artistes often don't know how to separate their personal lives from their businesses. We need to draw a line. Thankfully, I have come to understand that because of the people surrounding me. Regardless of what and how things are, Waje is a business and if I don't feed Waje with the right things such as attention, consistency, she will suffer and then Ebele will suffer."
However, the singer stunned her fans when she emerged from her wilderness with the release of her self-titled album 'Waje'. But what got people talking was when she rocked a sexier and curvier body in her 2014 hit track 'Coco Baby' which featured Tanzanian artiste Diamond Platnumz.
Again, the conversation revolved around her looks.
"I just didn't like the way I looked, I thought I could look better, more appealing. I'm a musician and on the business side of things, brands want to associate with someone who is put together. I didn't want to be skinny, but wanted to be able to hold my own. When you see me you can say this woman is beautiful. I represent women who are curvy, busty and there is no shame in that. I don't really care that much about size, but just be firm and carry yourself well."
Though she went through a strenuous exercise routine for a year to achieve her present shape, Waje discovered at the end of the day that her weight wasn't the issue.
"The strange thing was that I didn't lose much weight, about 5 kg but the more people complimented my weight loss, I started feeling better about myself, my mind started acting right. It dawned on me that the problem was not about my weight but the way I saw myself. Over time, I used losing weight to get my mind right. So there's nothing I will wear now whether it is booboo or the one showing my curves, the way I will carry myself, you sef go wan collect the cloth from me," she laughed.
With this new hat-trick, Waje found her career rising to an enviable height. Suddenly, she was everywhere. She was the best choice to headline the song 'Strong girl' which is the theme song for One Campaign's 'Poverty is Sexist' in 2015  and also joined Bono in Lagos, Nigeria for the Lagos campaign in 2015. She was the only female judge in the debut season of MultiChoice reality music show 'The Voice Naija'.
This year, Waje was featured in Femi Odugbemi's gripping TV series 'Battleground', an experience she is excited about. Recently, she released a single 'Kpolongo' which featured Timaya; and unknowingly hinted that her next album will be released in November. She has also been touring different parts of the world and performing at private gigs.
Everything is happening so fast. To her, it still felt like yesterday. "Sometimes I feel like my career started in 2013 when I released my first album."
By next year, she would have a career spanning a decade. She attributed her staying power to her music which she said it's a daily discovery for her.
"Right now I am enjoying myself. I think I have just started. There are so many things in my heart that I want to do as a brand. I want to do more acting because I like stage. Being on 'Battleground' was a beautiful experience. It was a way for me to be someone else out of Waje and I enjoyed it, playing different characters, living in another world that is not Waje. I'm thinking of how to merge Waje and Ebele on stage to do broadway," she announced with a twinkle in her eye.
Waje's comical expressions further confirmed my earlier perception of her friendly mien. It is in the way she switches to pidgin language when she felt the point she wanted to make would be more understandable; or the manner which she deflected questions about her future plans for marriage by replying "she sips coffee".
Underneath that joviality lies a disciplined and protective mother. A single mother, Waje for a long while hid the identity of her child from the public. But when her daughter went ahead of her to open a Facebook account, the singer was left with no choice than to introduce her to the world.
"There was actually a time there was a fake account on Twitter in her name. It became glaring that people are finding out that she is my child and will do what I don't want them to do so i rather beat them to it. I didn't want anyone to tell the story that was not true because people will write their own stories which are snippets of their relationship with her."
In sharing her ups and downs with her daughter, Waje believes she is laying a good foundation for her. For instance, she gives her a monthly allowance to take care of her daily needs. By so doing, Waje believes she's making her prioritise her needs and be a responsible woman. She narrated an incident that happened recently.
"Since she turned 14, my daughter has been interning anytime she's on holidays. During this holiday, she interned for an amazing friend of ours. One day, she came to me and told me she needed to buy data and toiletries. I replied that I don't have money that she should use her monthly allowance. She complained that nothing would be left of the allowance by the time she took care of those needs. But that was life dear. I'm sometimes broke by the time I spend on my earnings on fees, rent and other expenses. She was upset with me but I needed her to learn how to prioritise,  to manage her funds so she can understand the value of money. Those are the mistakes I made; not knowing what to use my money for or how to save. Now she knows that if I give her a fat sum, she will have to decide if she will spend it on human hair or on something more worthwhile."
She sees parenthood as a learning process and admitted that she would love to have children. But when? With who? She sips coffee. Perhaps, Waje will clarify this some other day.