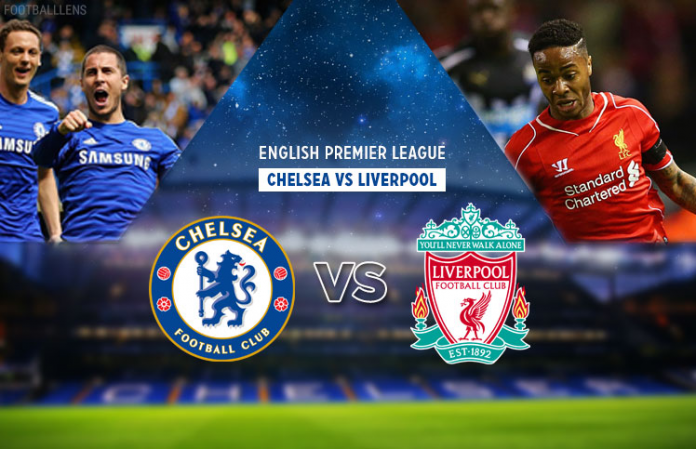 Liverpool have never had a better start to their Premier League season, winning their first seven league matches and would be hoping to extend the run as they come against a Chelsea side that is hoping to make a statement this season having failed to make it to the top-four last season. The Blues inflicted Liverpool their first defeat this season in all competitions in the League Cup on Wednesday and would want to consolidate on it in today's encounter
Boasting arguably the best player in the Premier League in Eden Hazard and an unbeaten start under new coach Maurizio Sarri, Chelsea have emerged as surprise challengers for the title ahead of their meeting with leaders Liverpool today.
In a chaotic summer at Stamford Bridge, Sarri was only officially announced as Antonio Conte's successor a month before the new season got underway, FIFA's goalkeeper of the year Thibaut Courtois went AWOL to force a move to Real Madrid and Hazard also expressed interest in a move to the Spanish giants.
Yet, rather than fall further behind after finishing sixth and 30 points adrift of Manchester City last season, Chelsea have stolen a march on Manchester United, Tottenham and Arsenal to nestle alongside City just two points behind leaders Liverpool.
A soft start with Huddersfield, Arsenal, Newcastle, Bournemouth, Cardiff and West Ham in his first six Premier League games have helped Sarri settle in.
However, the acid test for where Chelsea's title ambitions stand will come when Liverpool visit today looking to extend their 100 per cent start to the Premier League season.
Sarri has repeatedly insisted his side can't yet be compared to City or Liverpool in their third full seasons under Pep Guardiola and Jurgen Klopp.
"We have started to work together 40 days ago. So for us, I think it is a bit early," said the Italian. "We have to work, we need to improve and then maybe, in one year, we will be at the same level of Liverpool."
However, his transformation of Chelsea's style from the cautious approach of Antonio Conte to a side that asphyxiates opponents by dominating possession has been so seamless; a title challenge can't be ruled out.
"The biggest change I ever saw in such a short space of time. Wow. Style completely different. What a manager he is, to be honest," said Klopp admiringly this week.
While Chelsea struggled in Conte's second season, they also boast much more title-winning experience than Liverpool with many of the same squad having won the Premier League in 2014/15 and 2016/17.
"People were always talking about City being clear, and completely forgot Chelsea," added Klopp.
"This team is really experienced. It won the title before, 80 per cent won it twice, and they know how it works. That's a really strong football team."
Chelsea also have Hazard, who showed his class by coming off the bench to score an incredible solo goal to inflict Liverpool's first defeat of the season in all competitions in the League Cup on Wednesday.
The Belgian believes the League Cup win will boost the Blues. "This result will give us more confidence because we drew with West Ham a few days ago, but the game on Saturday is more important. We have got to try and beat Liverpool," Hazard said.
Sarri has challenged the Belgian to follow the example of Liverpool's Mohamed Salah last season by scoring 40 goals in a campaign for the first time in his career.
Salah was let go by Chelsea after making just 19 appearances, mainly as a substitute, but fulfilled his potential in an incredible 44-goal debut campaign at Anfield that saw him finish ahead of Hazard and Lionel Messi in third place for FIFA's Best Player of the Year on Monday.
The Egyptian hasn't been in such sparkling form at the beginning of thisseason, but looked back close to his best by scoring in a 3-0 cruise past Southampton last weekend.
Klopp will be hoping that upward trajectory continues in what is also a massive week of Liverpool's ambitions both for a first Premier League title in 29 years and in Europe.
After facing Chelsea, Liverpool travel to Napoli in the Champions League on Wednesday before hosting City at Anfield next Sunday.
Klopp's men took just one point from five away games against the rest of the top six last season. Having already won at Tottenham a fortnight ago, another big win on the road will be a strong statement of intent.
Meanwhile, all eyes would be on Paul Pogba as Manchester United visit West Ham today for the latest chapter in the saga. Jose Mourinho's relationship with Pogba plummeted to new depths this week.
United, already eight points behind leaders Liverpool give the impression they are lurching from game to game and on the cusp of a full-blown crisis.
The team appeared to have turned the corner after an indifferent start to the season with three away wins on the bounce but a draw against Wolverhampton Wanderers and a shock League Cup defeat on penalties to Championship side Derby have set alarm bells ringing.
The Pogba factor is the big talking point but there are plenty of other issues to give United fans sleepless nights ahead of the game against newly resurgent West Ham.
Mourinho stripped Pogba of the vice-captaincy this week after the French World Cup star said the side should attack more, an implicit criticism of perceived negative tactics.
Mourinho, speaking after Tuesday's League Cup exit, for which Pogba was rested, said there was "no fallout at all, no problem at all" regarding the decision. But it does not look like that.
On Wednesday the pair were filmed in a tense-looking exchange at the club's training ground and it is difficult to see how they can rebuild trust after the events of the past few days, particularly with fresh rumours linking Pogba with a move to Barcelona.
Pogba's demotion is the latest twist in an acrimonious relationship dating back to last season, when Mourinho routinely dropped him for big games.
United, famed for their gung-ho attacking flair under Alex Ferguson, often give the impression there is no coherent plan.
While Liverpool and Manchester City have a team shape and identity, United often appear reliant on one of their stars to conjure something special to make the difference.
Mourinho has an enviable list of attacking talent at his disposal, with Alexis Sanchez, Anthony Martial, Marcus Rashford, Romelu Lukaku, Juan Mata and Jesse Lingard all competing for forward places, but there is no settled combination and often little flow to their attacking play.
Out of the top nine sides in the Premier League, United, currently seventh, have scored the fewest goals, with nine so far. Last season, they scored 38 goals fewer than champions City over the 38-game Premier League campaign.
Meanwhile, Arsenal Manager, Unai Emery believes restoring Gunners' confidence has been the key to his side's revival as they look to make it seven successive wins when they face Watford today.
When Emery took charge at the Emirates Stadium in the close-season, the Arsenal manager found his squad's morale was at a low ebb after the disastrous final years of the Arsene Wenger era.
Emery's job was to restore his players' belief while convincing them to buy into his football philosophy of high-tempo pressing from all areas.
Initially, it seemed the former Paris Saint Germain boss was struggling to get his message across as Arsenal were swept away by champions Manchester City on the opening weekend before squandering a two-goal comeback in a 3-2 defeat at Chelsea.
While it is far too early to proclaim Emery has solved all of Arsenal's problems, they still have a creaky defence with only one clean-sheet and the club are locked in a contract stalemate with Aaron Ramsey – the Spaniard has at least steadied the ship.
"It's very good work for continuing to improve and continuing also individually the players taking confidence into the next matches," Emery said of the win against second-tier Brentford.
"It was good to continue working on our tactical things and our individual things, also for taking responsibility for the players, for taking confidence in the players."
Watford are without a win in their last three matches after losing a penalty shoot-out in the League Cup against Tottenham on Wednesday.
Nigerian forward Isaac Success scored one of Watford's goals in that loss and he warned Arsenal his side will not be feeling sorry for themselves.
"I think with the performance we brought out today, getting the victory would have been something precious for the team, but we keep our head up and get ready for the weekend's game against Arsenal," he said.
Head to Head
06/05/18 Chelsea 1-0 Liverpool
25/11/17 Liverpool 1-1 Chelsea
31/01/17 Liverpool 1-1 Chelsea
16/09/16 Chelsea 1-2 Liverpool
11/05/16 Liverpool 1-1 Chelsea
31/10/15 Chelsea 1-3 Liverpool
10/05/15 Chelsea 1-1 Liverpool
08/11/14 Liverpool 1-2 Chelsea
27/04/14 Liverpool 0-2 Chelsea
29/12/13 Chelsea 2-1 Liverpool
21/04/13 Liverpool 2-2 Chelsea
11/11/12 Chelsea 1-1 Liverpool
08/05/12 Liverpool 4-1 Chelsea
20/11/11 Chelsea 1-2 Liverpool
06/02/11 Chelsea 0-1 Liverpool
07/11/10 Liverpool 2-0 Chelsea
02/05/10
Liverpool 0-2 Chelsea
04/10/09
Chelsea 2-0 Liverpool
Premiership Table
Team P GD Pts
Liverpool 6 12 18
Man City 6 16 16
Chelsea 6 10 16
Watford 6 5 13
Tottenham 6 5 12
Arsenal 6 3 12
Man Utd 6 0 10
Bournemouth 6 -1 10
Leicester 6 1 9
Wolves 6 0 9
Crystal Palace 6 -2 7
Everton 6 -3 6
Brighton 6 -3 5
Southampton 6 -3 5
Fulham 6 -5 5
Burnley 6 -3 4
West Ham 6 -6 4
Newcastle 6 -4 2
Cardiff 6 -11 2
Huddersfield 6 -11 2
Fixture
Today
West Ham v Man Utd 12:30
Arsenal v Watford 15:00
Everton v Fulham 15:00
Huddersfield v Tottenham 15:00
Man City v Brighton 15:00
Newcastle v Leicester 15:00
Wolvers v Southampton 15:00
Chelsea v Liverpool 17:30
Sunday
Cardiff v Burnley 16:00