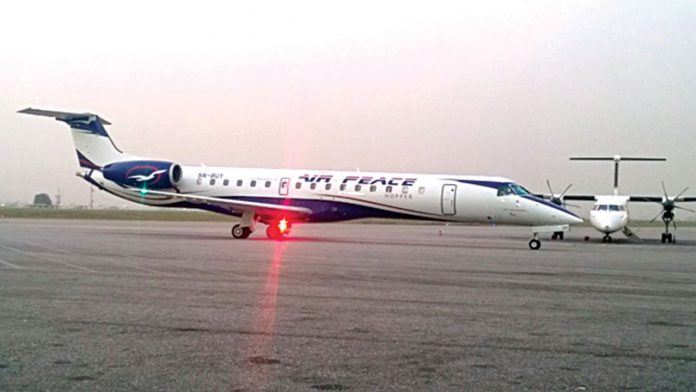 By Chinedu Eze

The Chairman and CEO of Air Peace, Allen Onyema, has said that the airline lost over N60 million when members of the Nigeria Labour Congress (NLC) and the Trade Union Congress (TUC) disrupted its flights at the General Aviation Terminal (GAT) of the Murtala Muhammed International Airport (MMIA) on Friday.
Onyema who made this known to newsmen said the unionists blocked the Air Peace wing of the terminal for four hours, from 7:00a.m. to 11:00 a.m., forcing passengers away from the facility.
With the disruption, he said the airline had to delay most of its morning flights to different destinations in the country and also stopped the movement of its aircraft to the international terminal of the airport for regional operations, as both passengers and crew were barred from accessing the terminal.
Onyema said he was peeved by the acts of the unionists who targeted Air Peace, insisting that they had to frustrate the operations of the airline with the biggest capacity.
 Eye witness account said that the unionists harassed and intimidated the passengers as they sang and danced at the departure hall, making sure that no check in activities took place.
This continued until the passengers became angry and physically began to resist the unionists who went out, spent a while and came back with reinforcement.
However, spokesman of Arik Air, Adebanji Ola told THISDAY that the flights of the airline were slightly disrupted which caused a little delay but the airline operated all its flights.
Head of Communications of Dana Air, Kingsley Ezenwa confirmed to THISDAY that the unions did not come to the main domestic terminal, MMA2; so the airline and others operating from the terminal airlifted their passengers as scheduled.
Corporate Communication Manager, Air Peace, Chris Iwarah told THISDAY that the situation was sad, unfortunate and unfair to the airline.
"It is sad and with what the unions have done, it affects all our operations. As I speak to you because we did not follow our schedule we may be unable to do our late flights into airports like Owerri, Benin, Ondo because the landing on those airports are visual and not instruments.
"We are not against the union's strike but they should carry out their industrial action without using it to affect the private businesses of others," Iwarah urged.