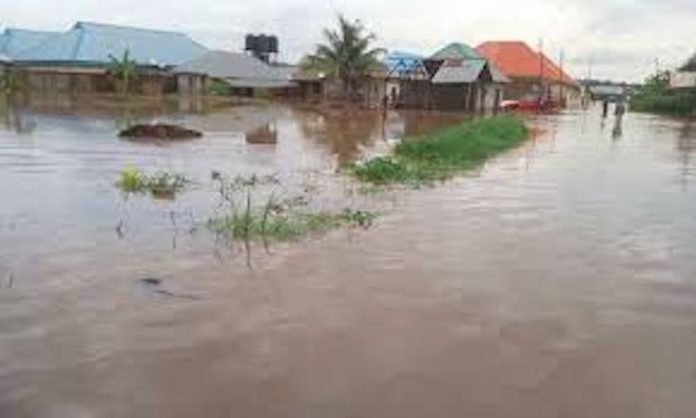 As Obiano orders riverine dwellers to relocate immediately
David-Chyddy Eleke in Awka
A nine-year old primary three pupil of Light International School, Okoti, in the Ogbaru Local Government Area of Anambra State, Benedict Izuchukwu, Wednesday reportedly drowned in flood close to her home.
Her 11-year old sister, Chukwuemelie, however escaped by a whisker when she was almost drowned while trying to rescue her.
Benedict's father, Uzo Izuchukwu, who narrated the incident to THISDAY said his late daughter was swept away by the flood water while attempting to scoop water with a bucket.
He said effort by Benedict's elder sister who was with her to rescue her nearly resulted in double tragedy but for passersby who quickly rescued her from being swept along with her younger sister by the flood.
He said Benedict was still alive when she was brought out of the water but the three hospitals they rushed her to in the area could not provide oxygen to revive her.
Meanwhile, in a public service announcement by the commissioner for Information and Public Enlightenment in the state, Mr. C-Don Adinuba, the state governor, Chief Willie Obiano, has urged citizens of the state living in flood prone areas to immediately move to Internally Displaced People (IDP) centers close to them.
The statement reads in part: "The Government of Anambra State has renewed its directive to all residents within the coastal areas in four local government areas to immediately leave their places in view of the raging flood water threatening to overrun the areas.
"The forecast by relevant agencies that these places will experience very high levels of rainfall resulting in dangerous floods is coming to pass.
"The state government has made arrangements for the effective and efficient evacuation of residents of these local government areas, and relocate them to designated holding centres.
"The centres have been provided with sanitary facilities, water boreholes, beds, cooking utensils and foodstuffs.
"A number of water ambulances and other marine transport vehicles are on stand-by. All emergency services, including the Nigerian Navy, the Nigerian Army, The Nigeria Police Force and the Anambra State Fire Service as well as the Anambra State Emergency Management Agency and the National Emergency Management Agency, have been well mobilised.
"Residents of the affected areas are therefore advised to move immediately to avoid needless dangers in the face of imminent threat to life and property."
The government urged humanitarian and donor agencies, philanthropists and non–governmental organisations to assist in any way they would deem fit to enable the people of the state grapple with challenges of the flooding.