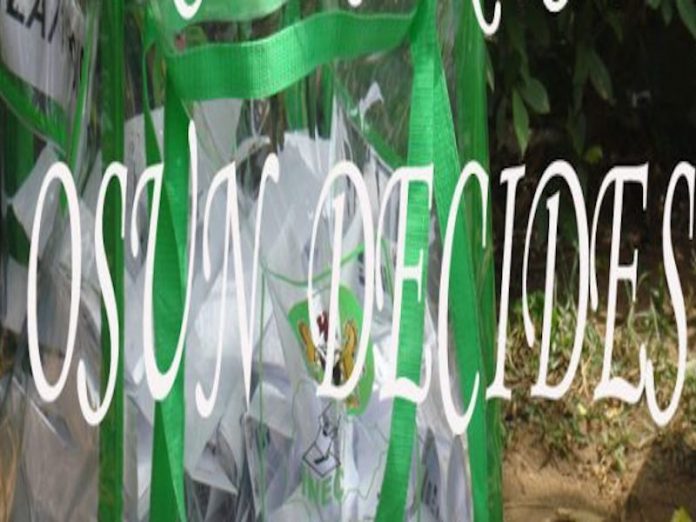 By Yinka Kolawole in Osogbo
Peoples Democratic Party (PDP) agent was noticeably absent as rerun election was held in Adereti Village, Ward 7, Unit 12.
Unit 12 is one of the 7 units where governorship rerun was ordered by Independent National Electoral Commission (INEC) for the Osun governorship poll held on Saturday, September 22.
An INEC official, Ven. Stephen Oyewande, who is deputy director, Voters Education, when asked why PDP was missing, said: "call the state chairman of the party why his party agent is not here. I can't explain why he is not here."
However, Lateef Abimbola of All Progressives Congress (APC), Olaiya Yemi of All Peoples Alliance (APA), Rasheed Mojeed of Advance Congress of Democrat (ADC), Adeyemo Gafar of Action Democratic Party (ADP) and Bayo Shittu of Social Democratic Party (SDP) were present at the polling centre.
Also, some serving Commissioners and Special Advisers of Osun State government were sighted in the polling centre.
Security around the polling unit was water-tight, even as Ife/Ondo road was partially blocked to traffic.
Though they were later allowed to move, many commuters, especially those moving towards Ondo end of Ife/Ondo road, were stranded for some hours owing to road block mounted by the soldiers on election duty.
Speaking to newsmen, Supervisory Presiding Officer, Femi Kuku, said the exercise was going on well without any hitch.
An unconfirmed report has it that PDP agent as well as some supporters of the party were chased out the polling unit.
Voters across Orolu ward 8 unit 1 at Kajola primary school commenced accreditation and voting at about 8:30 am under tight security and the watchful eyes of domestic observers and INEC officers
THISDAY reports that  security personnel which  include Nigerian Army, NSCDC, DSS, and the Nigerian Police were seen in the vicinity leading to the bushy Kajola primary school ward 8 unit 1.
The numbers of accredited voters for unit 1 ward 8 was 393 and number of voters seen in the queue were 32 when THISDAY visited.
Mr Tomisin Olatoye , a Domestic Election Observer with the Nigerian Civil Society Situation Room, told newsmen that the election was peaceful but cited some issues.
Olatoye said there was heavy presence of security personnel which scared away some voters belonging to a political party.
He said voters were intimidated and prevented from voting while security personnel were busy watching.
According to him, a political party was only allowed to vote while other parties were being scared away.
A voter, Mr Adegboye Sarafa, expressed optimism that his party would emerge victorious at the end of the election.
Sarafa urged the electoral umpire not to compromise when announcing the winner.