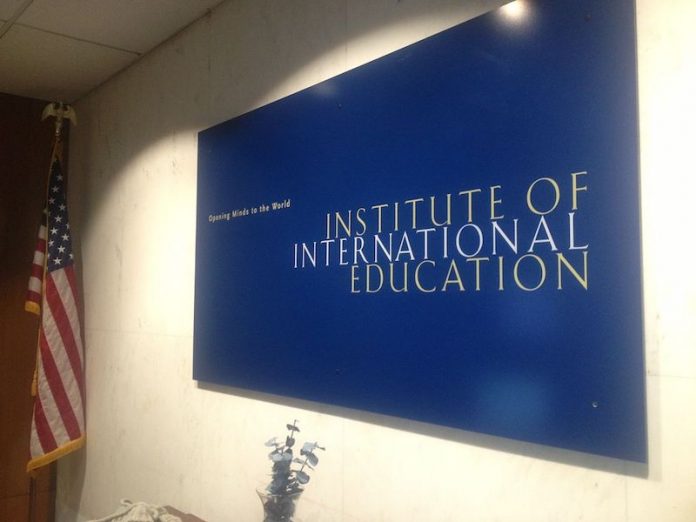 Bennett Oghifo
Over 11,000 Nigerian students are currently studying in the United States, according to the Institute of International Education (IIE) Open Doors Report.
The Public Affairs Officer, United States Consulate General, Russell Brooks quoted the report in his remarks at the 2018 Education USA College Fair, the 19th annual edition held yesterday at Supreme Education Foundation, Magodo, Lagos.
Brooks said a top priority for the United States is to support Nigeria in its effort to develop the huge potential of its economy and of its human capital by enhancing educational opportunities for young Nigerians.
Many of these Nigerian students in the US, he said are self-financed, but many also received scholarships, adding that Nigeria is the top sending country in Sub-Saharan Africa.
The US has more than 4,500 accredited institutions and offers everything from two-year Associate degrees to four-year bachelors, masters and doctoral degrees, he said.
According to him, the EducationUSA College Fair exemplified a major part of that effort.
There were 43 US higher education institutions represented at the fair, which is a record number of participating US educational institutions, according to Brooks, who lauded them for coming to explore opportunities in Nigeria. He expressed the hope that the students would have a chance to consider each of them, and encouraged each student to get to know all the schools represented at the fair.
He advised them "to consider carefully which might be a good fit for you. If possible, I suggest you each also attend the breakout sessions later in the day to learn about student visas and steps to applying to the U.S."
He introduced the office that organised the fair, EducationUSA, as one of many the U.S. Department of State operates around the world.
EducationUSA, he said is a US Department of State network of: Over 425 international student advising centers in 180 countries; 55 centers in Sub-Saharan Africa; Two centers in Nigeria: U.S. Consulate in Lagos and US Embassy in Abuja; With plans to open four new American Centers in the coming year.
He said EducationUSA is the official source for information on U.S. higher education. It promotes US higher education to students around the world by offering accurate, comprehensive, and current information about opportunities to study at accredited post-secondary institutions in the United States.
The purpose of this fair, he said was to encourage international students to study in the United States; enhance mutual understanding: people – to – people exchanges are an important component of strengthening our relations with the global community; to provide options for graduates. Nigerians will benefit from studying in the United States.