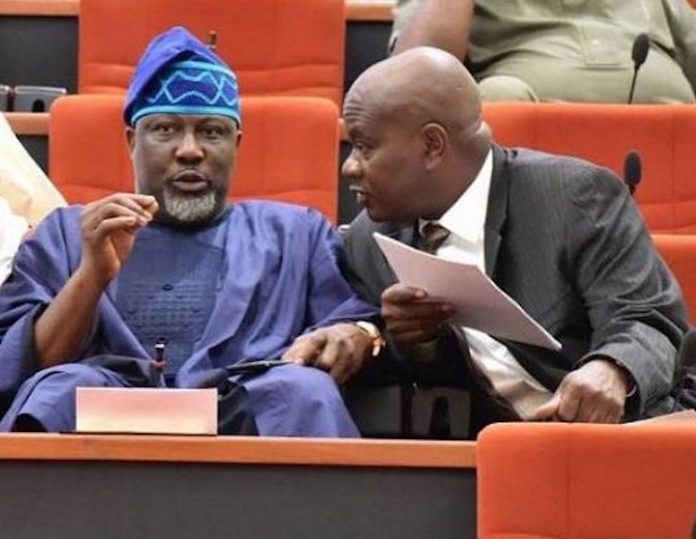 .The allegation false, says PDP
Yekini Jimoh in Lokoja.
Flowing disqualification of some senatorial aspirants by the screening committee of the Peoples Democratic Party (PDP) the Kogi State Chairman of the party, Mr. Sam Uhotu and the Appeal Panel Committee have been accused of allegedly collecting the sum of N50 million from Senators Dino Melaye and Atai Aidoko to disqualify the other aspirants.
But in a swift response, the main opposition party in the state has denied the allegations.
A group known as Kogi PDP Frontier made the accusation yesterday in a statement issued and signed by Akamisoko Alexander.
The group maintained that the chairman of the party lacks the moral ground to still remain as chairman having lost the confidence of the members, who passed a vote of no-confidence on him.
The group asked the state chairman to resign immediately for allegedly taking a position on the emergence of some serving national assembly members as candidates of the PDP.
According to the group, it has it on good authority that the party chairman has been compromised and would destroy the PDP.
The group lamented that the current chairman operates from Abuja, leaving all aspirants to the forthcoming election directionless.
The group added that the chairman is only seen in Lokoja to receive presidential aspirants, return to his hotel or open the gates in former Governor Ibrahim Idris's house.
The group disclosed that the fate and chances of the PDP in Kogi State with the current chairman is uncertain, warning that keeping him as chairman would impact negatively on the PDP in 2019.
However in a swift reaction, the State Publicity Secretary of the party, Mr. Bode Ogunmola has denied the allegations, stressing that the party chairman was not a member of the screening committee.
"The screening committee is from national secretariat of the part. Why will any person now bribe the state chairman? These allegations are baseless," he added