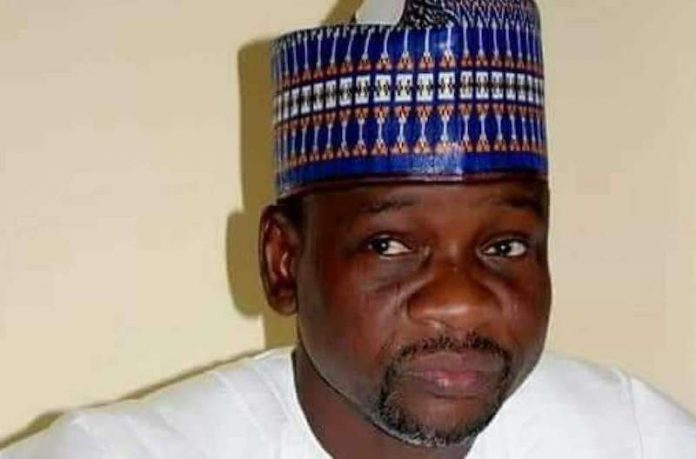 Michael Olugbode in Maiduguri
A pregnant woman who abducted the son of the Borno State Chairman of the All Progressives Congress (APC), Alhaji Ali Dalori gave birth while holding her captive hostage, the police said yeserday.
The police also alleged that a major in the Nigerian Army was also involved in the crime.
Addressing a press conference in Maiduguri, the Borno Commissioner of Police, Damian Chukwu said that the woman, Fatima Mohammed, who kidnapped the politician's son gave birth in a hotel where she was holding the boy in Maiduguri.
"Pertinent to mention that the said Fatima Mohammed who was pregnant at the time she kidnapped the minor, gave birth to a baby boy in the Guest Inn while keeping the victim on 21/09/2018.
"On September 19, 2018 at about 1430hours, one Alhaji Ali Bukar Dalori Chairman All Progressives Congress (APC), Borno State Chapter reported to the Police that at about 1300hrs same day, an unknown woman went to Capital School, Old GRA, Maiduguri, abducted his four years old son, Kashim Ali Bukar Dalori and took him to unknown destination," the police boss said.
According to the police commissioner, the abductor and her syndicate subsequently demanded a ransom of N20 million through a text message sent to the mother of the victim.
"The ransom was to be dropped in Kano before the release of the victim.
"Following the incident, I immediately mobilised teams of Federal Special Anit-Robbery Squad (FSARS) personnel led by the Commander, CSP Ibrahim O. Mohammed, to swing into action for possible rescue of the victim and arrest of suspects.
"Tentacles within and outside Maiduguri Metropolis were spread with the aid of the Inspector-General of Police Intelligence Response Team (IRT).
"On September 21, 2018 at about 1950hrs, two members of the syndicate- Mohammed Shehu Musa, alias Alhaji Shana and Muktar Goni Shuiabu, alias Bana, both of Bulumkutu area, Maiduguri, were arrested in Kano at the point of collection of the N20 million ransom," the commissioner said.
He added that: "Instant investigation led FSARS detectives to Albarka Guest Inn along Baga Road, Maiduguri, where one Fatima Mohammed (female). of Bulumkutu area, Maiduguri the same woman that abducted the victim at the school is lodged.
"She was arrested in possession of the four years old victim. The rescued victim was handed over to the parents after medical examination."
Chukwu said: "All the suspects confessed to the crime and claimed to have done so for the love of money."
He revealed that the manager of the Guest Inn is also apprehended and that a "Nigerian military officer of the rank of Major (names withheld for investigation purpose) who accommodated the female suspect in the Guest Inn is being looked for."
–
He said: "The suspects will be charged to court on completion of investigation."
The police boss also said there was a second abduction in the state.