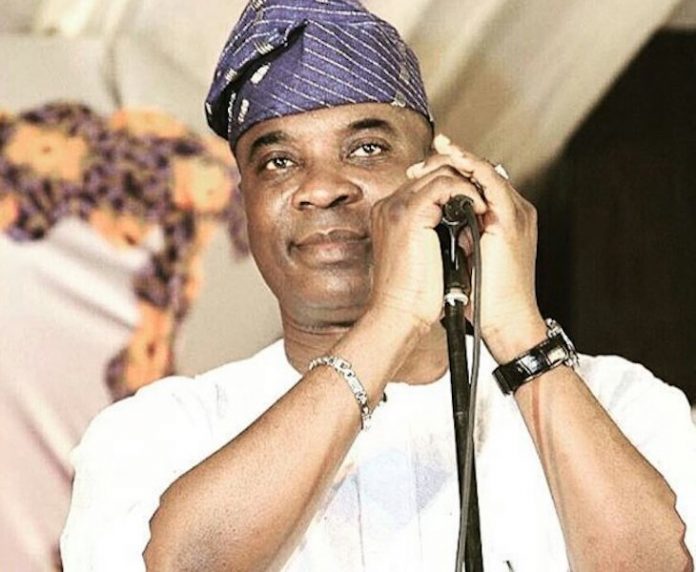 Gobs of money might be the most efficacious painkillers in politics but not totally so for Governor Akinwunmi Ambode. For the past few weeks, Ambode has been buffeted by a concatenation of controversies owing largely to his second term bid. Now, a pebble has been thrown into the political lake of Lagos State and unlike others this particular pebble's ripples are spreading far, fast and furiously.
For the gladiators and also-rans jostling for the Lagos State APC governorship ticket, there is urgent need for Ambode to rethink his strategy now that Jide Sanwo-Olu has thrown his hat into the ring.
However, last Sunday, King Wasiu Ayinde, the Fuji musician, made some acerbic comments about Ambode. Those who know Wasiu, have come to accept his loquacity and braggadocio as his preferred way of life. They can't begrudge him. A rabid, unrestrained and impulsive anti-Ambode, he wears his hunger for attention by attacking Ambode's deeds and misdeeds like a badge of honour. Even when needless, the rambunctious musician must say something to be in the news. Wasiu loves to talk but when he does, he always skirts moral and ethical pavements, leaving many to wonder how lowly he has sunk.
Some of his quotes would suffice: "All the good things in Lagos were seen during Tinubu and Fashola's regimes. This other mad man only does his mouth like this. He scammed me for three and a half years. I campaigned for him when he had nothing. Now that he has gained power and stolen enough money, he is behaving like a god.
We have used 'oro' cult to chase the mad man away." But despite the governor's penchant for performance and achievement of rare feats, he suffers the affliction of mediocre aides and underlings. His media team in particular, apart from the very hard-working Haruna Habib, the Chief Press Secretary, betrays unparalleled mediocrity and knack for underplaying the exploits of the hard-working governor.
The lacklustre stewardship of the governor's media team has not also helped matters. It is essential for the team to know that giving larger share of patronage to government-owned and sympathizers-controlled media houses is a strategic flaw in a city where the majority of residents tune in to private stations for unbiased informational contents.
While it is acknowledged that no two leaders are the same in style and disposition, Ambode's media team need to take cognizance of what works, and infuse it into its strategy, particularly in a sophisticated enclave like Lagos. Some of his media aides are just feeding fat on him with their big bellies. Knowing the importance of their office to every government, the media aides exploit their privileged position to their advantage. It is however interesting to see them lie to the governor and collect huge sums of money, often running into millions, that they want to reach out to both online and print journalists and they would cleverly pocket the money. One of the aides has become very rich from money meant for online journalists. That particular aide knows what we are talking about.
Thus Nigeria's major affliction besides the archetypal rogue, corrupt journalist includes, Special Advisers on Media Affairs, some State Commissioners for Information, Chief Press Secretaries and Special Assistant on Media Affairs. These 'Yes-men' conduct themselves like political Labradors, constantly undergoing psychological entrancement, thus turning their linearity of quest into a Tantalus problem.
Tantalus, the eternally hungry king in Greek mythology, was condemned to stand in water under a fruit tree. Whenever he tried to drink or eat, the water or fruit receded beyond his reach. Such is the predicament of the media aide.