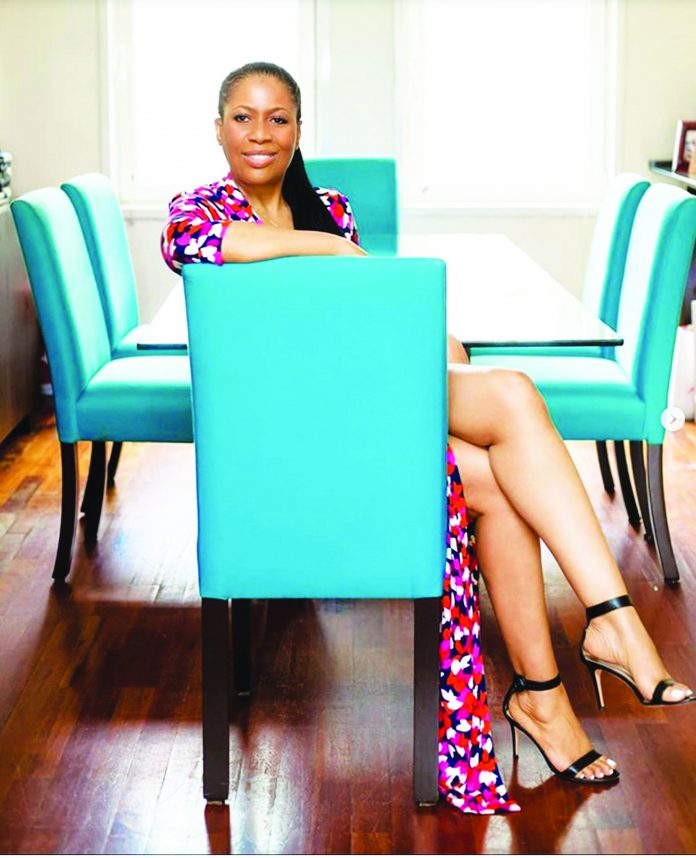 Helen Prest remains beautiful, lovely and oozes grace and poise. She has depth, a mix of loveliness and brains, which are very rare with modern day beauty queens, who often thrive only on the outward appearance. Ferdinand Ekechukwu highlights some interesting moments of the ex-beauty queen, her style and panache as she clocked 59 recently
Nigeria's most glamorous and ageless ex-beauty queen, Helen Prest-Ajayi; that's how Motherhood in Style magazine described the stylish and gorgeous beauty queen. The former Miss Nigeria's reign ended many years ago, but she has continued to dazzle with her aura of undiminished elegance and class with much aplomb and acclaim.
A lawyer and writer, Helen Prest-Ajayi, clocked 59 on Monday, September 17. The effortlessly beautiful woman, who was crowned Miss Nigeria at age 19 in 1979, puts her legs on display in an Instagram post to celebrate the day. "59 feels great", she wrote. A product of the International School Ibadan and Obafemi Awolowo University, Ile-Ife, Mrs. Helen-Prest has aged gracefully over the years.
A mother of three daughters, the discreet socialite has been married twice, which she quite acknowledged. Speaking in an interview in 2017, she said: "You know a woman is like a flower, she should be pleasing and she should make every effort to be as beautiful as she can. So, I do make every effort and I try my best and hope it is very pleasing to the eyes."
Her style was the model for ladies and girls who aspired to be like her at that time. Very highly educated, and a beauty with brains, she cuts a picture of a role model for any young girl.
She comes from a very illustrious family, and this she says with all pride that her parents gave her quality education. Following her victory, she bestrode the Nigerian social space like a colossus. Being Miss Nigeria was a big deal for her, for it was the only pageant at that time, without Nollywood. There were no divas in sight then, leaving her a free zone to shine as queen and celebrity. It was a reign that was scandal-free. Three decades on, armed with a Master's degree in Law from King's College, London, married to Dr. Tosin Ajayi, with three grown up daughters and a thriving business, age seems too scared to come near her.
In those days, Daily Times ran the only pageant, and still does with the Miss Nigeria beauty pageant, albeit controversially. She recalled: "Don't forget, we didn't have celebrities. I was the only celebrity. We didn't have Nollywood divas then. The pageant was the only fairytale story going. It was the only avenue for a girl to come on to public stage at such a young age and travel the world and meet people. I was only 19 years and naïve but I travelled everywhere. I went for Miss World. I was like an ambassador for the country, meeting dignitaries who came to Nigeria such as Mohammed Ali. I was presented to traditional rulers as the queen. It was a very dignified and respected position. People loved it and I was very well treated and taken care of.
Amongst the many dignitaries, her meeting with the boxing legend Ali was most memorable. Ali later acknowledged with a note. Years later after he passed on, Helen took to her facebook page to eulogise the legend and make known the content. "Muhammad Ali was everything you expected him to. Meeting him in person during his heyday is a memory I will always cherish. It was truly one of those pinch me moments. I walked into the suite interrupting a very young boy bobbing up and down jabbing his fists into the air.
"His father looked on beaming with pride, his eyes darting back and forth between his son and Ali while the latter looked at the display with resigned politeness. 
"How are you Helen" he drawled as I stepped forward. The display halted, as we chatted. He was so kind, friendly and funny. I could feel myself having an out of body experience as I jabbered away and cackled with unnecessary laughter. I was deliriously momentarily insane; for what reason I don't know.
"The thought occurred to me that the father of the boy had probably hoped that Ali would carry his son off to America, maybe we all did. Alas in the twinkle of an eye poof! It was all over. If it were today, I would have asked to take a selfie. He was sweet enough to write me a very special note. Adieu Champ! #thegreatest #MuhamedAli #Magical.
The note from Ali to Helen reads:  "To Helen from Mohammed Ali. From one champ to another, September 30-19-79 Love always…"
At 59, Helen looks effortlessly beautiful and epitomises the dream of many women to age gracefully. At the 2017 edition of Miss Nigeria, she said: "When I was Miss Nigeria, there was no Internet, no social media and there were no celebrities. Miss Nigeria was the only celebrity." And yes, she is still a celebrity, not a society woman but more of a corporate enigma who was part of the people that dictate styles on the pages of magazines.
Helen, who is one of the most evergreen Miss Nigeria pageant winners, has been on the scene since her reign as Miss Nigeria over three decades ago.
Her staying power she attributes to God. "I think that it's God's grace, stable lifestyle, and healthy living; eating natural foods is very good in terms of health, skin and overall beauty. Peace of mind is extremely important as well and if you are happy, it reflects. Of course, you know I was well educated. I think education is important because it makes you understand things better. You are able to assimilate things better and you are able to think at every stage of your life."
Her fashion fetish being shoes, "shoes without a doubt! I know people were shocked by Imeda Marcos's shoe stash. I certainly wasn't. No I. I love shoes. I am a size 30. I don't really go for the trendy shoes. I prefer classic shoes. They are fashionable, yet comfortable and the workmanship is second to none. I like shoes that you can bring out 10, 15 years later and they still look good to wear. That's why for me, I don't mind spending the extra money."
She likes very classy and comfortable shoes. I don't shop for fashion. I shop to fit my wardrobe, so, I always buy something that will work with what I already have, not because it's the 'in' shoe.
Simple and uniquely stylish in her own ways, style is an expression of who you are, that is reflected in how you live, what you wear, what you eat and even what you cook: "I don't believe you have to go extra or too loud to be noticed or be comfortable. My style is an expression of who I am. I am very comfortable in whatever I choose to wear, style is comfort. I believe less is more. I study what fits my body and do accordingly. I rarely but follow fashion at a distance. I wear what suits me. I keep up with the time but I am myself. My fashion taste has always reflected who I am, my personality. Your style should be yours and not follow people around. When you discover your personal style, you will be comfortable in it."
That she would soon be sixty makes her persona even more interestingly striking. In her words, "Beauty is within and I think if you are good to people, you are good to the universe, they will give you goodness back and then it shows all over you. Beauty comes from within as I have said then radiates outside. I am very youthful in my mind and I make myself very happy. I relate with different age groups which makes life a lot of fun. You should not see yourself as being old if not you will grow old fast. So renew your mind and heart to be happy. It makes life more of fun. When you are happy your skin glows."
She once noted that, "I used to say to myself, the minute I get older I'll have plastic surgery to correct everything. But as time goes on, I haven't really seen anyone that looks good with plastic surgery. Have you seen Sarah Ferguson? She looks terrible. None of the people I've seen look nice, they look frozen and unnatural. All the botox and plastic surgery; even the boob jobs, none of them look natural and they nearly always have complications. Now, I am thinking I don't think so."
It must have been an interesting aspect of any body's life to have lived as a queen and enjoyed that stage. To Prest-Ajayi, "I think the nicest thing about being a queen is that you don't need to explain to anybody that you are beautiful. It is judiciously noticed. I am always telling my husband. I think that is one of the benefits. I don't need any affirmation. But on a more serious note, it was a moment in time that I thank God for. It came and it's now gone with good memories."