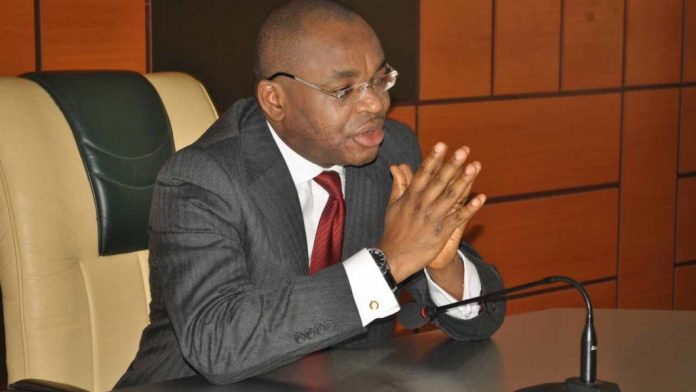 By Okon Bassey in Uyo

Trouble is brewing in Akwa Ibom State as political billboards of the State Governor, Mr. Udom Emmanuel erected at strategic locations in the state to advance his second term governorship ambition were being destroyed by thugs suspected to be from the state opposition.
The pro-government billboards so far destroyed were located along the Uyo Airport Road seen as the gateway to the state capital from the Ibom International airport.
Accordingly, the State Commissioner of Police, Mr. Adeyemi Ogunjemilusi has warned against the malicious destruction, defacing or removal of posters and bill boards of political opponents in the state.
The Police Commissioner in a statement issued by the Police Public Relations Officer (PPRO), DSP Odiko MacDon urged politicians and stakeholders in the state to caution their supporters against such act.
"This is a criminal and electoral offence. For the avoidance of doubt, the Command has put in place mechanisms to identify and prosecute those involved in such criminal acts.
"Henceforth, anyone caught removing, defacing or destroying campaign posters or bill boards of their political opponents or those found breaching any part of the Electoral Law will be apprehended and prosecuted in accordance with extant Laws." the command stressed.
The State Police boss tasked stakeholders to eschew politics of bitterness, hate speeches and anything that will overheat the polity or threaten the conduct of the 2019 general elections in the state.
The Command, he said would not hesitate to deal decisively with anyone caught in any act that is likely to cause a breach of the peace being enjoyed by the people of the state.
He assured the people of Akwa Ibom State of their continued security, before, during and after the 2019 general elections.
Reacting,  Government sources alleged that the order on thugs to destroy the billboards with the face of the Governor in the state may be a prelude to the fulfilment of his alleged promise to visit mayhem on the people of the State by Senator Godswill Akpabio as he had earlier said.
Senator Akpabio was reported to have recently said that his conquest of Akwa Ibom in 2019 would be likened to Adolf Hitler's conquest of Warsaw, Poland; adding, "Warsaw saw war and war saw Warsaw… but in 2019 Warsaw shall see war and war shall see Warsaw."
"The dastardly act has commenced with the destruction of Pro- government billboards along the Uyo airport road.
"This is part of Senator Akpabio's plot to push the People Democratic Party (PDP) faithful into carrying out retaliatory actions but PDP being a peace loving party has refused to be dragged into such guerrilla tactics. 
"Let's say no to this renewed attempt by Senator Akpabio to plunge Akwa Ibom back into the dark days of violence, kidnapping, killings and wanton destruction of lives." , sources stated.