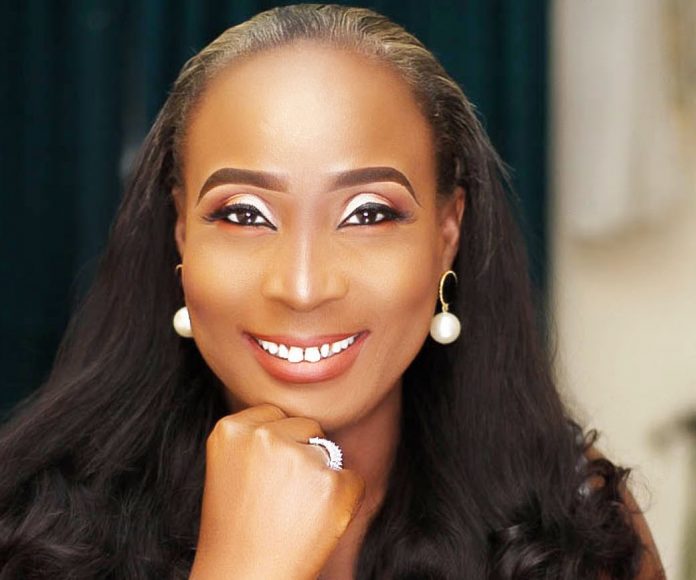 With vast industry experience spanning over three decades, starting at 17, Deborah Odutayo sure has an imprint that strongly set her forth. Her journey into entertainment and especially TV content production started from an early exposure at the Nigeria Television Authority NTA, Lagos. Coupled with an unflinching determination to build a career in an industry dominated by men, in the course of honing her career driven by passion, she was able to pick up all the learning and production techniques under the tutelage of veterans such as Sadiq Daba, Enebeli Elebuwa, C.Y. Okonkwo and a host of other professionals of the early 80s and 90s. She takes Ferdinand Ekechukwu through a journey of her life, career, teenage and family
It was first a phone call to Deborah Odutayo that set off the conversation. But somehow, she was quick to drop the call. She would later explain that she was on set. Odutayo has produced many indigenous television drama series including very recent ones as My Mum & I, Edge of Paradise, Soul Sistas, and About To Wed. On this occasion she had promised to call back but didn't. An interview would follow, but no, it would be rescheduled a week after the initial date. However, the exchange later progressed. Understandably, it appeared she has got much on her hands with workloads to keep.
Primarily, Odutayo is the Executive Director of Royal Roots Communications, owners of R2TV and R2Radio FM in Ibadan with her spouse as the Managing Director. Aside her being the Head of Jury for the 2018 Africa Magic Viewers' Choice Awards (AMVCAs), she is a member of the Board of Trustees of Electronic Media Content Owners Association of Nigeria (EMCOAN), a body she creditably served two terms as president for four years. "I was elected unopposed and re-elected again the second term", she recalled, her face spurting with smiles. "Everything I do in life I take it very seriously. I take it with all my heart whenever I get into anything I make sure that I leave a positive mark at the end." 
For Odutayo, working in the media was a hobby that turned into a lifetime experience. Growing up she had wanted to be a lawyer. "I wanted to be a lawyer. But I have always loved television. It's a hobby for me. My TV is on 24/7 in house; my office has TVs everywhere. After my WAEC, I was waiting for my JAMB, my uncle was the chairman of NTA then. Because I was known as a tomboy, I was very restless. So, my uncle just called the then DG of NTA Shyngle Wigwe, to take me in as an intern just to keep me busy. He just spoke to him within two minutes and he said 'oh send her'.
"I walked into that place in 1984, Wigwe handed me over to the late Jimmy Atte and the likes of Peter Igho. So I worked with all the producers; Tade Ogidan, the late Enebeli Elebuwa", she paused trying to recall the names. And just within a flash she would reel out some legendary names. "C.Y. Okonkwo. He was documentary. You see I didn't just do drama, I did documentary, I did talk shows, and I did everything that was done in a television station at NTA programmes. I was ready to learn everything. So I started as a production assistant.
"For me, do I say because their own passion drove my own passion because I could see that they were passionate about what they were doing. Not that they were earning much then even till now. I think the way they related with me, what I saw in them, that team spirit, that way of working and getting things done was what really moved me into doing it. Because I remember when we were shooting telemovies in Badagry then, I was young at 17 at that age, by 5am we were already on our way to Badagry to shoot. So I think their passion and that support they gave me spurred me."  
There were not too many females but just two of them at that time. Odutayo is vivacious. She attributes her journey and success to passion and hard work because she got into there and that was a life changing experience for her. She was seeing it done live at NTA what she likes watching on television. "I just got into it and there was no turning back for me from there on", she recalled. "So I wanted to work with every producer. I would go and meet Sadiq Dabah and would say 'are you going on location tomorrow sir', I would go and meet Danladi Bako, and I would go and meet all of them. Tade Ogidan till today still calls me 'Debbie Kekere', because of my age then. I'm 51 now. He would say he's so proud of me.
Then when I went back to school, when on holidays, I would go back, work as a contract staff. That was how for six years I was going back and forth school-NTA, school-NTA; it was a second home for me. So I got back home a night, the following day I have gone to NTA." 
Born into a very comfortable home, she lacked nothing that would have made her want to stay outside of home. Her father Squadron Leader Femi Godson Okoronde was a senior military officer at the Nigerian Air Force Base in charge of medical facilities. Her mum is late. Odutayo says she is satisfied doing what she loves doing and getting paid for it. "That is what drives me every morning. You know because at the end of the day, some people will say 'oh passion cannot drive me'. Passion can drive you to do so well that it speaks for you and then the money comes. That's what is happening to me now." 
Just then, her office door would open just behind this reporter and as he turned, the glimpse of the person had flashed out. Inquisitively he asked, albeit loosely, if that's her husband. "He is my MD", she retorted, with her posture intact. "We don't use such term here." Debbie as she's fondly called in the industry is not unmindful running Royal Roots Communications with her husband, Greg Odutayo. When asked what it is like working with her better half for 23 years, she acknowledged that she often gets same question in church, playground, everywhere she goes. "I always get that question and I'm sure he always gets it too. But we will always say the same thing and we would maintain it. It's respect for each other. When you respect the other person's opinion, I mean he met me as a producer so he didn't make me a producer. And this is what I have always loved." 
Their matrimonial journey bears significance to providence. Her husband, also a renowned industry practitioner, was actually her client. He was working at an advertising agency that brought jobs to her production company. She happened to have worked on his project. Debbie says, like every other person that had always liked working with her because of the energy she puts into her job, they just became friends. "This was during the Abiola riot. And he saw that I left my home even inside the riot and I came to finish his job and he was still there in Akoka. We became friends. And were friends for a long time and colleagues before we started dating and then we married and had children. 
"And then he started the company. And then I joined. Because we thought both of us couldn't leave paid employment. That's what a lot of young people mistakes they make. If you want to set up a company, you should both discuss, agree. Because we didn't start making it initially so when the company doesn't really make it you have the salary to fall back on. For 23 years now this year we have been together; 22 years in business, 23 years in marriage. I have three wonderfully amazing boys; 22, 21, and my baby, 17. So it's been a wholesome experience because we argue, we fight, based on business but we always strive not to take what happens in the office to the house, and what happens in the house we don't bring it into the office."        
Having spent substantial years in the television and film industry, what would she say is her achievement? Beside her family, she says her God comes first, her family second and then her business. "My greatest achievement has been myself, insuring that I stay up there and continue to make an impact in the industry and the AMVCAs was one great opportunity to do that. And till now, I thank God every day every morning to say look there are changes that can be made and you are in a position to make that change. I look back at, like I rightly said, I was 51 some few months ago. And when you are 50, you stop and you reflect on what your greatest achievements are, what you have done and I look back I cannot finish counting everything that has happened. So I thank God for my life, for my business, for my family, for everyone but also making that impact and empowering younger generation."
Very true to her that there were pretty young actors, mostly female in her office lounge waiting to be auditioned. At the end of the conversation, there were even more of them observed. Debbie is a fanatic when it comes to hiring women, especially within the industry. She explains, "Women in the industry are showing that they don't need a man to get to where they want or they don't need the support of a director or somebody to say that's the next role or you have to do this before you get that role. No, there's nothing like that anymore. Well if there is, it's very minimal.
"When I first started years ago, I had to counsel a lot of young girls because this was the challenge and this was why they ran away from being behind the scene or being in front of the scene. But now I have 80 per cent of women behind the camera with me. When it comes to a man maltreating or disrespecting a woman, you are off. You cannot be near me. So we don't allow all that so that's a greater achievement for me as well."