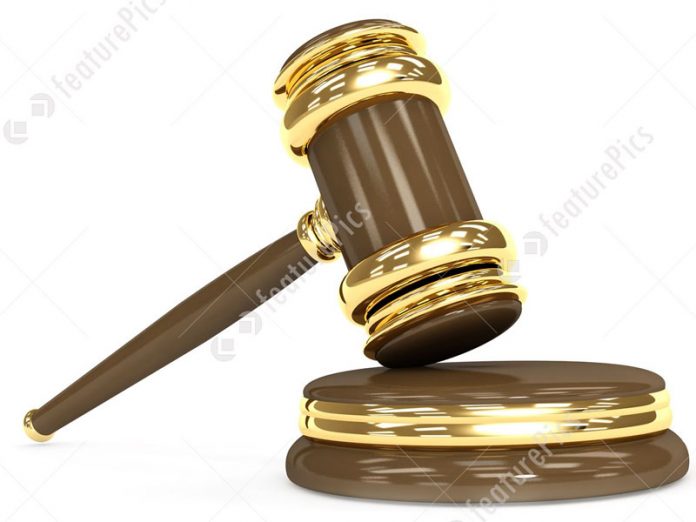 Trump tells OPEC to lower oil prices
Ejiofor Alike with agency reports
Ahead of the next hearing of the main trial involving 13 executives and contractors of Eni and Shell, which is set for September 26, an Italian judge thursday sentenced two defendants to jail in the first ruling on one of the oil industry's biggest corruption cases involving Nigeria's $1.3 billion Oil Prospecting Lease (OPL) 245, and Malabu Oil and Gas Limited.
This is coming as the United States President Donald Trump has again urged the Organisation of Petroleum Exporting Countries (OPEC) to lower prices, linking American support for Middle Eastern countries to oil prices.
Shell and Eni have denied wrongdoing in the acquisition of OPL 245 but if found guilty, the individuals on trial face possible jail terms for bribery.
But yesterday, in a case running parallel to the main trial, a Milan judge decided, for the first time, whether $1.1 billion of the $1.3 billion paid by the oil giants to Malabu Oil and Gas Limited was siphoned in bribes to win the licence to the field.
A Nigerian, Emeka Obi, and Italian, Gianluca Di Nardo, were found guilty of international corruption and each given four-year jail term, three sources with knowledge of the ruling told Reuters.
Lawyers for Obi and Di Nardo declined to comment.
The long-running case revolves around the 2011 purchase by Eni and Shell of Nigeria's OPL 245 offshore oilfield from Malabu Oil and Gas Limited for $1.3 billion.
Milan prosecutors alleged bribes totalling $1.1 billion were paid to win the licence to explore the field which, because of disputes, has never entered into production.
It was the two civil lawsuits filed seven years ago against Malabu Oil and Gas Limited by Obi, and a former Russian diplomat, Ednan Agaev, to seek payment for helping to arrange the OPL 245 deal, that fuelled the criminal trial of the executives of Shell and Eni.
Some of the key issues in the trial of Shell and Eni came to light during the two separate civil suits filed by Obi and Agaev.
Both men said they were owed millions of dollars by Malabu Oil and Gas for arranging meetings with Shell and Eni.
Delivering judgment in Obi's suit in London, Lady Justice Elizabeth Gloster had upheld evidence that Obi actually arranged meetings between former Minister of Petroleum Resources, Mr. Dan Etete, and representatives of Eni, and that he (Obi) also negotiated on Etete's behalf with Shell.
Relying on the documents produced in Agaev's suit, the judge also noted that when Eni and Shell paid for OPL 245, they deposited more than $1 billion into federal government's escrow account in London but most of the money later ended up with Malabu, which was controlled by Etete.
Obi and Di Nardo, who were accused of being middlemen and taking illegal kickbacks, had asked for a separate fast-track trial which, under Italian law, allows sentences to be cut by a third.
Apart from the jail sentences, the sources said the Milan judge had also ordered the seizure of $98.4 million from Obi and more than 21 million Swiss francs ($21.9 million) from Di Nardo.
Prosecutors had alleged that Obi received a mandate from Etete to find a buyer for OPL 245, collecting $114 million.
Di Nardo, the prosecutors said, took $24 million of that amount for putting Obi in touch with Eni.
The next hearing of the main trial involving Eni, Shell and 13 people is set for September 26.
However, Thursday's ruling will not tie the court's hand in the main trial.
But Barnaby Pace, anti-corruption campaigner at Global Witness, said: "This judgment will send shivers down the corporate spines of the oil industry."
In an emailed statement, a spokeswoman for Shell said neither Obi nor Di Nardo worked on behalf of the company, adding that it was waiting to see the fast-track judge's written decision.
"Based on our review of the Prosecutor of Milan's file and all of the information and facts available to us, we do not believe that there is a basis to convict Shell or any of its former employees of alleged offences," it said.
Also in emailed comments, Eni reiterated it had acted correctly in the purchase of OPL 245, saying it had worked directly with the Nigerian government.
Nigeria's OPL 245 is one of the biggest sources of untapped oil reserves on the African continent with reserves estimated at nine billion barrels.
Again, Trump Urges OPEC to Lower Oil Prices
Meanwhile, President Trump has linked American support for Middle Eastern countries to oil prices as he again urged OPEC to lower prices.
"We protect the countries of the Middle East, they would not be safe for very long without us, and yet they continue to push for higher and higher oil prices! We will remember. The OPEC monopoly must get prices down now!" Trump wrote on Twitter.
Trump had in April raised the alarm that oil prices were too high and urged OPEC to reduce prices.
In a tweet, Trump had said the cartel's pricing cycle "will not be accepted" as there is no scarcity of oil supply to warrant such "high prices."
"Looks like OPEC is at it again. With record amounts of Oil all over the place, including the fully loaded ships at sea, Oil prices are artificially Very High! No good and will not be accepted," Trump reportedly tweeted.
"Oil prices are too high; OPEC is at it again. Not good!" Trump wrote in a post on Twitter in June, after the April post.