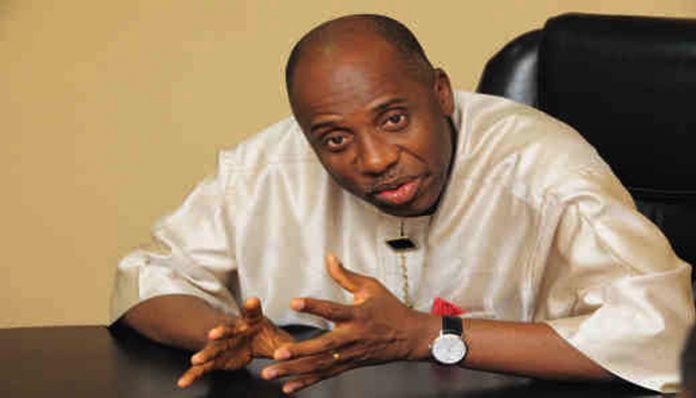 Ernest Chinwo in Port Harcourt
Rivers State Government has said the Minister of Transportation, Hon. Chibuike Amaechi, must account for the $308 million, about N112 billion, being proceeds of the sale of Rivers State gas turbine power stations to Sahara Energy belonging to Mr. Tonye Dele Cole towards the end of his administration.
In a statement issued in Port Harcourt yesterday, the state Commissioner for Information and Communications, Emma Okah, said the sale of the power stations and diversion of the proceeds to fund political activities of the All Progressives Congress (APC) was the reason why Amaechi's administration abandoned so many uncompleted projects and owed salaries and pensions to workers before he left office in 2015.
According to Okah, apart from the power assets which the former governor sold to Sahara Energy, the same company also bought the Olympia Hotel and other high-value state assets under suspicious circumstances from the Amaechi administration and the Justice Omereji Commission of Inquiry was asked to investigate.
"The Justice Omereji Commission of Inquiry investigated the spurious sales and indicted the Minister of Transport and instead of refunding the money, the minister rushed to court to set aside the findings of the Commission. He lost at the high court and at the Court of Appeal. His appeal to the Supreme Court has been abandoned because for over a year, he has failed to file a brief of argument" Okah said.
He said that was the reason why the Minister was arm-twisting his party members in the state and "forcing Mr. Tonye Dele Cole on them as their anointed candidate in the 2019 governorship polls".
He stated that the reason for Amaechi's insistence on Cole was the need to cover the skeletons in the cupboard.
Okah said, "Instead of explaining why he took such contagious economic steps against the State, the former governor and Minister of Transport is busy blackmailing the Government of Rivers State and supporting the Economic and Financial Crimes Commission (EFCC) to disobey existing court orders and harass the Government of Rivers State and her officials.
"For the avoidance of doubts, Rivers State Government is not against the fight against corruption. Our case is that there are two perpetual court injunctions restraining the Commission from investigating the finances of Rivers State Government and until those injunctions are vacated by a superior court, the Commission is duty bound in law to respect it irrespective of how worried the former governor may feel today."