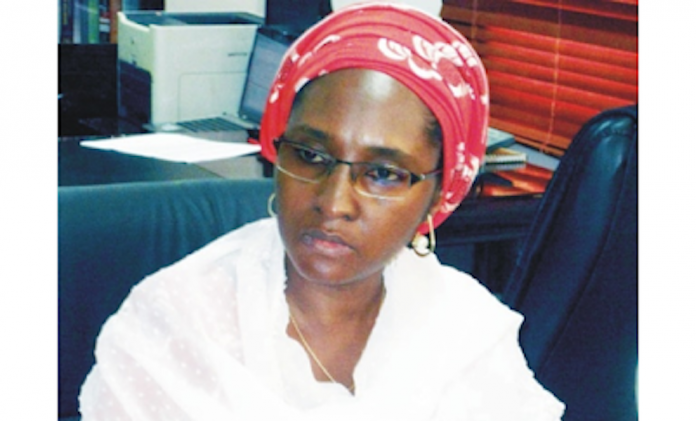 Ndubuisi Francis in Abuja
The newly appointed supervising Minister of Finance, Mrs. Zainab Ahmed, Monday revealed that Nigeria was facing serious revenue challenges.
She, however, promised that the ministry would do everything possible to shore up the revenue base of the country.
Ahmed was directed to oversee the Ministry of Finance by President Muhammadu Buhari after the resignation of former Minister of Finance, Mrs. Kemi Adeosun, on Friday.
While officially resuming for duties yesterday at the Ministry of Finance, she promised to work diligently to ensure that the country attains greater economic stability.
She said, "We have very serious revenue challenges and it is up to us to make sure we shore up the revenue base of the country.
"The president has a lot of confidence that we can do this if we work together. You are working for the president and at the end of the day; you're working for the benefit of the citizens."
The minister expressed her readiness to ensure harmonious working relationship with the permanent secretary and management of the ministry, whom she described as highly skilled.
She charged the management staff of the ministry to do all within their power to justify the confidence of the president in their ability to achieve a much needed economic turnaround in the country.
The minister, who arrived the ministry at exactly 9.27a.m., was ushered in with the familiar labour song, "Solidarity forever," by leaders of the in-house labour union.
The unionists expressed their desire to cooperate with her while in the ministry.
Ahmed, who acknowledged their song, said, "We will work together."
She was immediately escorted inside the building by the Permanent Secretary, Dr. Mahmud Isa-Dutse, and other directors.
At a meeting with staff shortly after, the minister told them that the country was currently undergoing a period of financial challenges.
She said, "I will work very well with you and especially the permanent secretary to ensure that we do all we can to ensure that President Buhari succeeds in his endeavours."
Commending the staff for being core professionals, she said, "We know that you have been doing well but we will push ourselves to do more."
Earlier in his welcome remarks, the permanent secretary had told the minister, "We have been operating as a team," adding, "We are also ready to give the support to whoever comes as minister."
He promised, "We will make sure that you succeed in the task that the president has assigned to you."
Until the sudden resignation of the former finance minister over alleged certificate forgery, Ahmed was the Minister of State for Budget and National Planning.
She is a Fellow of the Association of National Accountants of Nigeria (ANAN), a member of the Nigerian Institute of Taxation and the Nigerian Institute of Management (NIM).
Until she joined the federal cabinet in 2015, she was the Executive Secretary of the Nigeria Extractive Industry Transparency Initiative (NEITI).