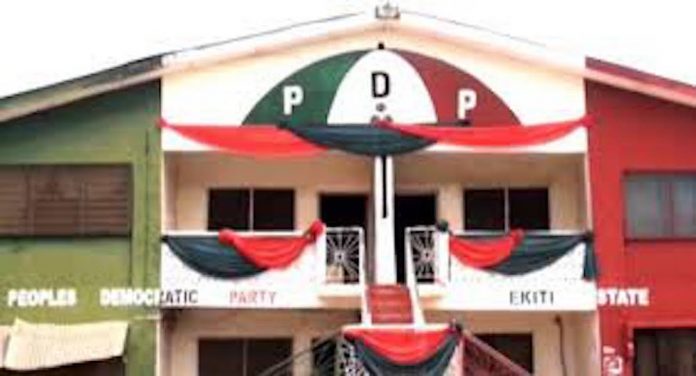 By Adedayo Akinwale in Abuja
The Peoples Democratic Party (PDP) has asked the National Assembly to immediately open an investigation into alleged siphoning of over N10 trillion by the cabal in the Buhari presidency, concealed under the tenure of the erstwhile Minister of Finance Kemi Adeosun.
The opposition party insisted that Adeosun must be made to explain how the 
$321
 million (N115 billion) repatriated by Switzerland was opened up for relooting by the Presidency cabal and corrupt All Progressive Congress (APC) leaders, at the same time she was in the media telling Nigerians that the funds were being transferred to the poor and vulnerable household under a discredited social safety nets system.
The party, in a statement issued Sunday by its National Publicity Secretary, Mr. Kola Ologbondiyan, said its position was predicated on allegations that the Buhari presidency and the APC, being aware of the former minister's NYSC Exemption Certificate liability, used her as conduit in siphoning trillions of naira from the national treasury.
According to him, "The party urges the parliament to probe the books of the finance ministry during Adeosun's tenure as well as the ministry of petroleum resources, which is under President Buhari to expose those behind the N9 trillion fraudulent oil contracts detailed in the NNPC leaked memo, the N1.4 trillion fraudulent oil subsidy regime; the alleged diverted N1.1 trillion worth of crude oil through 18 illegal companies linked with APC interests, among others."
The PDP stressed that the former minister should also be made to expose where the pressure that compromised the system for the stealing of over N25 billion National Health Insurance Scheme (NHIS) fund from the Treasury Single Account (TSA) was initiated.
The party stated that the Presidency has suddenly gone dumb after it challenged President Muhammadu Buhari to start his declaration to jail looters by allowing an open inquest into the Petroleum ministry, as well as allegations of corruption against his ministers, special advisers and leaders of his party.
"Mrs. Adeosun must also be made to tell Nigerians how a cabinet minister close to President Buhari directly stole 
$16.9
 million (about N7 billion) from the returned $321million as non-existent legal fees before the fund became an Automated Teller Machine (ATM) for members of the Presidency cabal and APC leaders," Ologbondiyan said.
The opposition party noted that since it has become clear that Mr. President is providing official cover for corruption under his regime, the PDP urges the National Assembly to subject all officials of the Buhari administration to an integrity test, as Nigerians can no longer bear consequences of a pretentious administration run by very corrupt individuals and fraudulent characters.