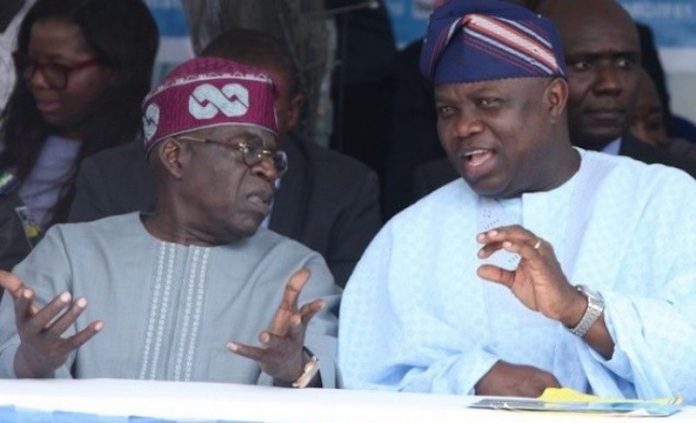 Sanwo-Olu may declare gubernatorial ambition Sunday
Pressure on Hamzat to stand down and deputise
By Bayo Akinloye
Some last minute diplomacy by presidency and concerned stakeholders to save Governor Akinwunmi Ambode's job for another term might have hit yet another brick wall as Tinubu has remained adamant insisting that he does not want to repeat the mistake he made after several prominent people intervened when he moved against former Governor Babatunde Fashola. The Fashola experience is said to have left a bitter taste in Tinubu's mouth as Fashola went on to build his own relationship with Buhari without his (Tinubu's) endorsement. Fashola, Tinubu's loyalists lament, almost emasculated the godfather.
The hawks around him are said to be furiously backing Tinubu not to cave in to pressure to drop his opposition to the governor's second term for similar reason that Ambode would come after them except there is an ironclad way of forcing him to honour certain conditions that would guarantee their continued relevance.
Tinubu is however said not to be particularly keen on conditions but fears that having literally pulled a gun on the governor, should he now lower it and back the governor's second term quest, Ambode might come after him when he is re-elected..
Interestingly, while Ambode's fate is hanging precariously in the balance, Mr. Babajide Sanwo-Olu, the much talked about alternative candidate to Ambode, was said to be putting finishing touches to his declaration rally, meant to hold today at City Hall, Catholic Mission Street, Lagos Island, by 2.30pm, Lagos Island.
In order to scale up the status of Sanwo-Olu, the various support and interest groups managing his aspiration are taking positions in anticipation of the new power centre. They were said to have beefed up security around him, with bodyguards and some bulletproof Sports Utility Vehicles for ease of movement.
Meanwhile, there is a new thinking within the Mandate Group, which seeks to put pressure on Mr. Femi Hamzat to stand down his governorship aspiration and become running mate to Sanwo-Olu before the extrapolations get more complicated.
This idea, sources claimed, stemmed from the need to secure the support of the Justice Forum, one of the key groups set up mainly to propagate the political ideals of Lagos State.
It was thought that with the rate Hamzat was going, especially, with the belief that he is being encouraged to run by Osun State Governor Rauf Aregbesola, he could upset the calculations within the Mandate Group. Hence, the latest move to prevail on him to stand down and be Sanwo-Olu's running mate. This combination also seeks to balance the religious factor of the Lagos politics.
The source hinted that Tinubu and other politicians in the state, who were aggrieved that the incumbent governor had not conceded sufficient political patronage to the political class in the state, came up with the difficult conditions that Ambode had to deal with if he must get the party's ticket for another term.
"The conditions the National Leader of APC, Asiwaju Tinubu is giving Ambode are very stringent. In fact, they are impossible demands on the governor," the APC chieftain, who spoke on the condition of anonymity, said.
According to him, "The conditions given to Ambode are very tough. In fact, the conditions are designed to ensure that the governor does not have the hope of a second term in office.
"I don't know how much sacrifice Ambode is willing to make to be back in power in 2019," the source told THISDAY.
Although speculations had been rife as to why Tinubu was not keen on having Ambode return as governor in 2019, the APC national leader has not publicly expressed his displeasure with the governor.
It is against this backdrop that there have been moves by other APC governors to save Ambode's return as governor in 2019, as they reason that whatever happens to Ambode can happen to any of them.
The source, which claimed Tinubu was holding him by the jugular, said "This is the point I'll like you to have in mind: the register of the APC is in the hands of the party's leader.
"There are efforts to rig Ambode out of the governorship primary. Remember the APC is claiming to have five million members now in Lagos alone. In 2015, the party said it had 2.5 million members.
"Yet, in the presidential poll in 2015, Buhari had less than 800,000 votes and Ambode just a little above 800,000 votes. Are they going to say that the 800,000 plus that voted in the 2015 governorship election were all APC members?"
Among those said to be displeased with Ambode are the Osun State Governor, Rauf Aregbesola, who is reportedly backing Sanwo-Olu as well as other members of the Mandate Group, including Cardinal James Odunbaku alias Baba Eto, and members of the Conference 57, a coalition of council chairmen in Lagos.
These groups have accused Ambode of neglecting APC loyalists since assuming office and they did not hold back when they made public their preference for Sanwo-Olu at the latter's press conference last Friday.
Some of THISDAY's checks had also revealed that Tinubu's wife, Senator Oluremi Tinubu, was one of the brains behind the emergence of Sanwo-Olu as a governorship aspirant in the state.
Curiously, same Remi had sometime in March thrown her weight behind Ambode, along with the other senators in Lagos, Gbenga Ashafa and Solomon Adeola, praising him and praying for his re-emergence as the governor of the state in 2019.
She had said, "Your Excellency, we're proud of the work you have done for Lagos and we're proud to identify with you. We can only wish you divine help together with the First Lady of the state. As you continue to steer the ship of our noble state, you've done very credibly well.
"Even on our way here just seeing the masses having somewhere to go to is a testimony of how you really want to improve the lives of the common man. And, not only that, we see that there's nowhere you go to that you'll not find development. Anyone that will say 'they haven't come to me', all I can say is that they should be patient."
Continuing, the senator added: "It (development) is going to go round. I want to congratulate you and pray that your next term in office will be better than this, because they said the glory of the latter house will be greater than the former. So, we pray that you'll continue to take this state from glory to glory. God will strengthen you with good health, joy and peace in your home and bless your family."
However, as part of his consultations, Sanwo-Olu was said to have met with the Minister of Power, Works and Housing and former governor of the state, Mr. Babatunde Fashola, yesterday afternoon at his Lagos residence.
Similarly, he was said to have met the immediate past National Legal adviser of the APC, Dr. Muiz Banire (SAN), who is believed to have aligned with Sanwo-Olu, in his quest for the governorship of the state.
But as the battle for the soul of Lagos continues, handlers of Sanwo-Olu have already beefed up his security with bodyguards provided through a private security firm.
"He has also been provided a bullet-proof SUV for ease of movement and campaign especially," the source added.
Given this scenario, sources maintained that the growing number of "allied forces" against Ambode was an indication that Tinubu was adamant in his indisposition to giving the governor the party's governorship ticket, hence the near-impossible conditions.
Meanwhile, some APC stalwarts are worried that if Ambode fails to clinch the governorship ticket, President Muhammadu Buhari may pay for it, as Lagosians may not vote for the president in the 2019 presidential run.
Among the professional bodies supporting Ambode's second term bid, the Institute of Chartered Accountant of Nigeria and the Institute of Directors, in separate visits to the governor, recently, commended him for his outstanding performance.
Some months ago, Chairman of Forte Oil, Femi Otedola, issued a statement endorsing Ambode for second term. Chairman of Zenith Bank Plc, Jim Ovia, Aliko Dangote, Tony Elumelu, Oba Otudeko etc, had equally recommended Ambode for re-election during a stakeholders meeting organised by the Lagos State government recently.
Some economic experts, who spoke with THISDAY on the condition of anonymity, had described Ambode as the most focused governor the state has had, especially in terms of deliberate and robust plans for investment and growth in the state.
The economic experts noted that under Ambode, the state had attracted $43 billion-worth of investments proposal due to "deliberate policies put in place to promote investment and enhance ease of doing business."
One of the economists, who is also a financial analyst, told THISDAY, "When he (Ambode) received the Namibia President, Dr. Hage Geingoband, he sold the investment opportunities that abound in the state to him. Ambode has met several groups of local and foreign investors including investors from Dubai, United States of America, as well as envoys from several European and Middle East countries – most recently, the British Prime Minister, Theresa May."
Another expert added: "Ambode has no doubt demonstrated his willingness to expand the economy of the state with the acceleration of the Lekki Free Trade Zone. He released N1.6 billion to accelerate infrastructure development within the FTZ.
"Take away Ambode from the ballot box and Lagos is toying with poor investors' confidence in Lagos. This is not about politics. They should look at the long-term interest of the state, which is currently associated with the person of Ambode. Four years' investment efforts shouldn't be allowed to go down the drain."
The expert spoke of the economic implication of APC doing away with Ambode at the primary, arguing, "Another project that is dear to his heart is the Eko Atlantic City project, a multibillion-dollar undertaking sitting on over 10 million square metres and is expected to accommodate over 150,000 people who would reside there and another 250,000 who would work and commute within the city on a daily basis.
"You don't change a winning captain with a winning mentality. This is the best governor that Lagos – and I dare say Nigeria – has ever had."
Special Adviser to the Governor on Overseas Affairs and Investment, Prof. Ademola Abass, said: "Within the last three years of Akinwunmi Ambode-led administration, Lagos State has received investment proposals approximately worth $43billion."
The experts also claimed that between 2015 and 2016, Ambode's administration had received more Foreign Direct Investment (FDI) than was achieved in the last 10 years.
Last week, the ICAN President Razak Jaiyeola and his IoD counterpart, Rufai Mohammed, praised Ambode's sterling performance since assumption of office in 2015, saying his achievements across all sectors and sections speak volume.