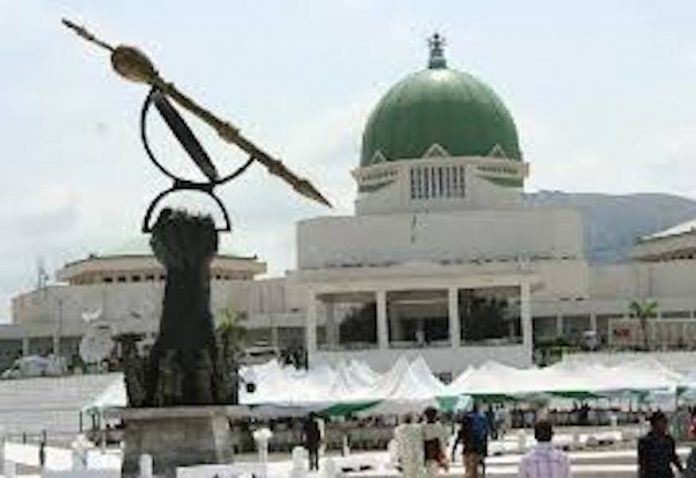 Shola Oyeyipo
A coalition of civil society organisations under the auspices of Movement for Transparent Elections (MTE) has given the leadership of the National Assembly till September 18 to reconvene and pass the budget for the 2019 general election or face a massive nationwide protest.
The body, led by one Mr. Abiodun Ajijola, which marched with placards bearing different inscriptions and chanted anti-lawmaker songs from the Unity Fountain, Abuja, to the Police gate at the National Assembly, said the actions of the legislature is inimical to stability and progress.
The protesters presented National Assembly security officers who prevented them from gaining access to the complex with letters addressed to the President of the Senate, Dr. Bukola Saraki, and the Speaker of the House of Representatives, Hon. Yakubu Dogara, in which they advised the duo to use their positions to save Nigeria from anarchy.
According to Ajijola, "It's quite unfortunate and completely unacceptable that the National Assembly is considering postponing its resumption till the second week of October 2019 because its members are going to take part in political party primaries. What's the logic in going for primaries and refusing to conclusively approve the budget for the same election they wish to participate in it?
"If the budget is not passed, we may find ourselves in a state of anarchy. We want the National Assembly to resume and pass the budget so that we can have a smooth election."
Speaking further, he said it's very clear that there is no urgency on the part of the lawmakers to pass the budget, reminding all members of the National Assembly that they were elected to serve in the best interest of Nigerians and not their personal interests.
"INEC has an approved Election Project Plan (EPP) guiding it in effective election implementation. With the delay, it would be difficult, if at all possible, to meet all necessary benchmarks within the required timelines. Therefore, there must be no further delay! The current intentional delay in approving the general election budget is precarious for the peace and stability of Nigeria," he bemoaned.
The group of protesters noted that if there is any further delay beyond September 18, they would be compelled to mobilise Nigerians from all walks of life, particularly from the constituencies of the lawmakers, to embark on a sustained protests daily and simultaneously nationwide until the budget of INEC and the security agencies are passed.
He added: "We would also let Nigerians know those causing these delays."