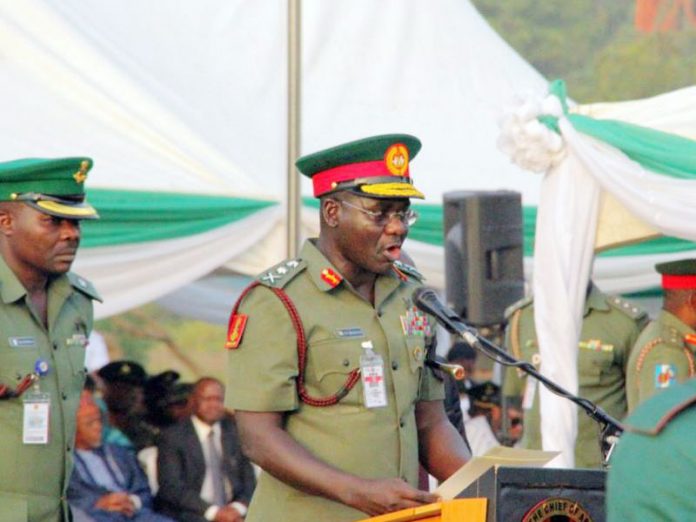 Kingsley Nwezeh in Abuja
Terrorists who overran a military base in Damasak, Borno State, last Wednesday were contained by the superior firepower of ground troops, the Nigerian Army has said.
Army spokesman, Brigadier-General Texas Chukwu, had last Wednesday evening tweeted that the troops of 145 Battalion engaged the terrorists in a fierce battle following an evening attack by members of Boko Haram.
The Nigerian Air Force had also deployed jet fighters and helicopter gunships to pound the terrorists while service chiefs also relocated temporarily to Maiduguri.
The army said troops subdued the terrorists with superior tactics and marksmanship.
"The troops engaged and subdued the terrorists following a superior fire power of the military in Damasak. The troops' aggressive posture, tactics and marksmanship resulted in neutralising many Boko Haram terrorists.
"Consequently, the Nigerian army wishes to state that the fight against Boko Haram terrorists in the North-eastern parts of the country is yielding positive result.
"The Nigerian army therefore advised members of the public, particularly residents of the affected areas, to go about their legitimate businesses.
"The Nigerian army will continue to protect lives and property of citizens at all times," Chukwu said in a statement.
The army also refuted media reports that terrorists overran the 145 Battalion 24 few hours after the Chief of Army Staff (COAS), Lt. Gen Yusuf Buratai, visited.
According to the it, "The Nigerian army wishes to state categorically that the claim is not only untrue but capable of misleading members of the public and the world at large.
"In the said story, the report stated inter alia that Damasak is the location of 134 Battalion.
The Nigerian army wishes to state that there was no such battalion in Damasak."
The army had last Wednesday evening, released a statement "that troops of 145 Battalion in Damasak, Borno State, are engaging Boko Haram terrorists who came to attack their location at about 6p.m. on 12 September, 2018. There was fierce battle going on right now and the troops are dealing with the terrorists."