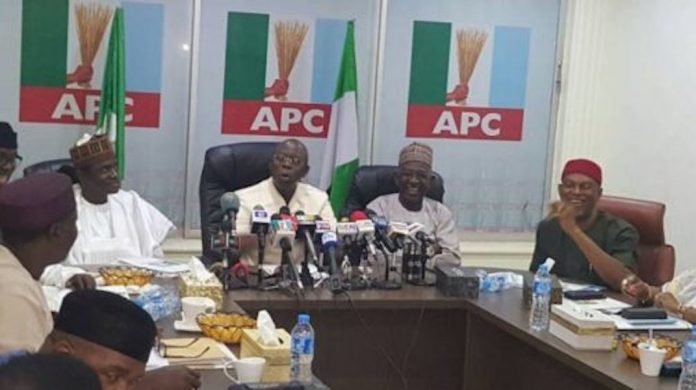 By Ibrahim Shuaibu in Kano

National Chairman of the All Progressives Congress (APC), Mr. Adams Oshiomhole, on Friday paid a special visit to former governor of Kano State, Malam Ibrahim Shekarau, describing him as one of the progressives that was much needed in the APC.
According to him, "for me, it is a rare opportunity to be in your home and reunite with you. I know from your lifestyle, your background, from what you did as the Governor of Kano State, nobody can claim to be more progressive than you."
Oshiomhole who was accompanied by Kano State Governor, Dr. Abdullahi Umar Ganduje and some members of APC National Working Committee (NWC), visited Shekarau at his Kano residence at Mundubawa quarters, insisting that his coming back to APC remained a reunion that had been long awaited.
 "I am also fully aware that you are one of the founding fathers of the APC. You may not have expected the amount of efforts you invested in the formation of the All Progressives Congress which you did not enjoy.
"I have always said that we should be going forward, in progressive we unite, with conservative, we move our ways. This meeting has offered us the opportunity to reunite once again as progressives.
"I have come to pay my respect to His Excellency (Shekarau). I have spoken to my brother, the Executive Governor of Kano State, for the need for all of us to work together for the development of Kano State and the development of our nation, Nigeria.
"I want to believe that this is a happy reunion and we shall continue to play progressive politics for the good of the Nigerian people."
ºº
Speaking also, Governor Ganduje thanked Oshiomhole for sparing time to reunite him and Shekarau who he described as, "a brother and friend".
Ganduje added that, "we are very very grateful for this honour that you (Oshiomhole) have done to us in order to concretise the relationship between Malam Ibrahim Shekarau and our great party; and to also acknowledge and ensure that this relationship has come to stay."
"I and Malam Ibrahim Shekarau belong to the same constituency even though we were never in the same political party. The reason why I said we are from the same constituency is that Malam Ibrahim Shekarau is a bureaucrat and I am a bureaucrat. When I was Commissioner for Works, Housing and Transport, some 20 years ago, Malam Ibrahim Shekarau was Permanent Secretary.
"When we came in 1999, myself as the Deputy Governor, the former Governor of Kano State, Kwankwaso was the Governor and Malam Ibrahim Shekarau was a Permanent Secretary in the Cabinet Office.  
"I could recall because of a statement by sycophants of former Governor Kwankwaso, Malam Ibrahim Shekarau was given a query. He came to my house at 7 a.m. to tell me that he was given a query, I said go and make photocopy of that query. He made a photocopy and brought to me.
"I met with Governor Kwankwaso and asked him—what is happening? The Permanent Secretary in the Cabinet Office said he was given a query, what is the problem? He (Kwankwaso) said he learnt Malam Shekarau was holding meetings with some Ulamas in order to contest election.
"I said what is wrong for him to hold meetings with Ulamas? Even myself through my Ganduje Foundation, I hold meeting with Ulamas. What is the problem, please withdraw that query, but the Governor refused to withdraw that query, and he had the right to do that.
"What later happened was that Malam Shekarau was posted out to the Ministry of Education. I called the Commissioner of Education at that time and said Malam Ibrahim Shekarau has been posted to your ministry, I asked him to discuss with Malam Shekarau what type of job he would want to do in the Ministry of Education.
"Then, the Honourable Commissioner asked Malam Shekarau what he would want to be, and Malam Shekarau said he wanted to be a classroom teacher, and Malam Ibrahim Shekarau was posted out as a classroom teacher.
"As God would have it, in less than two months, Malam Ibrahim Shekarau became the Governor of Kano State. He defeated the incumbent Governor, he defeated Kwankwaso and myself. He sent us out of Government House.
"One important thing is that, Malam Ibrahim Shekarau and myself have always been good associates, we have always been good friends, in fact, we are like minds; and for him to be in APC, I am the happiest person in this state today.
"Before, a friend, a brother in different political party, now our dreams have come true; now, we are together in the same political party, we understand ourselves, we believe in the same ideology, we believe in commitment—the development of our people, the development of our state.
"I think there is no better time to have a brother, to come together and serve the people of Kano State. I tell you today that all other things would be sorted out between Malam Ibrahim Shekarau and myself, between Malam Ibrahim Shekarau and our government, between the followers of Malam Ibrahim Shekarau and our government, everything will be sorted out peacefully.
"So, Malam Ibrahim Shekarau, we welcome you to this very important party, the APC. You are one of the founding fathers of APC. The same Hyena that drove you out of APC is the same Hyena that drove you out of PDP. We are happy that you will soon make your pronouncement. Let us come together and fight that Lion."
Malam Shekarau who said his position for membership of APC would be made known in few hours said that: "I am happy today for you (Oshiomhole) and His Excellency, the Executive Governor of Kano State to pay me this special visit. I feel highly honoured, I feel highly respected.
"I am not totally surprised because the National Chairman has been a long-standing friend, a long-standing colleague and a long-standing comrade.
"I am not surprised also when he emerged the chairman of the APC. I want to assure you that those of us here in Kano are aware of all that has been happening because history is repeating itself.
"All along, I have been beating my chest with pride that anybody writing the history of APC and the name of Ibrahim Shekarau is not there, that history is incomplete. I had the singular honour of being the Chief mid-wife of APC.
"For me and Governor Ganduje, regardless of any political party we find ourselves, our mission is always one—sincerity of purpose to move Kano and Nigeria forward. Our consultations are in full gear, in the next couple of hours, we will make it known to the world our stand as far as membership of APC is concerned."
Other dignitaries in Ganduje's entourage include Senator Kabiru Ibrahim Gaya (Kano South), Senator Barau Jibrin (Kano North), Speaker of Kano state House of Assembly, Kabiru Alhassan Rurum, Senator Mohammed Bello, Senior Special Adviser to President Muhammadu Buhari on National Assembly Matters, Abdulrahman Kawu Sumaila, members of Kano state executive council, among others.
However, plans have been concluded to officially receive Shekarau to APC in a grand rally to be held today.