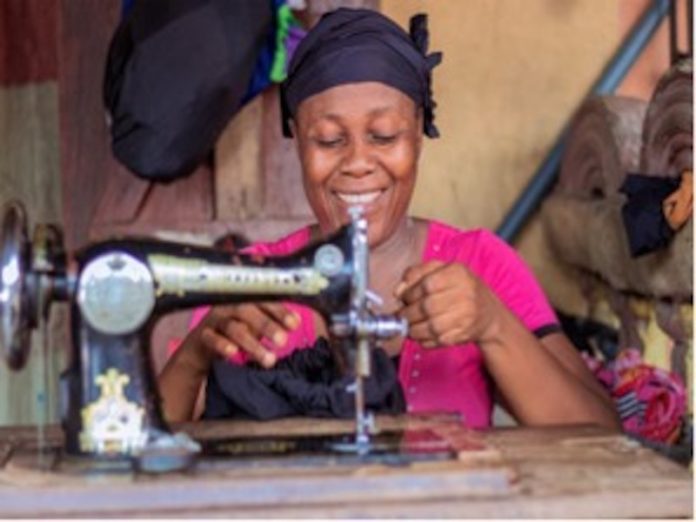 Maria Agugu


Elizabeth Ezuma is a fashion designer based in Omuma, Abia State. She is one of 30 women profiled in a 132-page photobook – Stories of Impact: Real Women, Real Lives, Real Growth – to be published by the Grooming People for Better Livelihood Centre (Grooming Centre).
She says: "I grew up in Uturu, here in Abia, and I attended secondary school here. After secondary school, I got married and moved to Kaduna with my husband, but we had to leave Kaduna in 2001 because of the Kaduna riots. Our lives were in danger, so we moved here. Since then, I have been doing business. It was a second chance for me. I started this business with N1,000. I was selling bread, going from door to door. Today, by the special grace of God, I have my own shop."
Elizabeth's story is one of 700,000 women who have been empowered through microcredit by the Grooming Centre since 2006. A non-governmental organisation, Grooming Centre set out to address a near absence of financial services to the large population of economically active poor people engaged in small trading and micro productive activities in many parts of Nigeria. The Centre hinges its services and operations on a business model made popular by ASA Bangladesh, which boasts a success story of providing microfinance services through branches to almost 7 million clients. The model was introduced to Nigeria through a UNDP-assisted MicroStart programme. Like ASA Bangladesh, the Grooming Centre has been able to spread its tentacles all over Nigeria – 603 branches in all.
Grooming Centre's microfinance initiative fills a deep void among the large population of Nigerian women of working age – empowerment. An ILO paper by Linda Mayoux, Micro-finance and the empowerment of women, characterises empowerment through microcredit in three ways:
Economic empowerment: Where there is women's access to savings and credit that gives them a greater economic role in decision-making through their decision about savings and credit.
Increased well-being: Where there is access to savings and credit facilities and women's decision about what is being done with savings and credit strengthens women's say in economic decisions of the household.
Social and political empowerment: Where there is a combination of women's increased economic activity and control over income resulting from access to micro-finance with improved women's skills, mobility, access to knowledge and support networks.
Empowering women through microcredit moves to bridge the gender gap in Nigeria, which has been preponderant with a patriarchal culture in many communities, where male-dominated cultural norms, attitudes and practices are accepted as a natural order of things. Households then become dysfunctional when the dominant male figure is absent or is not able to fend appropriately for his household. The economic emancipation of women, therefore, corrects the imbalance, with women becoming more active in the economic and social affairs of the household. Such economic emancipation is bolstered by financial enablement like access to financial services for small businesses.
Grooming Centre's commitment to the promotion of financial inclusion and empowerment of its members through access to microcredit is effectively taking women into the sphere of financial and economic emancipation. In this case, 700,000 women.
The stories of these 700,000 women are too numerous to tell. So, it makes sense that Grooming Centre has chosen to relate the testimonies of 30 of them, who have turned from poverty to sustainable livelihood.
If you go to Ifo, Ogun State, you may meet Blessing Akinwale, a Business Centre owner. She says, "Years ago, I took secretarial studies, so I learnt how to use a typewriter. After leaving that school, I learnt how to use computers. In my business centre, we make photocopies, type, and print documents, and take 'wait and get' passports. Today, we do whatever our customers need, except for anything we think might be fraudulent.
"In the beginning, I only had a few equipment, and then I joined Grooming and my first loan was N15,000 – that was a long time ago. I started buying more equipment and with whatever was left I'd buy notebooks to sell to school children during the school session. I would repay over six months and my business kept growing."
Tina Nze Uju operates a fish farm at Ikorodu in Lagos State. According to her, she used to have an earth pond, but business went sour for her because of financial issues. Then, a friend introduced her to Grooming Centre.
"I took a loan from Grooming, and they helped me to finance the pond and now it's going well. That's how I bounced back and continued with the fishpond. I'm enjoying it now and it's easier, though there are always risks with business. My main challenge is with electricity. I change the water every day and sometimes while I'm draining the water and putting the freshwater into the pond, NEPA takes the light. So, if you don't have a generator on standby, the fish will choke, and some may even die."
The inspiring stories of these women and 27 others are related in their own words, in full colours in their natural setting. Theirs are accounts that evoke joy, pride, and gratitude. They are sure to introduce hope to the many who may come across this collage of expressions from real women whose real lives have shown real growth. Come 28 April 2022, the photo book will be available to the public.