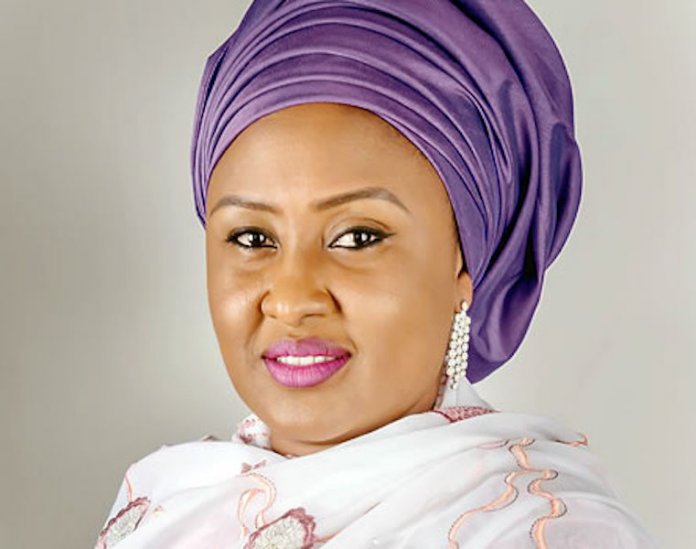 •Ahmed: Stronger, more inclusive economy hinged on women empowerment
The wife of the President, Mrs. Aisha Buhari, yesterday emphasised the need for the All Progressives Congress (APC) to consider more women for important offices ahead of the 2023 general elections in the country.
Also, the Minister of Finance, Budget and National Planning, Mrs. Zainab Ahmed, has stressed that it was crucial to take a long-term and strategic approach to ensure that women are economically empowered if the nation was to have a stronger and more inclusive economy.
They both spoke at the first-ever National Progressive Women's Conference in Abuja.
Aisha Buhari also warned governors that they would be held responsible if women do not get the 35 per cent affirmative action in political appointments and administration.
The National Gender Policy (NGP) had formulated a 35 per cent Affirmative Action (AA) in Nigeria since 2006 and demands that 35 per cent of women should be involved in all governance processes.
According to the First Lady, "This is the first time the national women conference of the APC is being held to establish our commitment to setting the position of women in matters of national importance, especially in increasing the visibility of women, positioning women for future political offices, and encouraging them to aspire more towards the progress of our great party.
"Since 2015, I've had the privilege of engaging Nigeria women across the entire country, my conviction is that Nigeria's future is entirely dependent on actually using the potential of our women. It is no mere coincidence that parties that have grown strong, prosperous and influential have prioritised women's participation in national building.
"I therefore wish to call upon the APC to double its efforts in promoting women, this I believe, will serve as one of the objectives of this conference.
"As Nigeria race towards another election, we must go beyond paying lip service to putting women in vital offices within our party and the government. We must put in place workable strategies to ensure that this actually happens, charity begins at home.
"And so the APC must start by ensuring that women occupying strategic offices within the party have the most strategic roles in government. When this happens, it will become a lot easier for us to empower the Nigerian women for the much needed leadership politically and economically.
"There is no doubt that the future indeed looks bright as APC continues to lead our country. Women who have long been ignored and denied opportunities are now finding their voices gradually. This is a good omen for Nigeria, because when women shine, society shines."
She also called on the Nigerian women to continue the struggle by showing greater influence, commitment and unity in the decision making process of this country, adding "our vintage pride lies in our shared numerical strength."
In a paper she delivered titled: "Fiscal Policies and Interventions for Women's Economic Empowerment: A Key Driver for Sustainable and Inclusive Development in Nigeria," she said the nation must continue working towards the development and implementation of policies, regulatory frameworks, and programmes that are inclusive and gender-sensitive.
In addition, she stressed the need to remove socio-economic and cultural barriers that prevent women from participating fully in society and from reaping the economic benefits of their participation.
This, she noted, was especially important given the evidence that gender-neutral policies are often applied in ways that exclude and disenfranchise women stakeholders and other vulnerable communities.
The finance minister said: "We are at a critical crossroads when it comes to women's participation and economic empowerment. The data is resoundingly clear – women's economic participation and empowerment is a key driver of overall economic growth and improved development outcomes, ultimately leading to improved economic resiliency and greater social inclusion.
"Even so, women remain vulnerable, and as global and domestic data has shown, women have disproportionately borne the impact of the COVID-19 pandemic. This is against the backdrop of recent human capital and gender parity indices which provide a sobering reality – that we have a long journey ahead when it comes to achieving gender equity.
"The economic and social empowerment of women and girls is therefore critical to our collective vision of a prosperous and resilient Nigeria. It is therefore imperative that we prioritise the advancement of women in all spheres of society, and specifically in areas relating to their socio-economic empowerment."
According to her, while significant progress had been made in addressing gender equity issues both globally and domestically, and across different subject matter areas, there were still a lot more work to do.
In her presentation, the Minister of Fed Min of Humanitarian Affairs, Disaster Management and Social Development Sadiya Umar Farouq, charged Nigerian women to be diligent and committed as they prepare for the 2023 elections.
The minister told delegates who came from the 36 states and the Federal Capital Territory to be diligent as they have to work 10 times harder than their male counterparts to earn recognition and appreciation.
"In my office, about 80 per cent of my team are women. They are very hard working and committed women. I want to make it clear to all of us, that as women, we have to work extra hard. "We have to work ten times more than our male counterparts before we can even earn recognition, let alone be appreciated. So the keywords here are for you to be focused and determined to be able to give your best," she said.
Earlier, the President of the Senate, Dr. Ahmad Lawan thanked Nigerian women for their contributions to the country's democracy.
Lawan noted that there would be no nation without the contributions of Nigerian women to national development and urged them to support one another in the upcoming elections.