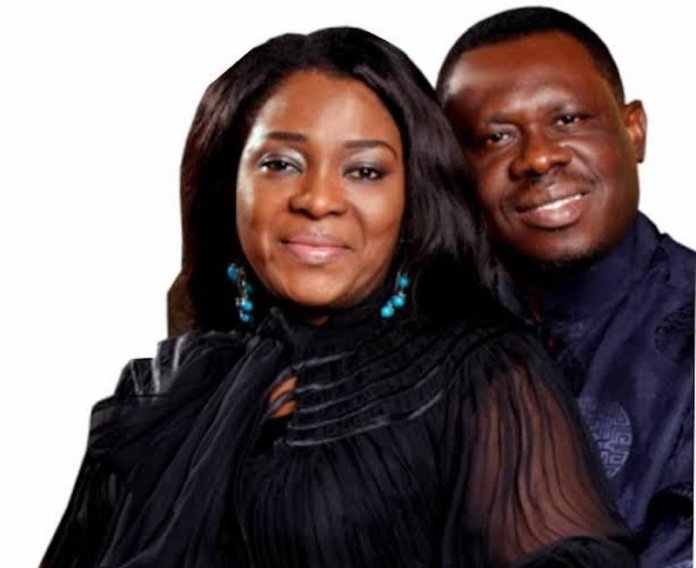 Pastor Blessing Agboli, widow of the late Apostle Joseph Agboli, founder of Victorious Army Ministry, Ogba, Lagos, has been in the centre a storm over circumstances that led to the untimely death of her husband. Although the late Agboli has been buried since November 2021, a lot has been peddled against his widow. In a recent chat with Mary Nnah, the widow shared her pain, disappointment, and how the falsehood being peddled has tainted her mourning
When the Founder of Victorious Army Ministry, Ogba, Lagos, Apostle Joseph Agboli, died August 2021, nothing prepared his widow, Pastor Blessing Agboli, for the avalanche his death would unleash. From falsehood to accusations and malicious stories peddled on the social media space, it hasn't really given her time to process her pain at the loss of her husband of decades.
For instance, a YouTuber has been at the forefront of the campaign that she killed her husband and had planned to elope to Canada with her children to meet another man. This, among other allegations have been made the widow to be a shadow of her real self.
A physically shaken and shattered Blessing Agboli, who could barely control her tears and was obviously in the shadow of her real self, as against the vibrant, fashionista and energetic woman she has always known to be, told her own part of the story, revealing her pains, disappointment, how the rumours has affected her whole existence.
"It has been traumatic. I miss him. He was ill for a while and we believed God for his healing. Joseph Agboli was a man of faith and we believed so much in the efficacy of God's power, healing, which is his major calling. We have seen the dead raised, we have seen the sick healed, even while he was in the hospital, he was praying for people and they were getting healed", Pastor Blessing Agboli started off with the sorrowful tale of the circumstances that led to the death of her husband and how has it been since his passing.
Trying to counter the stories making rounds that she had a hand in the death of her husband she said, "I can show you his medical file which I obtained from the hospital. He had heart issues. He had this issue from 2004 to 2019, he didn't take any medication. It was in 2019 that he travelled to the US for a check-up. He didn't even die abroad. He died in Nigeria.
"I drove him to the hospital and till we got to the hospital he didn't show any sign of weakness. When we got to the hospital, he couldn't come out of the car. I was shocked.
"On Saturday morning of that week, he asked me to take him home. I took him home. As he stepped out of the car, I ran to help him as he walked feebly. He said, "take me to the back of the building", I took him there. He looked round, held my hand and said to me, "you can handle this".
At that point, he said "get my seat". He sat down. I remember holding his left leg, I was begging him, Paapa I won't be able to cope. I know what you are carrying on the inside. That was the first time I saw tears roll down his eyes. He sat there and requested for tea. That was the day I thought he would have died because after that tea, I noticed, he no longer was able to open his eyes", she recollected further.
Speaking on her horrible experience since the passing of her husband in August last year, the widow was quick to note that surprisingly she hasn't had any issue with the church or with his immediate family but for her late husband's half-sister, whom she alleged had maltreated her husband during his lifetime.
"She cannot claim to know me, my husband has not seen her for 28 years, she doesn't know what my children look like, she's been the one accusing me and went to the press to lay claims of what I don't know anything about. My husband's real sister has been quiet, she is still in shock. To his younger siblings, I am their Mama. But the half-sister is the one who has been funny. She contacted a YouTuber who claimed to know me when I was carrying drugs. This YouTuber in question I don't know", she lamented.
Part of the allegations against Mrs Agboli was that she planned to run away with the kids to her lover in Canada before the burial of her husband. But to she claimed was untrue.
"Still my husband's half-sister jokes. She told the YouTuber all that. The issue of running away, to where? Who is this man in Canada that would give me what Jesus has given to me."
When asked if the half-sister in question had issues with her husband while still alive, she said, "They already had an issue before we got married. One day, my husband met my half-sister dancing with her mother celebrating that their enemy had just died. As my husband walked in, while they were dancing he asked out of curiosity who died? They said "your mother".
"Why would you celebrate the death of my mother? He asked. That was how their issue started. He told me they didn't help him as a student. The person who paid his tuition fees was his maternal uncle, Mr. Okocha in Ibadan. He is late too. And when he passed, my husband stood for the burial because he was the one who paid his tuition fees. I don't have any good testimony of what the half-sister did for my husband -absolutely nothing", the widow added further.
On the allegation that she killed her husband, Mrs. Agboli described such allegation as torturing.
"How can I kill a man that I married for this long? The whole world knows Joseph Agboli loved me. Jesus knew that if I had a choice to go for him today, I would do as long as he stayed caring and doing the things of God", she said.
Lamenting that her husband's demise has left her a huge responsibility and a big shoe to fit in, she said, "I have always known how to do my business, I love to travel, and I'm not one that will sit down. Apostle Joseph Agbolii would sit and talk to 200 people a day.
"When I married him, he was doing counseling from 7am to 11pm. One of our lawyers, Chief Mike Ozekhome, recently said to me, 'we lost a good man, a very good man. He was scandal free'."
Mrs. Agboli, who bemoaned how all the lies and false rumours have affected her so negatively, noted, "It's traumatic. It's one thing for me to have lost this great man who trusted me with his life. Joseph Agboli trusted me with everything; to have him snatched away from me, I cried and while I tried to comprehend what had just happened all I heard was that I killed him. How?
"That Saturday we got to the house (August 21). On Sunday, I cooked for him as usual. We never had domestic staff in our house. Not one. I don't know what it is to have a nanny. I cooked all my husband's meals. Even when I'm traveling, I pack them and put all his meals in the freezer. I matched all his clothes. Saying I sacked people who were domestic workers in my house, when there was none. I never had domestic workers. The only time I had people in the house were my husband's brothers and one of my sisters who is now married. I never had any domestic staff.
We are just two people who love the Lord."
"I took him back to the hospital on Monday. I can show you his medical report, his arteries were flat. I thought God would heal him. I was waiting for that day. Three Sundays prior to his death, he was preaching… the doctor had advised him to be careful… as he turned to go back to his seat, he shook; I rushed to him and held him. That was the day he would have collapsed on the altar. I took him to his seat and had him relaxed for 30 minutes before we left the church. He died on August 25. The burial rites took place in the church in Lagos from November 26 to 28, 2021."
Speaking on the attitude of fellow pastors after her husband died, she noted, "Most pastors have not called me and in Lagos State, especially if you are a non-indigene, it is a different ball game. This is one thing eating up the body of Christ in Lagos State. If you are a non-indigene, you are treated differently. If you are not an indigene of the state – a non-Yoruba speaking pastor and anything happens to you, you will realise how lonely you will be. I had few people who came to see me. I want to use this opportunity to thank Pastor Matthew Ashimolowo and Pastor David Ibiyeomi. My husband was a member of Christian Association of Nigeria and Pentecostal Fellowship of Nigeria."
Affirming that the Victorious Army Ministry, which her husband founded with her support, is well structured, Mrs. Agboli revealed, "we run the church with pastorates so it makes it a lot easier. So, I have never had any challenges with the church members previously or now. I have been holding meetings every Sunday immediately after service; we talked and agreed on what to do next. The church has been very supportive. We have a resident pastor who has been in charge since my husband died."
Quote
It's traumatic. It's one thing for me to have lost this great man who trusted me with his life. Joseph Agboli trusted me with everything; to have him snatched away from me, I cried and while I tried to comprehend what had just happened all I heard was that I killed him. How?