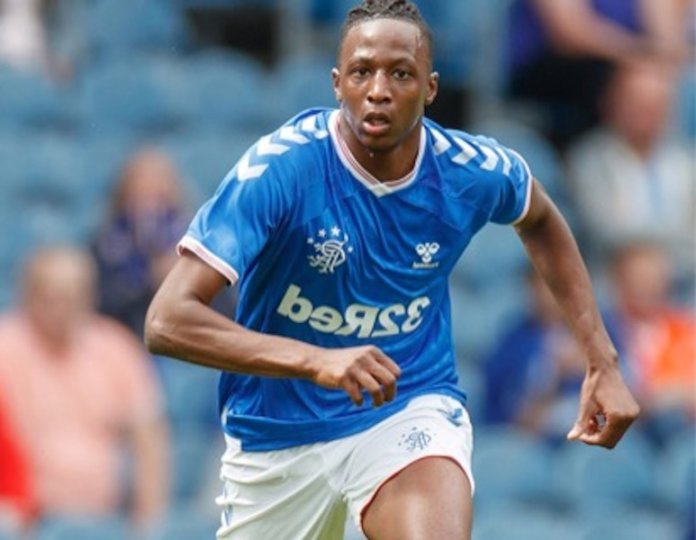 With just 18 months to the end of his contract with Glasgow Rangers, Joe Aribo may just be on the wings of exiting Ibrox as Premier League trio of Crystal Palace, Brentford and Watford are wooing the Super Eagles midfielder to England
The contract situation of the Nigerian international, Joe Aribo has left the Ibrox outfit vulnerable, with admirers hopeful of their chances of luring him away in January or next summer.
Patrick Vieira's Crystal Palace are keeping a keen eye on Aribo who is also drawing interest from other EPL clubs.
According to the Daily Mail, Premier League side Crystal Palace are targeting the Rangers star.
The 25-year-old joined the Scottish Premier League champions from Charlton Atheltic in 2019. He emerged as a key player for the Ibrox-based outfit and took his game to the next level under former manager Steven Gerrard.
Aribo has around 18 months left on his current deal, and this has given interested parties enough time for negotiations. Having found the net 21 times and has assisted 18 more in just 116 appearances, Aribo has made a name for himself in the Scottish Premiership.
Despite Gerrard leaving the Ibrox for new pastures, Aribo has continued to impress under new boss Giovanni Van Bronckhorst. The Nigerian was named the Man of the Match in Sunday's 3-1 win at Livingston last week. He scored an excellent goal on the night and appeared to have convinced his new manager that he should play a more advanced role in the attack.
New Gers boss, Bronckhorst is a fan of Aribo's attacking qualities and is keen to deploy him in a more advanced role to maximise them, and the club will not want to lose such a player anytime soon.
The versatile Aribo played a huge role as the Bears strolled to the Premiership title last term, and GvB will not be too pleased to lose such a key player.
A January exit could be off the cards, though, but they may be forced to cash in on him next summer so as not to lose him for nothing.
It is not surprising to see that he is wanted in England, and being able to play excellently well centrally, out wide and even as a left-back makes him a hot cake in the transfer market.
While Rangers would loathe losing a player of his ability, Aribo is not short of options. Apart from Palace, Brentford and Watford are also seeking his services. Aribo has certainly learned from one of the best midfielders of his generation in Steven Gerard at the Ibrox. Whether another legend, Patrick Vieira, will deliver more lessons at Selhurst Park remains to be seen.
This summer, Palace have made some wise investments, signing Michael Olise, Marc Guehi, Will Hughes, Odsonne Edouard, and Joachim Andersen. While it does give Vieira a talented young core to work with, he may need a new midfielder next summer.
This is because one of Palace's top performers, Conor Gallagher, is on loan from Chelsea and still harbours hope of making it at Stamford Bridge. His seemingly imminent departure could leave a huge void in the Eagles squad that the opposition can exploit. Palace have shown excellent potential this season and could develop into a formidable side with the right investments.
Aribo's ability to dribble and make key passes and an eye for tackle makes him an all-rounder for Rangers in the middle of the park. The foundation he provides aids players ahead of him to make an impact. And Palace could certainly do with just that. With options on the table, where the Nigerian decides to go remains to be seen.
With Crystal Palace on the verge of luring the Nigerian star to London Rangers have slammed £10 million as the transfer fee of the Super Eagles' player.
Crystal Palace will need to cough out a transfer fee of over £10 million in order to sign Rangers Aribo in the upcoming January transfer window.
The 25-year-old is one of Steven Gerrard's key players at the Ibrox. While the Scottish champions have no intention to let the player go easily, a fee in the region of the aforementioned figure could sway their heads.
For all their success domestically, Rangers have little chance of offering the player a bigger stage for his performances. Palace, on their part, are miles away from competition for silverware. However, with a young core at the helm, the Londoners could be putting together something special.
A no non-sense player, the Nigerian should slot in seamlessly in Vieira's midfield. His presence will also give the more technical players ahead of him the freedom to express themselves. His ability to dribble and make key passes and an eye for tackle could see him fit like a glove at Selhurst Park. Whether an agreement can be reached between the clubs, this January remains to be seen.
When asked about his future by Nigerian radio station Brila FM, the Rangers playmaker said: "I am not focused with anything that is coming outside of football.
"I'm just focused on what's going on with my club, and me and my club so that's all I care about and that's what I want to be doing."
He also hailed the impact of Steven Gerrard on his career, having been deployed in several different midfield areas so far this season.
Aribo added: "It's helping me grow as a player.
"I'm understanding different positions, what to do in certain positions on the pitch so it's really good for me and it helps me grow as a player.
"I want to add goals and assists to my game so hopefully I can get as many as possible."
Signing a four-year deal following a cut-price transfer from Charlton Athletic, Aribo's progress at Rangers has been evident and he now stands as a key first team player.
But the London-born Nigerian star's contract situation will have Ibrox chiefs nervous and other clubs looking with Palace named as one side taking a keen interest.
A popular player with immense technique, Aribo's highlight reel at Ibrox will be a montage of remarkable first touches, silky skills, neat assists and wonderful finishes.
There is a lot more to come for the player – if anything Aribo's biggest issue is consistency and there is still room for him to grow at Rangers.