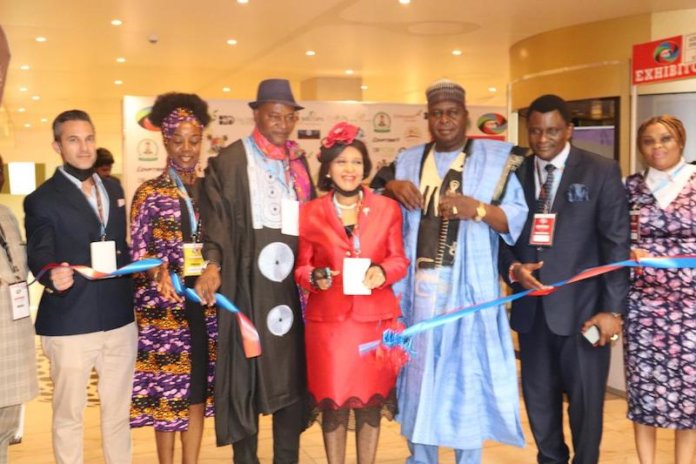 Chinedu Eze
Tourism is buoyed by air transport and media and for the sector to grow and contribute significantly to the nation's Gross Domestic Product (GDP), the media have to play a major role.
The Chairman, Publisher and Chief Executive Officer of Guardian Newspapers, Mrs. Maiden Alex Ibru made this known when she declared open the 17th Akwaaba African Travel Market on Monday at the Eko Hotel and Suits, Victoria Island, Lagos.
Mrs. Ibru explained that tourism creates and empowers people, disclosing that statistics by the World Travel and Tourism Council (WTTC) indicates that tourism was responsible for 238 million (8.8 per cent) jobs globally, $6.6 trillion (9.1 per cent) of the world GDP, $652 billion (4.5 per cent) of the global investment pre-pandemic.
She said these were staggering figures but noted that in sub-Sahara Africa, major players are few and countries are yet to maximise the opportunities offered by tourism, adding that due to heightened insurgency occasioned by Boko Haram, ISWAP including the COVID-19 pandemic people in the sub-region are yet to reap the full potential of the tourism industry.
Mrs. Ibru stressed the role of the media in addressing these significant strategic tensions to market tourism by creating compelling narratives about Africa, which remains the bastion of hope for the world.
She also urged the media to present factual, accurate and balanced accounts of health and security challenges relative to tourism advice to assist potential tourists make informed decisions.
"Highlight positive stories and images of tourism in Sub-Saharan Africa and Africa widely. Articulate the benefits of the African Continental Free Trade Agreement (AfCFTA), which seeks to eliminate barriers across Intra-African trade. By extension heightening the potential scaling-up of direct and indirect employment across the continent".
Mrs. Ibru says, to develop tourism industry, practitioners and managers must realize the media, newspapers, radio, TV and online are potent tools for mass mobilization, socialisation, integration, cultural promotion amongst others.
Speaking on the impact of COVID-19 on tourism, specially the new variant, Omacron, the organiser of Akwaaba African Travel Market, Ambassador Ikechi Uko said that for almost two years COVID-19 has been with the world, the world has started adapting to it so a new variant would not be as devastating despite the knee-jack reaction of some countries that are banning air travel from other countries.
"I don't think the impact of the new variant will be as bad as the first time. This is something we already know. We will give the scientists a week or two to find out how the new variant responds to the vaccine. They are stopping flights because they don't know if it will overwhelm the vaccines. By the time the scientists find out how it responds to the vaccine, then we can know whether we are home dry or we have another lockdown but it won't be as bad as the first time. We will only be stricter with the PCR tests," he said.
He also said that the new variant might not hamper people from travelling because people have stayed too long at home and are longing to travel.
"I don't think this will stop people from travelling. People have stayed too long at home. This December, there will be a lot of travelling going on but what will happen is that the government will take precaution because they want to know if the Omicron is in your country. NCDC have said it has not yet been tracked in Nigeria. This is the initial crisis reaction but by next week, things will settle. People will still travel for Christmas like they did last year despite COVID-19.
On Akwaaba, Ambassador Uko said that this year's Akwaaba is similar to 2014 "when we had the Ebola year. We had 80 percent cancellations and used 25 percent of the hall. This year we are using 50 percent of the hall, which means we have done better than we did in 2014. We have fewer groups coming outside the country. Akwaaba this year is happening but not like it used to be. We have the youth panel and tour operators' panel. We have about 20 exhibitors cutting across tourism and travel and foreign affairs."
The Chief Executive Officer of Travel Lab, Mrs. Sharon Asuquo-Ankoh, commended the successful organisation of the 17th Akwaaba African Travel Market and noted that Africa is ready for tourism despite COVID-19 and its variant fears.
"Africa is one billion ready to buy. So, if you say you want to restrict African countries, you will be doing yourself more harm than good. We are a ready market and ready to buy. On the travel business the sales have not dropped but has even picked up. There is also the domestic aspect of this apart from the regional aspect. There are the West Africa sales, which have no visa, there are the domestic market, which is internal and there are the North Africa, East Africa and Southern Africa. So, if we decide to break it down into sales, we can still do many countries in Africa.
Talking about Omacron, she said that the impact would not be much in Africa because Africa is blessed is blessed with good weather and food, adding that food has played a grest role in the healing process.
"The airlines are fully booked. When Kenya Airways resumed after lockdown, they came in with a smaller aircraft but we had advised them to get bigger equipment. With bigger equipment, they were still fully booked. Air Peace came in with bigger equipment and IbomAir signed for 10 aircraft and this will run for domestic tourism. It is for us as travel consultants to begin to look around for newer destinations and look at the tech savvy generation. These people want something more exciting. So, it is just for us to look for destinations that provide those excitements that will ensure they have those experiences they want to have," she said.