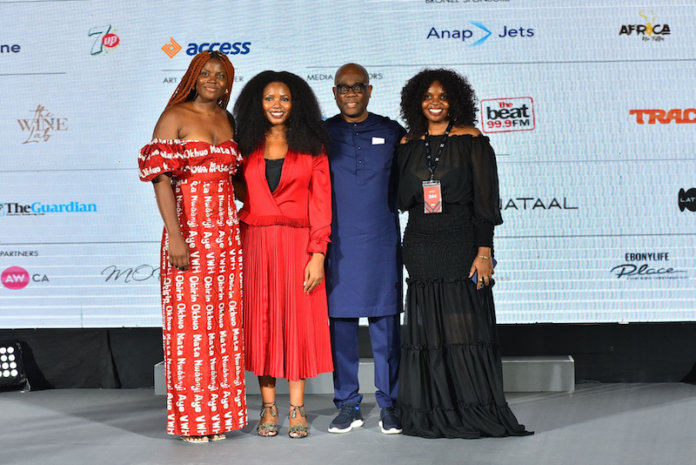 Vanessa Obioha writes that the Access Bank Art X Prize continues to help emerging artists soar in their creative journeys while challenging the expectations of global audiences.
Not all unions stand the test of time but the partnership between Art X Lagos and Access Bank continues to wax stronger with each edition.
The collaboration which started with the first edition in 2016 continues to deepen Nigeria's connection to the contemporary art scene in Africa and the rest of the world, including hosting West Africa's premier international art fair that pooled visitors from all over Africa. As of 2020, over 344 artists have exhibited their works, 41,000 people have attended the fair and 3.6 billion people have been reached.
One of the notable projects from the union is the Access Bank Art X Prize. In the absence of infrastructure that exists in other international centres for contemporary art, the prize was launched to contribute to the burgeoning contemporary art sector in Nigeria. Every year, hundreds of artists turn in their applications to enter the competition, and after rigorous screening by a jury of credible judges and live presentations of their works, one winner emerges for the grand prize. So far, the prize has had four winners, 2,000 applications, and 13 artists who have exhibited since Inception. In 2019, the prize was officially renamed the Access Bank Art X Prize. It provides funding, tailored mentoring support, and a residency opportunity at Gasworks, London to exceptional emerging artists, enabling them to complete ambitious projects that challenge the expectations of local and global audiences.
The impact of this prize is one that Art X Founder Tokini Peterside takes deep pride in, especially in boosting the growth of Nigeria's art ecosystem.
"Championing merging artists is incredibly important to Art X, and I am so proud of the impact we are having on Nigeria's art ecosystem through platforms such as the Access Bank Art X Prize," Peterside had declared via her social media page.
Through this prize, Access bank and the Art X Collective work towards the goal of ensuring that creative works from Africa can sit side by side with their foreign contemporaries. Winners are empowered with funding and mentorship and continue to soar in their chosen creative journeys.
The first winner of the Prize was Patrick Akpojotor, a visual artist working across printmaking, painting and installation art. Following his win, he participated in several group exhibitions with the most recent being "IN-TER-ACTIONS" at Rele Art Gallery (2018), as well as, Art X Lagos art fair (2017), and Bruce Onobrakpeya and the Harmattan Workshop Exhibition (2016). His works are part of King Mohammed VI of Morocco's collection. He is currently a full-time studio artist and continues to set new auction records.
Habeeb Andu clinched the prize in 2017 but by 2018, the prize evolved to focus on emerging artists who are known to actively pursue their careers as professional visual artists. Bolatito Aderemi-Ibitola, a multi-disciplinary artist, emerged as the winner after the jury of five renowned artists and industry stakeholders – Professor Bruce Onobrakpeya, Yinka Shonibare CBE, Sokari Douglas Camp CBE, Wura-Natasha Ogunji, and Oliver Enwonwu reviewed her work.
Further changes were made to the prize in 2019. It was renamed the Access Bank Art X Prize and the self-taught documentary photographer Yvonne Etinosa won that edition. Etinosa uses visual storytelling to create awareness and drive conversation around causes that she is passionate about. One of her images was featured in TIME's 100 images of 2020. Also, her multimedia project, 'It's All in my Head' was also shown at the UN Refugee Agency(UNHCR) 'Voices of the Wind' virtual installation of film, audio and photography.
"The quality of Yvonne Etinosa's work is a testament to the potential of emerging artists in Nigeria, aided by a platform like the Access Bank Art X Prize," commented Group Head, Communications and Internal Affairs, Amaechi Okobi.
Due to the global COVID-19 pandemic, Etinosa's solo exhibition as 2019 Access Bank Art X Prize winner was paused in 2020. Nonetheless, for its 2020 edition, Art X Lagos invited audiences to virtually interact with 200 works from leading galleries across Africa and the Diaspora, and partake in 13 events. Etinosa would eventually present her solo exhibition in the 2021 edition of the fair which saw multi-dimensional visual artist, Chigozie Obi emerge as the winner of the Access Bank Art X Prize. Obi was selected by the jury comprising Ruby Onyinyechi Amanze, Alessio Antoniolli, Marie-Ann Yemsi, Ugoma Adegoke, Dexter Wimberly and Ndidi Dike. She received N1.8 million grant towards a solo presentation at ART X Lagos, a three-month residency at Gasworks, London, and mentorship and support.