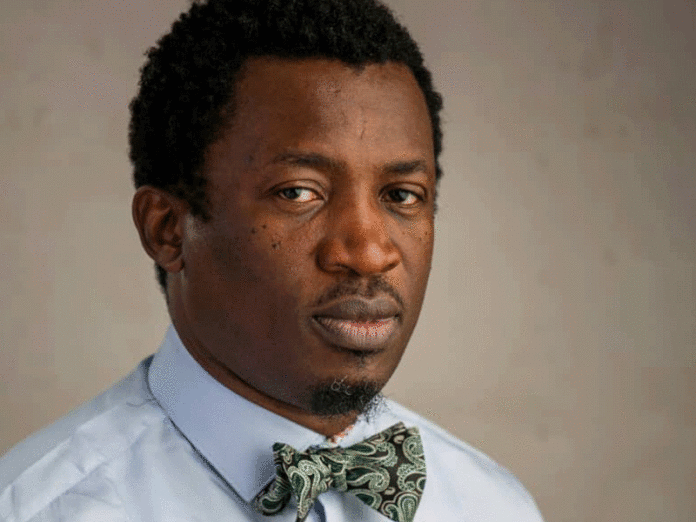 Oba Adeyeye Enitan Ogunwusi, Leave My Wife
Before I wish Your Highness happy birthday, there is a story I would like to share. I once went to a fashion show on the Island. It was at a restaurant along Ozumba Mbadiwe and I was invited by my sister, the influential media personality, Azuka Ogujiuba. So, I went with my little-known wife, the ever-beautiful Sara. She has a wonderful daughter Annette for me. Just before the show began, people began whispering that the Ooni of Ife was coming. He had just been crowned the Ooni and I didn't really know who he was. I wasn't really keen on any Ooni since my problem that time plenty.
So, we sat down and then 'Ooni' arrived. Mbok, come and see drums and everything. I looked at this Ooni, this one no fine o. Looks old and his shoe bend one kain. I wondered which kind of Ooni be this, why Ife people no look for a very fine Ooni to give the throne?
Well, like I said, wetin concern me. We continued to watch the show. The Ooni people began to distract with drumming and jumping up and down, with the Ooni walking around like say na him get the place.
That was how I stood up to go and 'piss' but as I was returning, I saw the Ooni talking and smiling with my Sara. No problem, I said to myself. We are all hunters. My confidence was strong. The piss I went to piss was not ordinary piss; I had followed one beauty and got her number, so as I saw Ooni asking my own for her number, I just laughed.
Then I saw my Sara kneel before him. You know the way ladies show respect to a monarch. Then it dawned on me that this Ooni will use royalty or even worse, juju catch my woman o. I had to move in.
So, I walked towards them and greeted Ooni 'good evening, Sir'. Me, I no say your Majesty o. By that time, me and the man na same level. We are at war, I cannot show respect again o. Person want to chance me, I will now come and be showing respect? I just greet am the way you greet tenant wey dey owe you money and grab my Madam waka pass. Me, I no know road to Ife and I cannot shout.
As I rescued my damsel, I told her that we should leave, "this show is not sweet sef. It is a yeye show."
That one was now saying, "what is the matter with you. Why will you disgrace me like that?" You know how women who will be saying, "that was the Ooni, that was the Ooni, why are you always so jealous?" That was how she reacted.
You, that I saw you begging that bow-legged tramp for number and you are here fighting shadows. I said "mumu, you that would have just ended 600th wife and be doing Amala for one BQ for Ife. If you don't enter this car now, I will release your sex tape." I spoke in mighty jealousy and anger and rage and tears.
As I was about to drive out, Azuka ran towards us, "Edgar, why are you leaving? The show is just about to start."
"Azuka, leave me o, nothing happened. I just want to go and see my mama."
Sara quickly replied, "Don't mind him o, he is jealous. Have you seen this type? He was busy collecting phone number of all the women including two ushers and just because he saw me talking to that nice Ooni he wants to kill himself."
By this time, I was livid. So this woman even like the Ooni, see as she call am 'nice'. Which kain 'nice? I want to die o.
Azuka laughed, "Edgar your body too hot. That no be Ooni. That na one Palace Chief. Na Ooni advance party. Ooni tall. When Ooni come, you sef go know."
I nearly died of laughter. "Saraaaaaaa!!! So na advanced party come toast you. You see yourself. Advance party."
Sara, by this time, laughed at me too and said, "you lucky because if na the real Ooni, me I don go. Wetin I go dey do with you this Shomolu boy, I don follow am go o."
I looked at my Sara, I saw the colour, I saw the height, I saw the fine shape and the correct carriage, my mind say na true o. This na Ooni spec.
"Azuka my sister, no vex, my mama dey call me."
I drove away like a demon was chasing me. I cannot come and cry or jump inside Lagoon for Lagos.
The following week, I now met the real Ooni at the American Ambassador's house. Immediately I saw him, I knelt down and thanked Jehovah God for giving me the presence of mind to come to the party alone.
This Ooni fine o. Tall, smooth dark skin, penetrating eyes and imbued with wonderful charisma. Even me, I like am. I went to greet him and his people gave me a quick one-minute tutorial on how to greet the great Monarch.
Happy birthday o great one. You have in your short reign showed true wisdom, courage and have really become a beacon to not only your subjects but to mankind.
When you are less busy, let me know so I can send you a wonderful plate of Afang that you will savor the taste, so you go rest for all that Lafun dem dey give you chop. Have fun your Majesty o, great one.
CHIKE OGEAH: A QUIET BIRTHDAY

It seems all my people are celebrating their birthdays this week. My Lord says it will be a quiet 60th, me I no gree. How can it be quiet, didn't he attend RMD's own? Didn't he see that that one bring Hollywood to town? I no gree o. He says he wants it quiet and that he wants to go into solitude and reconnect with his Maker and thank God for all the blessings and long life.
I say I no gree. How many people get this kind blessing – good looks, powerful network, privileged access, health, wealth and on top of that the elegant Funke Ogeah beside him and he say na quiet 60th. I no gree ooooo.
Where NLC now o? They will not come and let us fight this issue. We must bring out the parade and make a lot of noise. That is how they will be telling me, "Edgar, I want to do it quiet" and the next thing you will see now is THISDAY Style doing pictures of Chike's 60th and Ovation full two editions with captions – Handsome Chike and elegant Funke at their sprawling home.
Mbok, don't try it o. Don't even dare. If I see any party or anything wey I no come, I will fight o. I will release nude picture o and nobody will beg me o. So for now, I take it by your word, a quiet 60th. I believe you, but I no trust you.
Guys, let me say this. After Azuka Ogujiuba, na Chike discover me. My network, my reach, my everything na Chike. He is a pillar in our Hamilton and George Financial Advisory firm, he is an elder brother wey I never fit pay dividends but he stands. Help me wish him a happy advanced birthday celebration and long life and God's speed. Great guy.
FEMI OTEDOLA: MY LIPS ARE SEALED

By the time you all read this, I am sure the news of the massive ground breaking transaction that my egbon has just sealed would have been made official. But me, I will not talk as my lips remain sealed.
You know they say, once bitten twice shy. Egbon, who I must say I have tremendous respect for had once given me a hot gist and me not knowing that the gist was meant for only my ears, now went to broadcast. The next morning egbon reached out and was kinda upset. I apologised and swore to myself that if I am given any kind of opportunity like this again, I will never do basketmouth.
So, I have heard of this phenomenally tangential transaction. One that continues to show daddy's overwhelming belief in this economy and by extension this country but will not mention. As the thing was itching me to spill, I reached out and said, "Lord I have heard something o, should I blast?" and he replied that I should wait until it is official.
So, me I am waiting o. But people have been telling me o. It is not me telling them o. Plenty stockbrokers have been saying it o and you know I am a stockbroker too and I have been hearing but I will keep quiet until I have the green light from baba himself.
When he eventually tells me to go ahead, I will report it even if by that time my Great Grand Aunty in Ibeno would have even heard, it's no problem. Anyway, let's still say well-done bros, it is people like you that continue to give us hope in this country. Well-done sir. I have not said anything o.
COMPTROLLER GENERAL OF IMMIGRATION TURNS JAMES BOND
Baba did not need any Nollywood makeup artist, he already looked the part – mallam selling Burantasi. He dropped from the 'keke marwa' and walked into the most corrupt enclave in this country.
His people did not recognise him and they went about doing their usual with him. They gave him a price and I am sure they would have directed him to one of the shanties that surround the place for them to provide for him corresponding documents within a jiffy.
According to him, they gave him a price and really showed him what exactly Nigerians go through to get a passport. They didn't even recognise their own oga, blinded by the greed that has so shamelessly been the ethos of the service.
My Lord, I do not know anybody that has collected International Passport without going through what you went through. The system especially in that place is putrid and the stench goes all the way and is very pervasive. I am happy you went this way to discover the stench.
But since they did not transfer you from the Airforce, I want to believe that you already would have known all of this coming through the ranks and as such I am hoping this is not just a PR stunt because what is happening in that place is very obvious even to the mallam selling sugarcane across the street.
My brother, if you like, disguise like King Kong or Baba Suwe and go again next week, you will still pay double, you will still go to the filling station across the street to fill form and you will still sit in front of overweight immigration officers and receive all the rude treatment.
What is the solution egbon-technology? When your subscription for MTN finish, can you settle anybody to continue giving you service? Can you settle MNET to continue showing you people bathing in Big Brother when your subscription has finished? Can you beg Folake or Ugodre who are my very good friends at Ikeja Disco to give me 'light' when the 'pay as you go' has finished?
My brother, deploy 'end to end' technology. Remove the human touch and voila, you have the solution. Once the human element remains, nothing can be done o.
Those your people are dyed in the wool 'corrupt'. They should come and beat me. Mbok, I have cried in that place. Real tears.
HARRY EBOHON: QUIETLY DOING HIS THING
A lot of you do not know this young man and mostly will never hear of him and the reason is simple. He is quiet. Highly cerebral but very adept at what he does. He runs the quietly efficient Propetrol, a concern that is into downstream oil and gas but with a specialty in bunkering.
Harry recently got nominated for special recognition as the Forbes Outstanding CEO for the work Propetrol is doing in bunkering.
Recently, once they call Forbes, people will be fearing but this time, the award is more than deserving. I have watched Harry strive and work his brains out to the risk of his health to build this firm to the levels it is.
Today, Propetrol is an outstanding international leader in the space. They just recently acquired vessels and are the number one service provider in the whole of West Africa.
That my brother Harry deserves this award is to state the obvious. You should watch him at work; very cautious, gracious but highly intelligent. Mbok, let me praise him, the man deserves more. These are the types of Nigerians we need to continually celebrate. I tell you.
Well done bro. You are a beacon. I salute.
UDO UDOMA: A GENTLEMAN OF PEDIGREE

Recently, I got a much sought-after invite to spend some time with this erudite gentleman. If you know me, you will see that I crave such engagements. If for nothing else but for the opportunity it affords me to just listen. The experience, depth and knowledge shared are usually priceless at such engagements.
This was particularly tricky though since I am on the verge of executing the biggest stage production ever in Southern Nigeria. The outdoor media campaign on this play – Ufok Ibaan- is running into millions and is APCON approved. The inspiration for the play is his grandmother, Adiagha Edem Abia who led a courageous resistance to the draconian tax policies of the colonial authorities and lost her life in the process.
He was very reluctant to meet up because he didn't want to be seen as projecting his family story. He didn't have to. The story itself is compelling and rich enough to attract very strong corporate sponsors like First Bank, Wema Bank and Zenith Bank amongst others including the Akwa Ibom State Government whose Commissioner for Culture and Tourism, Orman Esin, is running with us as Co-Executive Producer.
The meet was brilliant as expected. Na tea and cake we drink. Just like my other 'daddy' Chief Emeka Anyaoku- these ones na aristocracy, na tea and cake. Go eat the Afang later.
The discussions were rich, explorative and mind-opening. It moved very quickly from history and the role his father the late Justice Udoma played in the Ibibio Union and the politics of the first republic, down to economy, his legal practice and then his foray into politics and the role he played at the Senate and as Federal Minister.
I loved the session and as it was ending, I saw a beautiful artwork of the Oba of Benin being taken in a canoe filled with British soldiers to Calabar. He said, "Edgar, six able-bodied men will be needed to carry this artwork." If he had turned away, only me would have carried it and run to Shomolu. It was that beautiful. I had fun and I hope I will be invited again.
GBENGA OYEBODE: ANOTHER FINE GENTLEMAN

It was my partner that said, "Edgar, Oyebode is not happy with you." What is wrong with this Lami, does he even know the kind of relationship I have with the man?
"Wetin happen?
"You didn't approach him to come and see Awo."
True o. He is one of my major backbones in this theatre matter. If na ticket sales I would have by now ended up in Anyima Nsit selling mpheee. Mpheee is periwinkle.
I quickly called Oga and apologised. I had contacted his office and they were doing me official and so I left it. But Oga said, I should have come to him directly.
I apologised and requested for an opportunity to meet with him with the cerebral Ore Sofekun. Ore is a first-class investment banker whose depth is quite amazing. My people, I could not say a word at the meeting. Although they were speaking English, me just dey look them, waiting for time to go and eat Edikaikong because I did not understand a word they were saying to each other.
Two extremely brilliant people talking, what will I be saying beyond, yes sir, yes ma, it is true, please where is the loo and did rain fall yesterday in Ikoyi?
It was a lovely meeting and I really enjoyed myself watching both of them spar. I had fun. Well-done sir.
TONYE COLE, DO ACCEPT MY CONDOLENCES

You know I had heard and did not really connect maybe because my brother is in faraway Jos at the NIPSS Kuru preparing for election. That was how I now called him during the week and said, "Bros the war don start o, you still dey school. You know even go London go pay visit to Jagaban ask am how the knee and how many minutes he don dey last now for bed and you hope to win any election for this country?" He laughed and said, "we dey for ground."
Then I commiserated with him on the recent passing of his sweet mum and he responded by saying I am his senior in this matter and I said yes o.
Let me use this opportunity to wish my dear brother strength as he grapples with the recent loss of his great mother. Losing a mum at any age is very traumatic. I know, I have seen it and I have seen my son Alvin go through the trauma and saw my father crumble when his own mum passed at almost 109.
But Bro Cole will find the courage to continue to make her proud with his firm resolve to contribute meaningful leadership to our country. Accept my profound condolences.
FLORENCE ITA GIWA'S EDIKAIKONG

Ok, let me tell you this story. I am from Akwa Ibom and I am addicted to our soups but I have never eaten Edikaikong like the one I have been eating at Mummy's Echoes of Calabar. This is not a paid PR or advert or any of the sort, it is a revelation that I feel I must shout.
So on Tuesday, which was a holiday, I quietly went there to savour the taste once again. I told Duchess that I was coming and that I was going for meetings and went straight there and ordered the soup.
Let me describe it. The leaves were lush, mixed with scattered dry fish and periwinkles dancing and swerving up and down in between the very sumptuous bowl it was served with.
The soup itself was exotically placed with the vegetables served in resplendent green and spiced with well-cooked condiments.
Served with plantain flour, as you take the first morsel of the soup in your mouth, it melts dramatically and you start to taste the 'abu'. Abu is crayfish in the soup. It slowly melts down your throat leaving a sweet aftertaste at the back of your throat, pushing you to quickly go for the next morsel.
As you eat, you pray for the soup not to finish as the delicacy cascades your very being, giving you tiny dimples as its deliciousness messes up with your senses.
Trust me, I have eaten Edikaikong in this life, this particular one deserves the Nobel Prize. As I ate, Mummy walked in and screamed, "Ayen nmi, thank you so much for making Afang an international cuisine."
"Mummy no distractions, I am on an expedition." You either sit down quietly or leave me. I need no distractions.
Mbok when I finished, I washed it down with a sweet combo of watermelon, pineapple and orange and you come dey ask me why I fine and fresh like this. Be eating stew and ponmo there and be asking me questions.
ONARI DUKE: HER BEAUTIFUL EXCELLENCY

It was her birthday during the week and I had totally forgotten. Then I saw a post on the BGL Group and someone was celebrating her astuteness, her contributions to philanthropy and the rest. I screamed o, I had just spoken to her like two days ago and didn't even remember it was her birthday.
I immediately wrote an epistle on WhatsApp and broadcast it. I told people how she had visited my ailing mother on her sick bed and how that experience coloured my mother's last days and how till she passed, she continued to ask me to thank Her Excellency and remind her that her Afang was still waiting for her.
Happy Birthday my dear Excellency and may God continue to grant you a long life and everything you wish for yourself. Say hi to your lovely grandchildren. How lucky they are to have you as a doting grandmother.
TOPE AFOLABE: CONFESSIONS OF A SHOE WHORE
This investment banker is an exciting subject. I first met him at Investment One before they sacked me. He was in retail and will be bringing clients like Femi Otedola into the system. I was his Oga. I would go to Nicholas and say, "Lord, Tope cannot be in Retail, the man is using your head." Nicholas wey no dey street smart will not agree. He will say, "Tope is the best retail marketer we have."
I would reply. "How can you call someone who brought Femi Otedola as retail? He is collecting your tiny retail target and be bringing HNI money." Nicholas would carry that him big glasses and say, "Edgar go and work leave Tope alone."
Then Tope took me to Ibadan Polo Club where he was friends with all the polo players including their captain and if you know polo players, you will agree that this cannot be retail.
I rushed back to Lagos and had a major fight with Nicholas. Let's move this gaddem guy to HNI and Wealth management. Anyways, Nicholas sacked me and Tope continued his blistering career. Today he is a champion at Chapelhill Denham.
Then he has a hobby. He loves shoes. He is passionately mad about shoes so he opened shoestrad. Mbok, I have bought over 25 shoes from the place. The guy just gets me and has turned my cravings to a very profitable one for him and his wife. Help me o, Tope go soon use my money build house for Lagos. Anytime I go there, I must pick something. As an Investment Banker, the guy just knows how to collect the footwears. The quality, the comfort, the grace, Shoestrad which is the name of the shop just gets me.
I was wearing one of his shoes when I received VP Osibanjo during Awo and that one was just staring at the shoe and just as he was about to ask me where I got them, Protocol say, "Oga you cannot ask that, respect yourself."
Welldone Tope, keep the flag flying.