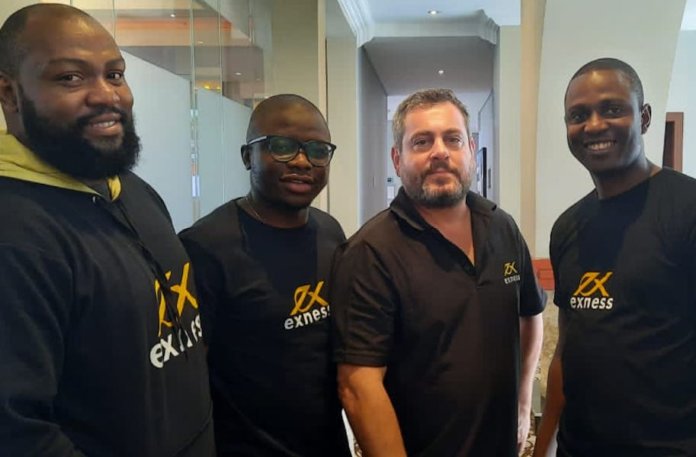 Exness, a global brokerage firm and liquidity provider, is forging ahead with its plans to empower Nigerians in brokerage services, as its efforts to bridge financial gaps especially in this time of economic turbulence.
The firm made this known at the Exness First Partnership programme, to meet and greet its existing partners in Nigeria while also training, educating, and empowering them.
The Regional Director, Exness sub-Saharan Africa, Mr. Paul Margarites, noted that Exness wants to grow this market which is really active. "A lot of people have found us and we are glad we have come."
Part of the firm's quest is to form relationships with the people on ground in Nigeria, work for a better future together, and to ultimately provide the customers in the country with a platform where they can trade, feel safe and enjoy themselves as traders.
According to Margarites, Exness is not just about forex trade. "Besides other financial instruments, we are concerned about the partners' welfare, traders' knowledge and job creation. This is why our interaction today is also about training, education and empowerment."
The regional director also hinted on information, especially financial services that stakeholders can use to empower themselves.
"Stakeholders can leverage its wide range of financial instruments, including currency pairs, metals, cryptocurrencies, energies, indices, and stocks," says Margarites.
In its mission, Exness prides itself as a transparent firm. The Marketing Manager, sub-Saharan Africa, Kennedy Adetayo, emphasised that "At Exness, we operate on the highest level of transparency. This distinguishes us from others in the sector."
Meanwhile, he acknowledged that the partnership programme was an initiative to educate and empower people on Exness products and the opportunities for them to earn.
"Instead of us doing it all by ourselves, we are empowering other partners by educating them because they are closer to the people so they too can educate others and everyone can earn," says Adetayo.
On why Exness chose Nigeria, the marketing manager highlighted the financial gap they saw and the need to bridge. "Since our partners are closer to the people, we are concerned about them and go the extra mile for them because the market is an interesting, but fragile place.
To further encourage participants for their long services, Exness awarded three of its partners with plaques and cash prizes. They included John Greatman Noah, Great McAnthony, and Henry Peter Smith.