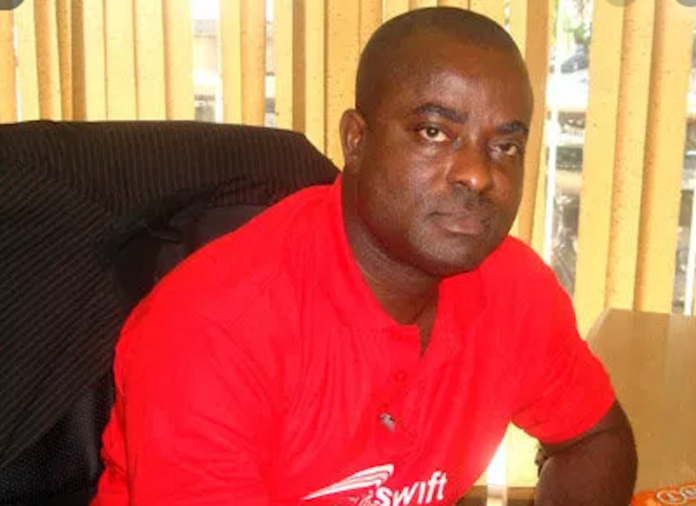 EXPRESSIONN BY Ebere Wabara
MUST we pad expressions with 'ceremony' and 'exercise'?: "Nigeria Customs Service Headquarters: Verification exercise for importation documents of privately owned aircrafts (sic)" A rewrite: Nigeria Customs Service Headquarters: Verification of import documents of privately-owned aircraft—apart from 'aircraft' correction, please take note of other critical interventions hence the lexical restructuring. What do you make of phrasal blunders like 'wedding ceremony', 'convocation', matriculation' 'graduation ceremonies', 'burial/funeral ceremony', 'registration exercise', among copious others? These events inextricably involve one form of ceremony/exercise or another—the scope notwithstanding.
Leadership of September 28 leads the rebellious group today: "SIM registration: Subscribers in last minute rush…." Conscience, nurtured by truth: last-minute rush
"Battle over control of vigilante group hots up in Nsukka" South-East Report: vigilance group
Serial abuse of phrasal verbs: "Conoil to set-up cooking gas plants in Abuja, other states" Business News: 'set up' in the extracted context.
"For us in the African continent…" (Daily Independent, September 28) All the facts, all the sides: on the African continent or simply 'For us in Africa'
"Customs hand (hands) over seized drugs to NAFDAC" (Source: as above) Nigeria Customs Service is an entity and cannot, therefore, be pluralized.
"What does insurance contributes (contribute) to California's economy?"
"Lacazete refuse (refuses) new Arsenal deal"
"Union commends Senate over (on/for) investigation of public enterprises"
"We are commited to growing Nigeria's economy" Spell-check always, I beg of you (as my obstreperous late boss, Ayo Asagba, used to say at our PR unit's meetings in Equitorial Trust Bank a long time ago: committed, but commitment. By the way, may his soul rest in peace despite his frailties!
"I advocate follow up on Boko Haram peace initiative—Izuogu" Banner advocacy: follow-up.
Lastly from Champion House On-line: "2011-2021: A decade of death (deaths) on the Plateau"
"Physiotherapists advocate for optimal level of exercise for wellness" (DAILY INDEPENDENT, September 27) Yank away 'for' to foreclose obesity!
"The small group…literarily (literally) lives off the society…." (BUSINESSDAY, September 27) You don't have to be a member of the literati to know this!
Financial Vanguard of September 26 goofed: "Post-independent leaders have mismanaged Nigeria—NIM President" This way: Post-independence leaders
"…failure of which will result into (in) the banks being nationalized." (National News, September 26)
"They all presented general complain of poor vision…." (THE NATION, September 26) Eye treatment: a general complaint….
The next two blunders are from THISDAY of September 26: "WHO statistics also reveals (reveal) that tobacco…." As a discipline/subject, yes
"…research has demonstrated that majority of smokers pick up the habit at a young age." The President and the Tobacco Control Bill: a/the majority of smokers.
"No microwave solution for Boko Haram" (THE NATION ON SUNDAY, September 26) My comment: solution to (not for) Boko Haram
"Nigeria may break-up soon—NBA President" (Leadership, September 24) Still on the abuse of phrasal verbs: break up
"It is political witch-hunting" (Source: as above) Persecution of Tinubu: political witch-hunt
"Lagos Speaker reacts to fallouts (fallout) of arrest over (for) alleged N7bn fraud" (SATURDAY TRIBUNE, September 24)
"…the Plateau State capital and it's environs." (DAILY INDEPENDENT, September 23) Government and the Jos killings: its (possessive) environs.
"The allegations of a hike in the tuition fees payable by the students was (were) false." (THE NATION, September 23)
BUSINESSDAY of September 22 circulated two blunders in the lead sentence: "…one of the biggest private sector development support initiative (initiatives) in (on) the continent."
"There is the erroneous tendency to blame all the shortcomings in the electoral process at the doorstep of the Independent National Electoral Commission." Get it right: blame on (not at).
"Though recent amendments to the Electoral Act have changed some deadlines with regards to the submission of the lists of candidates…." Either as regards or with regard to
"President Muhammadu Buhari addresses a world press conference to flag-off…." Still on phrasal verbs: flag off.
"Four years ago, when the former governor proclaimed his presidential aspirations with palpable bravado and fanfare under (on) the platform of the PDP…."
"Nnamdi Kanu's so-called grouse with President Buhari is not.…" This way: grouse about (not with) Buhari
"As Governor Babajide Sanwo-Olu observed during his tour of the troubled spots…." Get it right: trouble spots.
"Guaranty Trust Bank restructures, to boast staff welfare." Inside Business: to boost (not boast) staff welfare.
"Arab leaders appeared not to have put their acts together to join…." Libya: get their act (not acts) together.
"Okonjo-Iweala, at Belgium, canvasses global war against money laundering" The world's 87th most popular woman and former head of Nigeria's economic team was in (not at) Belgium.
"I remember once when he came to Port Harcourt we worked on a case till 5 a.m. in the morning" No! 'A.m.' indicates morning, while 'p.m.', of course, refers to the evening belt. So, '5 a.m. in the morning' fondly reminds me of Abraham Lincoln's advice: 'Better to remain silent and be thought a fool than to speak (or, if I may add, write) and remove all doubt.'
"In the meantime, there has been series (a series) of systems collapse…." Also note that 'collapse' is both a countable and an uncountable word (usually).
"Disagreement ensued resulting into shooting to death of one of the okada members by the police." This Life: resulting in the shooting….
"It was sometimes (sometime) in 1993 while I was still in Abuja…."
"For a NAFDAC that has in almost two years been performing creditably towards ensuring that food and drugs need of Nigerians are (is) given standard manufacturing preparation…." Yet another S-VD challenge.
"…his predecessors who were on (in) seat for years without actually doing the work for which they were paid."
"It is also on record that the same government shot itself in the foot by dismissing the recommendations of the audit committee as junks." The last word in the extract is non-count.
"Police warns against protests in states" No news: Police warn (plural verb).
FEEDBACK
FROM this medium of July 17, 2021, comes this lapse: "I said these are (those were) beggars…." (Contributed by Hon. Nat Ijachi/08052612721)