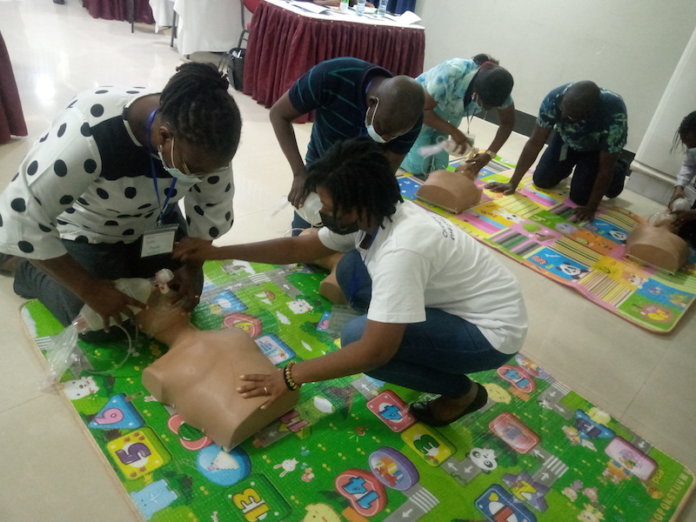 Sunday Ehigiator reports that to upscale the basic and advanced life support skills, Smile Train, world largest cleft charity organisation, recently partnered the Federal Ministry of Health by sponsoring the National Surgical, Obstetrics, Anaesthesia and Nursing Plan to train health practitioners
Recently, there was a trending video shared across various social media platforms of a man who appeared to have suffered a cardiac arrest while dancing at an occasion.
While the man fell to the ground, and appeared to be choking and gasping for air, other attendees at the party watched on the premise that he was still performing l.
Eventually, they realised it was beyond a dance routine and immediately rushed out to help. However, the video clearly showed that none of them understood what he was going through, hence didn't know how to help, and unfortunately, the report was that the man died.
Such is the case of cardiac arrest. It is sudden, unplanned and can happen to anybody at anywhere or at any time. Hence, everyone alive is vulnerable to suffering a cardiac arrest, and having a basic knowledge of how to perform a basic Cardiopulmonary Resuscitation (CPR) is a good way to go.
This was why Smile Train found it necessary to champion the cause, by training healthcare workers with prerequisite first-aid techniques needed to resuscitate anyone who suffers a cardiac arrest.
In her opening remarks, Smile Train Program Director for West and Central Africa, Mrs. Nkeiruka Obi, explained that the National Surgical, Obstetrics, Anaesthesia & Nursing Plan (NSOANP) programme "agrees with Smile Train's mission of empowering health practitioners to boost health coverage".
Mrs. Obi, who was ably represented by Smile Train's Program Manager for West Africa, Victoria Awazie, added that the organisation's intervention was also to ensure that the NSOANP programme is actualised.
"Smile Train has given life to the NSOANP Nigeria project. We have signed a MoU with the Federal Ministry of Health for implementation of the NSOANP. We also have a partnership on a cleft e-registry platform aimed at mapping out patients with clefts to enable them to have access to free and quality care.
"There is a need for us to equip our healthcare professionals with basic life-saving skills that meet the needs of under-served communities", she stressed.
Also speaking with THISDAY, Pediatric Surgeon, and Research Assistant at NSOANP, Dr. Justina Olajide added that part of the goals of the National Surgical Plans for Nigeria was to train people to be proficient in delivering Basic Life Support (BLS) and Advanced Life Support (ALS).
"BLS is not just for healthcare providers but also for the populace as well, so that anyone who develops a condition that needs the intervention will get it, whether in the hospital, church or home, or community. And we believe that this is going to lead to a lot of improved health matrix for the country, and that was what led to this training.
"To implement this, we needed sponsorship, and so we had to rely on development partners. Smile Train rose up as a development partner to help with the implementation of the surgical plan. And one of the entry points Smile Train is using is training people to deliver basic life support to the population in the country, and that is why this program is holding."
On the two days training, Mrs. Olajide described the feedback as fantastic. "Everybody learnt so much, acquired new skills, and we're encouraged to go back to their centres, encourage directors in their hospitals to set up similar training, using them as trainers. So we expect a step down of what they have learnt to be passed on to others".
One of the trainers, also an Anesthesiologist from Ghana, Anastasia Ohene, while speaking with THISDAY said the essence of the training was to empower as many healthcare workers to be able to provide first aid or BLS and ALS.
According to her, "you never know when someone can collapse or have a cardiac arrest, and we want as many healthcare workers as possible to be ready to provide the necessary help needed by such a patient.
"We know that the more people train in BLS, the more confident they are to give the support. Sometimes, when cardiac arrest happens, there are people who are trained, but because they are not confident, or sure, they are reluctant to act. But the more they are trained, the more confident they become, and likely to always help when the need arises.
"The healthcare workers are also part of the general population. They can go further to teach more people on these skills, whether in schools, banks, market places etc. So that many Nigerians are skilled up in BLS and are confident to help whenever the need arises."
Speaking about her experience after the training, a Pediatrician, from the Federal Medical Centre, Abeokuta, Dr. Dedeke Olabisi showered praises on the organisers who afforded her an opportunity to have a formal training in BLS for the first time in her career.
"It's very important for us to have training and retraining. We know that people have cardiac arrest almost every few seconds.
So it's very important for me as a trainer myself, and also a trainee, so that I can up my skills in resuscitation and ensure that if anybody around me has cardiac arrest, the person survives it.
"So, for me, it's highly impactful training. The people seated here are from different hospitals, it's expected that upon leaving this place, plans would be made in their various hospitals on how they can further train other staff of the hospital just as they have been trained."
Speaking on some causes of cardiac arrest, she said "there are so many reasons why people would have cardiac arrest. They may have infection, or may have been in shock, or react to things or choke as they are eating etc. As simple as throwing groundnuts into the mouth can make anybody choke, just like talking while eating, we just need to be careful.
"People even choke on their saliva and are gone. Little things such as talking while eating or chewing gum, can just cause cardiac arrest, we just need to be very careful, live a healthy lifestyle, and preach preventive measures in our home," she noted.
Also speaking with THISDAY, Consultant Anesthetist, at the Federal Medical Center, Owo, Dr. Akinwonmi Olugbenga described the training as awesome.
"I have learnt quite a lot, in terms of the new equipment and changes in the CPR, basic life support, and even the practical session. The training has provided us with an opportunity to perfect our skills and also opportunities to be corrected in a few places we had lapses.
"And this would translate to gains when we get back to our field at our various workplaces, and we will give back to our patients and train more people on these new techniques.
"I really want to thank Smile Train and NSOANP for making it possible for us to have this kind of program. It is a well thought program that is going to have a positive impact on the larger population of Nigeria," she added.