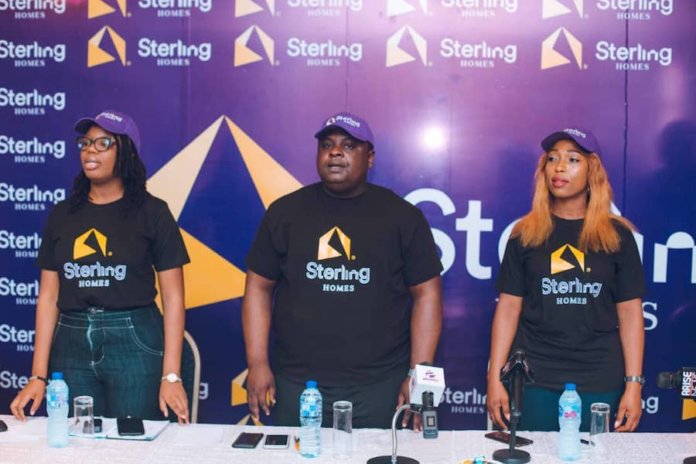 B Bennett Oghifo
A seasoned real estate development firm, Sterling Homes Limited intends to engage in public-private-partnerships/partner government, as it executes a unique plan to build many homes in all six geo-political zones of the country.
This is a bold new strategy that has evolved from Sterling Homes' near 11 years foray in the housing industry, said the company's Chief Executive Officer Dr. Kunle Adeyemi, as he unveiled their next value-added move and a befitting new brand identity at a media event in Lagos, recently.
Adeyemi said he is not unmindful of the huge task ahead, particularly with documentation from government, but that his desire ultimately is to help reduce the housing gap, which is put conservatively at 20 million and growing.
He said the company intends to work fast at constructing the buildings but would definitely retain its knack for excellence and flexible payment structure.
Adeyemi said Sterling Homes focuses on "a unique structured installment payment plan for all our projects some at zero interest because, I keep mentioning, beyond the business we are out to add value."
The first set of the rapid home development began at the weekend with a groundbreaking ceremony for 50 housing units, according to Adeyemi. "It is going to take us about just 90 days to deliver that project. One thing about Sterling in this new dispensation is speedy delivery and touch of excellence in everything we do."
He said after the 50 housing units, "we will go over to another project that is going to accommodate over 100 people at Ogudu. So, our target audience will cut across the middle-class and, of course, the apex of the pyramid and this is what we are passionate about."
To enable them realise their new vision, he said the company has gone into a new phase that would be driven by the new logo and a new brand, and the beginning of their spread to other cities in the country. "At the moment, we have our head office in Lagos, but before the end of the year we will be in Port Harcourt and, of course, actively playing in Abuja.
Adeyemi, who is the General Secretary of the Real Estate Developers Association (REDAN), South-west Zone, said "We want to ensure we partner with the government to reduce the housing deficit we presently have in Nigeria."
He said, "We support 100% the government's idea of housing delivery. I mentioned earlier that we want to partner and ensure we reduce the housing deficit, so part of what we are embracing in this new dispensation is PPP, we are going to be doing a whole lot of stuff with the government. So, we are embracing Public Private Partnership and that is why we are extending our tentacles to the six geo-political zones that exist in Nigeria at the moment."
He said the company has a long-term goal. "Now, we have what we call Pocket Piece Initiative. We have the primary area, the developed area, the developing area, and the under-developed. Our target in this new dispensation will be targeted towards the developed and prime areas. So, our Pocket Piece Initiative is designed to build within a developed area. Taking Lagos as an example, we are targeting prime areas and some developed areas like G.R.A Ikeja, like Ogudu, like Surulere, like Yaba and some other prime areas."
He said before the end of this year they intend to build another 150 units somewhere around the south-south region. "At the moment it's speculated, south-south is Port Harcourt, so we are putting off that. I mean, not until we have a clear understanding about the security challenge presented, so that's the reason we didn't even jumpstart the project. The necessary preliminaries are already in place for us to start, but because of the present prevailing security challenge we are putting a hold on that until we get the clarity and that will be in no time."
He also said, "We are going to produce nothing less than 500 housing unit for Nigeria next year, and that's patent one from Sterling Homes and the one we are going to be partnering with the government is limitless as long as the government gives us the room and an enabling environment to arrange to do so much under them."