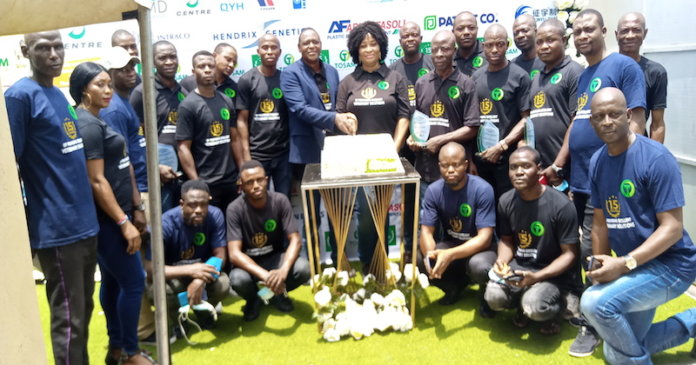 Rebecca Ejifoma writes that as TOSAM Integrated Services Ltd, a veterinary solutions provider, recently marked its 15th anniversary, it provided an avenue to reward some staff members who had exhibited diligence over the years
To mark its 15 years of remarkable, unflinching operations and generous contributions to the nation's economy, TOSAM Integrated Services Ltd, a veterinary solutions provider, recently held a celebratory party at its Lagos office.
Acknowledging its human resource as one of the sources behind the company's many successes, the 20 staff members of its 185 workforce, including both skilled and the unskilled, across the country, were specially celebrated at the party.
Among its long list of staff, the firm appreciated and recognised six persons for their dedication and services from the last 15 to 10 years.
At the mini party at its Lagos office at Oko Oba area, TOSAM Managing Director and Founder, Mr. Samuel Iyelolu, echoed the farm's drive to be a household name in Nigeria and beyond by capturing the West African market.
From providing veterinary drugs, to products and advice to owners of companion animals and livestock, part of TOSAM Integrated Services include pharmaceuticals, veterinary, biosecurity products, concentrates, vaccines, feed additives, and poultry equipment.
Others include day old chicks, turkey poults, table egg, hatchery services, point of lay, and consultancy services.
Fifteen years down the line after its establishment, TOSAM prides itself as a solutions provider satisfying other veterinary firms, spurring and nurturing the spirit of entrepreneurship for many across the nation among others.
To fulfil its roaster, TOSAM currently has distributors all over Nigeria. "Because apart from being into poultry farming, we are also one of the major distributors of veterinary products in Nigeria today.
"We are all over Nigeria, not only South-west we have our distributors across the six geo political zone in all the states," Iyelolu disclosed.
Expressing optimism based on its track record, the MD posited that in five to 10 years, TOSAM is set to become a household name.
"We are going into frozen chicken; we want everybody in his household to be eating chicken from TOSAM", envisaging that "In the next 10 years we want to see ourselves in West African region too".
With degrees in Animal Science, Agriculture and a Masters Degree in Economics, Iyelolu's firm is bent on being ahead of the pack in the veterinary industry in the country and West Africa.
While six staff was recognised with plaques and cheque at the celebratory party, they could not help but echo the name of the Executive Director and wife of the MD, Mrs. Toyin Iyelolu. For the workers, she gave that perfect touch to the firm.
Toyin enthused: "We provide employment, and so many of our suppliers are feeding from us. We have people supplying us from even shavings and they are making lots of money from it.
"People are supplying us maize, yam other local ingredients and through it they are able to feed their family and put their children in school."
According to her, so many of their products are hot cake. "Sometimes we even run out of it; customers come on their own to request for our products because when they use our products they get results".
Expressing excitements at their strides, the ED enthused, "I'm very happy; it is essentially the grace of God. God is the our number one and major supporter, then also we have community products that sell themselves."
While urging upcoming entrepreneurs in the veterinary and agriculture industry to start from the very little they have, TOSAM applauded teeming customers who graced the occasion.