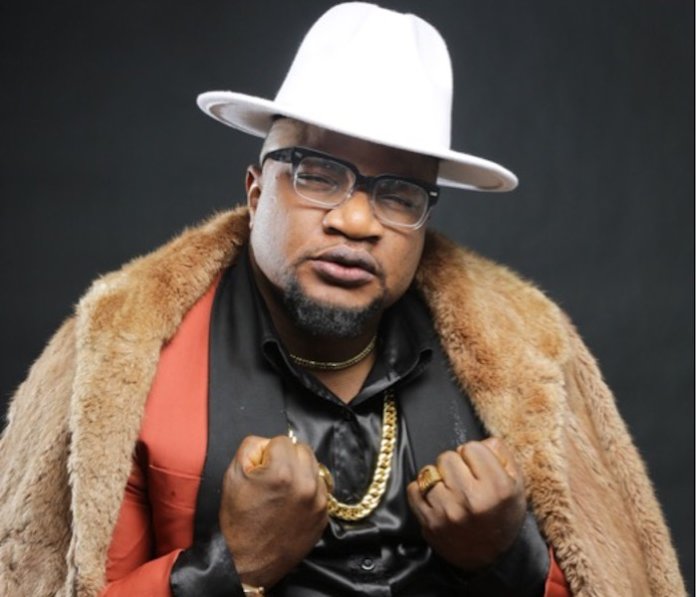 TOMOMEWO OLAKUNLE (ICE K)
Tomomewo Olakunle a.ka.Ice K and CEO of Artquake was part of the rave of the moment and conclave of artistes that rocked the Nigerian entertainment industry in the late 1990s to the mid-2000s alongside Tony Tetula. For Ice K, his creativity, ingenuity, and craft constantly stood him out among the crowd as one of his popular songs, 'Alanta,' is still fresh. Over the last decade, he has since taken a sabbatical from music to pursue other profitable interests. The Ilaje Ondo State-born music star tells Funke Olaode that music hasn't seen the last of him as he plans to release an album, 'Coat of Many Colours,' this April.
The United States former President Barack Obama's portrait in a warm handshake with him in the oval office at the White House stares you in the face as you enter his cosy and cute office. Plaques of several merit awards as the best of this and that are conspicuously displayed on a coffee brown cabinet. Cosy and neat, his mansion located somewhere in Ikeja is befitting a man who moved from zero to becoming a hero in the entertainment where he rocked for more than a decade. Meet Tomowemo Olakunle, aka Ice K, and the CEO of Artquake, the popular Nigerian artiste behind the famous 'Alanta.'
He has an intimidating presence that often points him out as a showbiz man. Not too tall and not too short with a huge stature that often laced with colourful dresses and shoes. He cannot be easily missed in a crowd. He loves life. He loves music and embraces what it takes to get noticed. "What you see is exactly a reflection of my personality. As an artiste, I might have to do a little bit of packaging, which is expected of me as an artist or an entertainer. My kind of person is simple, but it might not be simple when it comes to dressing. I am someone who dresses to kill, but I have never killed before. I dress to be noticed. That is how I would put it. I love dressing to be noticed, and I also would say that I am very approachable in my simplicity of attitude," he said while commenting on his appearances.
Ice K is one of the few talented artistes that revolutionaries the Nigerian music industry back then with his first album, 'Never Ending,' which was followed by 'You Must Dance' in 2003/2004, 'Abule Lawa,' 'Samagbadun,' and many more. But it was his hit song, 'Alanta,' that would later catapult him to prominence. Surprisingly, music wasn't his first love. He traces his musical talent to his undergraduate days at Kwara State Polytechnic, where he teamed up with friends of like minds to start making music. "I used to be in statistic class while I was in Kwara State Polytechnic. Coincidentally, I was in the same class with Tony Tetula. As time went by, the talent in me began to germinate, and it dawned on me that I wanted to start music professionally. I remember I used to do my own music on stage, and I used to gain a lot of attention. Then I met my partner, Adegbite Adeniran, aka ADX, who became a competitor on stage."
From being an amateur on stage, Ice K's self-discovery moment in the art emanated shortly after his National Diploma in 1996. That moment was also significant as what he once embraced as a pastime became his means of livelihood, which later threw him up on the global stage.
"It was during my Industrial Training that I began to work on my craft, trying to see how more I can get professional on music.
"In 1998, I resumed at The Polytechnic, Ibadan, for a Higher National Diploma. Again, two things were competing: There was school, and there was music, and then we were dragging it until the day we heard that Tony Tetula had joined a group called Remedies. It was a motivation and, at the same time, a challenge that we have been sleeping, that we needed to try and do something of our own. So in 1999, we got into a studio and did the first professional song that is our first recording 'Abulelawa,' which was popular in those years. That was how we came into the limelight, moving from N3,000 per show to big money," he narrated.
For Ice K and his group, acceptability comes with popularity.
He added, "We were thriving, the song was moving, and then we heard from Star FM that one Femi Davies was looking for us. There was no phone. There was no way to reach him. You have to get to these places before you get this information, and they said Corporate Pictures wanted to sign us. That was how we got our first record deal by Corporate Picture. And then we released our first album titled, 'Never Ending,' in 2001 or thereabout. And then later, we moved on to another record label called 'Little Fish.' It was at Little Fish that we did our song, 'You Must Dance.' We did another, 'Konko Jabele,' featuring Pasuma. I had a couple of tracks on the album, and we did a couple of videos, going for a couple of shows. Things were getting bigger, things were a lot better. And then in 2005 or 2006 the record label office got burnt and we lost a lot of materials that affected our career.
"After the record label got involved in the fire, the business became very tough. I was going to have my first travel to the United Kingdom in 2006. It was a family visit, but then it didn't augur well with the record label. Maybe they didn't like the idea. At that point, we began having some problems with the record label. By the time I travelled out and came back, we were out of the record label. So we started pushing ourselves. When we started with AQ Multi Media, that is the name of the company that we came up with. By then, we began to do film production, more like a music video. We did less of hip hop. We were doing more of standardising Fuji. We did Ijo fuji for Adewale Ayuba, also did Melo shoot video for Sir Shina Peters, then we also helped a couple of colleagues."
He narrated further, "In 2009, we came up with a song which still happens to be the biggest song we have done, which is 'Alanta.' When we came up with 'Alanta,' a lot of things changed, attention came, we made a lot of impacts, played a lot of shows both locally and internationally. I remembered then there was a time we had a show in Bolton, we were supposed to have another show in Manchester and another one in Sheffield. Unfortunately, there was another bigger show in Nigeria that made us cancel pounds. We were cancelling pounds for naira. It was an MTN show. We had to come back to Nigeria after the first Bolton show. There were so many shows then. Moving into 2010 was when I personally moved to the USA, because we had a show in the USA about then, and then I decided to move my family to the USA because I got married in 2010.
"It was a perfect time to have my wife move to the USA. I started my USA business in 2010. And then, my wife also began her studies at the university. That was how I started my own life and built my tentacles right there. And then came back to Nigeria, we continued Artquake, and then I was a bit distracted with business."
The United States became his business hub, and gradually Ice K drifted from music into other profitable ventures. He became a real estate mogul. "Well, the time I decided to slow down was timely. And then I started plugging into other businesses, and then I began to make headway. I found out that I had to diversify, and then some of those things were falling in line," he said.
His journey with his partners seems paved with gold until there was a discordant tune, and he had to part ways in 2017. After the ugly incident, he decided to go solo.
Speaking further, he noted, "A lot of things weren't working for me being in the group, so by 2017 towards the end, we announced the breakup of the group. That was how I started my journey in 2017. I released my first single in 2018. I have done a couple of singles. I am planning to release an album in March, April and this is the first solo album. I am working towards that. I have shut a couple of videos; some shot in New York. I have not released them yet. We recorded some songs that I have not released yet, but I have been releasing a couple of singles. I am working towards the album, titled, 'Coat of Many Colours, hoping to drop it soon."
But why did it take him almost two decades to be on his own?
"Let's say it solely because of how my personality is fashioned. I write songs while I was younger. Again, I don't like to do what I won't be able to defend. It has been like my model of life. I am a goal-getter. I am not the kind of person who somebody will tell something is no doable. I will want to retry it and make sure it becomes doable. I have wanted to try things myself. So I can tell that the fact that I have had that mentality that I don't have to depend on anybody."
Throwing more light on his personality, he stated, "I will tell you some of the things that brought me to where I am today is the level of integrity that I have had. I tell some people integrity and honesty sometimes are as good as cash in the pocket. Sometimes your upbringing, how you are shaped, how you have been tutored while you were younger will definitely shape your life. That is why the Yoruba will say outsiders will train the child that is not trained at home. Some of those things helped me while I was meeting people, and they found out that I had integrity. I am a man of my word. Some of those things make them want to do business with me. All the businesses I do is not something I picked up once. It is something I am picking up one at a time. For example, if you look at this camera, you see this last slide, a mini-estate I am putting up here. I have been in this estate for the past 11 years. I have not been able to achieve this until last year. So it is an ongoing process. Maybe when I move into this, I can diversify into this and that because I am someone who loves to test every water."
From statistics to business administration and later music and now real estate. You can easily conclude that his life has been on a roller coaster. "I made it in 2010. That was when I went to the US, and my breakthrough started. It has been a rollercoaster for me. It has been a growth that has been very evident and very, very conspicuous. It has been an obvious growth. Right from 2010, I can tell what I had, where I was, and tell what I have had even in terms of material acquisition. So it has been a gradual process, and it gets better every day."
Happily married to Adenike Mojisola, who coincidentally is the younger sister of Sola Eleyele, the popular artiste, who became a soothing balm shortly after a failed relationship. "I met her sometime in 2006 when I was breaking off from another relationship. I was then looking for somebody who will almost suit the previous relationship, but I was looking to see somebody I can teach differently from my horrors in the previous relationship. So that was what helped because the foundation in every relationship matters: either business, marital, or anything. We got married in 2010, that was when she moved to the US. She has been a fantastic mother, wife, and friend."
Ice K gives out some tips on life lessons; he's been there, done that.
"Never, never, look down on anybody because what you see today does not tell the story of tomorrow. That has always worked for me because I have met so many people while they are down, and then I eventually met them while they are up there. I don't like to underrate anybody because no man knows tomorrow."