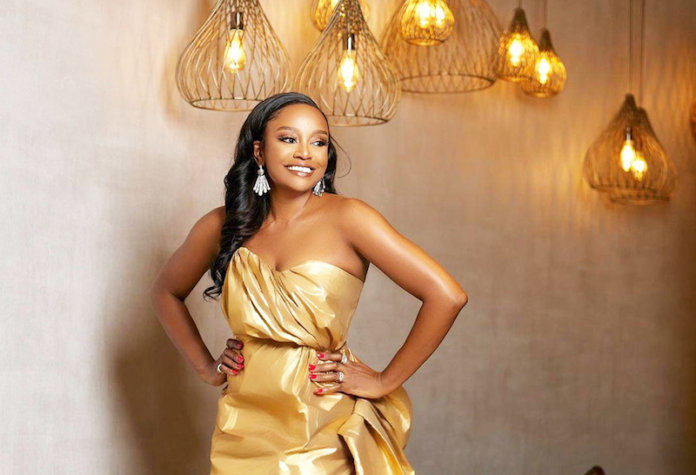 Homegirl, Michelle Dede in her birthday post reflects on her journey, writes Ferdinand Ekechukwu
1. Blessed to be alive and healthy in 2021! Thank you Lord." Pithy as these words appear, you sure can't miss its sincerity. Of note, it captures the mood of the bearer. More so being one driven by God's direction, passion for what she does and the fear of failure, perseverance and the desire to succeed. Not one acquiesced to inanity, but simple in her doings, it is not surprising coming from a leading star, Michelle Dede. For her, March 23 is her birthday. Aside celebrating, it's often a time to reflect on her journey, and inspire others, as the special day beckons.
"March is always a time of reflection for me," Michelle shared in a post hours preceding her birthday. "Like so many of us 2020 made me sit back, look within, possibly deeper than I was willing to look before and ask myself hard questions. "I'd thought I was on a journey of internal growth before, but 2020 was the real starting point. Self-growth isn't easy, especially when you come face to face with the negative aspects of your character, and the work involved with making changes. The work can be brutally painful, yet is undoubtably necessary and rewarding…"
She hopes the essence of her pep talk resonates with many who are still living in moments of self-doubt and its complexities. "Why am I sharing this? Because I truly hope this resonates with many. I want others to know that it's an initially frightening place and then a beautiful place to be in when you finally wake up to who you are. If you have moments of self-doubt, suffer from anxiety, face resistance from those who want to make you feel unworthy, or you struggle with the concept of just how phenomenal you are and can be…"
The backstory to her post is such that sets the path to where she is today. "Every March, since I left behind what was familiar and with that city, those whom I considered my safest space, as the 23rd approaches I think to myself: 'Flipping heck love you're still here, surviving Lagos. No one thought you'd last this long, you didn't think you'd last more than a few years.'!"
A multilinguist TV host, actor, event MC, voice-over artiste and brand ambassador, Michelle had left New York in 2006 on a visit to Nigeria. That move changed everything and consequently positioned her into the entertainment scene.
"It's definitely been an eye opening journey!" Michelle reveals in a recent interview. "I started in 2006, then stopped and didn't do anything in entertainment again till 2009 as I had doubts… I had doubts that it was a fluke, doubts that I couldn't make a career of it because I didn't intentionally go into the industry knowing what I wanted. I spent two years back in the UK trying to figure out if I was happy in marketing and realised I was happier talking into a microphone." Same year, alongside Olisa Adibua, she co-hosted the debut edition of Big Brother Nigeria, a Nigerian television series based on the Big Brother series.
"Oddly enough, the entertainment industry wasn't where I wanted to be, for years I dreamt of being an athlete first, then a diplomat like my father, later in my mid to late teens, I fell in love with fashion. I lived and breathed fashion and always said at the time that Vogue was like my bible. After some convincing, my father allowed me to study fashion design and marketing in University as my dream was to become a renowned Nigerian designer. A holiday in Nigeria in 2006 is what changed everything and led me into the world of television in front of the camera.
"A chance meeting with Dele Fadahunsi and Adebola Williams in Lagos, while they were producing the TV show Nigeria International, and a series of events led me to an audition for Big Brother Nigeria. I went for the audition and in my excitement and inexperience was shouting into the mic, bouncing up and down as I am naturally hyperactive. Lol! After a second audition I got the job as co-host, to my sheer amazement given my lack of experience. It was and still is the best experience I've had as a TV Host."
In 2012, she co-produced the 2013 film Flower Girl because she had wanted to understand the production process and learn about what happened behind the camera. Before she went on to star as Tari Gambadia in the film Desperate Housewives Africa. In 2017, Dede starred in the Nigerian drama thriller film What Lies Within with Paul Utomi, Kiki Omeili and Tope Tedela. In 2018 she starred in Moms at War. Also in 2018 she starred in Up North. She has also featured in a good number of movies and television series. Her latest movie The Therapist where she played in the lead role alongside her friend, Rita Dominic opened yesterday.
"I started acting in 2014, because I wasn't getting the type of TV hosting jobs I wanted. I was constantly being told by directors I met that I should act and when my friend the actress Thelma Ojiji kept pushing me to audition for "Desperate Housewives Africa", I did so. I didn't think they'd hire a TV Host to play a lead role, but I went anyway. Thankfully they didn't feel the same way and I was cast to play a lead character Tari Gambadia who in the original Disney/ ABC series Desperate Housewives is known as Susan Meyer. Because TV hosting and acting are two very different things, I find it easy to juggle both as long as my schedules permit."