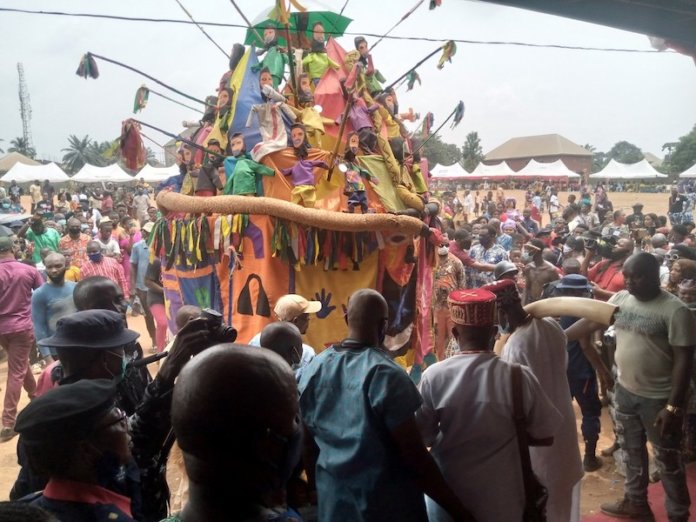 Ito Ogbo is a colourful festival of Obosi people of Idemili North Local Government Area of Anambra State, which particularly targets the celebration of octogenarians while they are still alive, David-Chyddy Eleke reports
On Saturday, March 6, the entire Obosi kingdom came alive, as the community celebrated its aged people in a colourful celebration, which has lasted over 600 years, known as Ito Ogbo. The festival is a triennial event, in which people in the community who turn 80 years are celebrated; first at the village square, then each retire to their individual compounds to make merry with friends and family.
It is usually a great event for the people of the kingdom, and indigenes of the community from far and wide usually attend, to celebrate with the next set of octogenarians, and also to feel an air of conviviality which is usually very visible in the community. For the celebrants, their celebration of Ito Ogbo is no mean business, as even though they are old and retired, their children, grandchildren friends and well-wishers spare nothing at all to ensure that the celebration is made a grand one for the celebrant.
Participating in the Ito Ogbo festival as a celebrant is not an individual thing. Age groups, which are usually inaugurated by the monarch of the community during their youthful age, which is an age bracket of within three years all grow together, while some may die before the age of 80, those who are lucky to be alive to participate as celebrants of the festival are deemed to have fulfilled all their life's goals and are thus celebrated by the entire community.
As this reporter drove into Obosi Kingdom from Onitsha, it was very obvious that there was celebration in the air. First was that the roads were busy with vehicular traffic, while masquerades were seen on all sides of the roads, dancing either to Ogene music or other instruments, all being played by various age grades that were moving to the town square for the 2021 Ito Ogbo festival. Natives were also seen milling around, including youths and children, all gaily dressed, and radiating smiles and happiness. It is indeed very clear that the day was not the same as every other day in Obosi kingdom.
From one point to another, one would notice canopies, public address systems blasting music, while chairs and tables were all empty. These places are compounds of people whose patriarchs and matriarchs newly attained the age of 80 and were participating in the Ito Ogbo festival. One may wonder why the seats are empty, but truth is that the celebrant, all his children, grandchildren, relatives, friends and well wishers have all moved to the town square where the monarch blesses them in the presence of everyone, before they retire to their individual compounds to cap the celebration.
On the day before the Ito Ogbo festival, the monarch of the community, Igwe Chidubem Iweka had received theinister of Information, Culture and Tourism, Alhaji Lai Mohammed in his palace. Iweka while addressing the minister on the significance of the festival said, "Ito Ogbo is a unique celebration of longevity, which is original to Obosi people. It was instituted by our forbearers and has been here for over 600 years.
"It marks the celebration of the respect that should be given to the elderly. Retirement age in the public service is 60, but most people feel that at that age, a man still has a lot to offer. Here, our Ito Ogbo is almost like retirement, and one must be up to 80 years to participate in it. In this festival, we get the opportunity to celebrate aged people. We do this because we know that they feel neglected at such age, and most times, at such age, people are already abandoned. But with this celebration, we are able to make them feel like part of us again, and we also get the opportunity to celebrate them while they are alive.
He decried the scenario where old people are abandoned, only to be celebrated upon their death. He said the culture gives the people to celebrate their parents while alive and give them the opportunity to be loved and seen as very important again. He said the essence of bringing federal presence to this year's celebration was to ensure that the festival and its uniqueness was brought to the consciousness of the federal government, with an appeal for them to make it a national festival
He said, "Ito Ogbo is unique and it is a time honoured celebration. It shows the kind of wisdom our forbearers had. We have been trying get the federal government to come and see what we are doing here. This is the first time we are having federal presence in the festival."
"We are appealing to the federal government to make Ito Ogbo a national cultural festival, and to be emulated by others. It will go a long way to show respect for the aged and also celebrate them. Some go hungry, some don't get their retirement benefits, others are thought to have been spent forces, so they are abandoned. It will go a long way to establish the importance of old age, especially among our youths," Iweka appealed.
Dr. Mrs Ifeoma Anyanwutaku, the permanent secretary, ministry of Information, culture and tourism who represented Alhaji Lai Mohammed said she was already thrilled with the colourful performances of the various cultural groups, in the reception put together to welcome her. She assured that she would be around the next day to witness the real event. True to her words, Anyanwutaku was at the village square on Saturday to watch colourful performances by various masquerade groups and also witness the admission of the Igwebuike age grade to the Ito Ogbo.
In her remark, she said, "It's a good celebration and we are here to witness it. We believe that our coming is a step towards making this festival not just a national event but an international one which even the whites will be happy to attend and watch. We will take the event, interviews and videos and package it to Abuja and we hope that it would yield positive result."
The traditional Ruler of the kingdom, Iweka in an interview with THISDAY expressed his happiness over the idea by the ancestors of Obosi for creating the Ito Ogbo Obosi festival. He said, "I thank our ancestors for urging us to remember and venerate our old people. Old age is sacred. So, we do not want this custom to go into extinction. I debunk the misconception that people's enrollment into age grade is pagan practice. Ito Ogbo is based on the age grade system, and you grow with your peers to the age of Ito Ogbo.
"There is nothing fetish or diabolical about Ito Ogbo Festival. If it is fetish, Anglican priests and other priests will not be here to felicitate with celebrators. Only those who belong to an age grade and participated in the Ito Ogbo are eligible to wear red caps and bear the title of Ogbueshi or Nwanyi Nokwudo eshi.
President-General of Obosi Development Union (ODU), Mr Ikechukwu Okolo, and the chairman of the planning committee of the Ito ogbo 2021, Mr Chinedu Nwogem described the event as epochal. Okolo said the festival was an ancient famous carnival that originated in Obosi. He said that it was a grand ancient festival that celebrated longevity and inspired the youths to live healthily so as to reach the age of 80 and qualify to be celebrated. Nwogem on his part said he was elated that this year's festival was special because the visiting federal government delegation promised to make the festival a UNESCO recognised event.
High point of the event was the celebration of different colourful masquerades on the square, with the Ijele and Izaga winning the attention of many. Madam Agnes Eze, a septuagenarian who spoke to THISDAY said, "I am looking forward to my own Ito Ogbo some years from now. This is a festival that I relished many decades ago, and from the time I was a child to this day, I always looked forward to it.
"If it was when I was young, we already knew the homes of the people who celebrated Ito Ogbo today, and we would move from one person's home to the other eating, but now, we are old, so, I will manage to go to just one place today, before going back home. This is the day we used to say that food is wasting in every home in Obosi, but as age has set in, we may not be able to go everywhere that we wish to go."