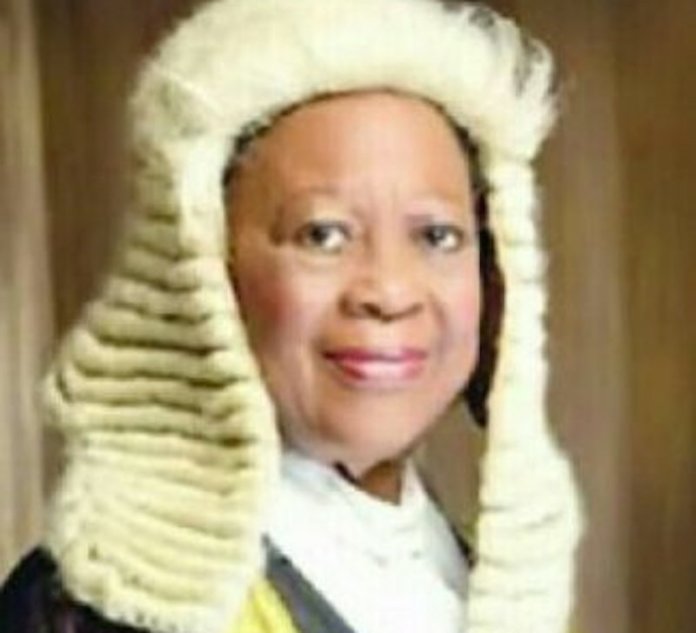 Yesterday, March 8, 2021 was International Women's Day, and in celebration, THISDAY LAWYER recognises some Nigerian female Lawyers who have left their marks in the sands of time, through solid personal professional achievements
Chief Olufolake Solanke, SAN: First Female Senior Advocate of Nigeria
A Teacher and a Lawyer, Chief Folake Solanke OON, CON, SAN was born on March 29th, 1932 in Abeokuta. She attended Ago Oko Primary School, Abeokuta from 1937-1939, Emo Girls School, Abeokuta from 1940-1944 and Methodist Girls High School, Yaba Lagos, from 1945-1949, where she consistently took the first prize in English and Mathematics.
With a privileged background, born to the prominent J.S. Odulate (founder of Alabukun Medicine), she travelled to England.
In 1951, she entered the King's College in the University of Durham, now the University of Newscastle in England where she obtained her BA (2nd Division) in Latin and Mathematics in 1954. In 1955, she received a Diploma Certificate in Education. She taught Latin and Mathematics at Pipers Corner School, High Wycombe, Buckinghamshire between 1957 and 1958, and in 1960, Chief Solanke gained admission into Gray's Inn, London to read for a degree in law. She was called to the English Bar in 1962.
On her return to Nigeria in 1962, Chief Folake Solanke joined the chambers of M.A. Odesanya, who later became Honourable Justice Odesanya, in Lagos from August 1962 – May 1963 from which she moved to the chambers of Chief FRA Williams in Ibadan as Junior counsel in 1963.
She married the late Emeritus Professor Toriola Solanke, and they are blessed with three children: Dr (Mrs) Oluyemi Koya who is both a Medical Doctor and a Lawyer, Engr. B.A Solanke and Miss Busola Solanke, a Mathematician.
In 1972, Chief Solanke was appointed Commissioner, Western State of Nigeria; as well as Chairman, Western Nigeria Television Broadcasting Corporation (WNTBC).
Among her numerous awards is the National Honour of the Commander of the Order of Niger and many honorary doctorate degrees from various Universities across Nigeria, for her contribution to learning.
Chief Solanke has the rare privilege of being the first female Lawyer to be conferred with the highly coveted and prestigious rank of Senior Advocate of Nigeria (SAN) 40 years ago, on March 5th, 1981. Chief Solanke's autobiography, Reaching for the Stars, was published in 2007. The book described her as a "Lady of many firsts", and how she rose to prominence in the legal profession. In 2012, Solanke received the International Bar Association's Outstanding International Woman Lawyer Award at the Association's 5th World Women Lawyers' Conference held in London, in recognition of her professional excellence and immense contribution to the advancement of women within the legal profession. Also in 2012, Solanke released her second book, A Compendium of Selected Lectures and Papers, Volume 1.
She is the first African to be named 42nd President of Zonta International.
Aloma Mariam Mukhtar, CJN (Rtd): First Female Chief Justice of Nigeria
Honourable Justice Mariam Aloma Mukhtar GCON was born on November 20th, 1944 in Lagos, but spent most of her growing years in Kano and Zaria.
It was a major milestone in the Nigeria's Judicial history, when she became the first female Chief Justice of Nigeria from July 2012 to November 2014.
Justice Mukhtar was called to the English Bar in November, 1966, and to the Nigerian Bar in 1967.
Justice Mukhtar is from Adamawa State. She attended Saint. George's Primary School, Zaria, St. Bartholomew's School, Wusasa, Zaria, Rossholme School for Girls, East Brent, Somerset, England, Reading Technical College, Reading, Berkshire, England, and Gibson and Weldon College of Law, England, before being called to the English Bar in absentia in November, 1966.
In her career, Mukhtar has been many firsts. She is the first female Lawyer from Northern Nigeria, first female Judge of the High Court in Kano State Judiciary, the first female Justice of the Court of Appeal of Nigeria, and the first female Justice of the Supreme Court of Nigeria.
Dame Priscilla Olabori Kuye: First Female President of the Nigerian Bar Association
Dame Priscilla Olabori Kuye, born August 18th, 1940. She is a seasoned Advocate and the first and only female President of the Nigerian Bar Association (1992).
She served the NBA as National Financial Secretary, 3rd Vice, 2nd Vice and 1st Vice President, before becoming the first and only female President of the Nigerian Bar Association. She was a Trustee for the Association from 2004 to 2019. She was knighted by Pope John Paul II in 1981. Dame Kuye was also a former Vice President of the Nigerian-American Chamber of Commerce, and subsequently, became the President of Nigerian-American Chamber of Commerce, and the first regional Vice President of the International Federation of Women Lawyers for Africa in Nigeria between 1979 and 1981. She is a life member of the Body of Benchers, and was the Chairman, Human Rights Committee of the NBA. In 1993, she was elected Vice President of the Commonwealth Lawyers Association. She established Priscilla O. Kuye and Company, her law firm in 1970. She was offered a seat at the Court of Appeal in 1992, but she rejected the offer.
Mrs Hairat Aderinsola Balogun: First Female Attorney-General of Lagos State
Mrs Hairat Aderinsola Balogun has the singular honour of being the First Female Attorney-General and Commissioner for Justice, Lagos State and the first Female Life Bencher and Chairman Body of Benchers. She was also the first female General Secretary of the Nigerian Bar Association, 1982 – 84.
First Female Member of the Council of the International Bar Association. As the first lady Attorney-General of the foremost Nigerian State, Lagos State, during the military regime, she exhibited for the first time, obedience of the executive arm of government to court orders in the celebrated case of OJUKWU v ATTORNEY GENERAL OF LAGOS STATE AND OTHERS 1986 3 N.W.L.R. (PART 26) 39 COURT OF APPEAL. She thereby laid the foundation of the precedence of putting a stop to the disobedience of court orders by the Military Government, dubbed as Executive Lawlessness.
Boma Ayomide Alabi, SAN: First Female President of Commonwealth Lawyers Association
Boma Alabi OON, SAN is a founding Partner of Sterling Partnership, Nigeria. She was the former President of the Commonwealth Lawyers Association (2011-2013), the first woman, first African and non-Caucasian President, in the history of the Association.
Boma Alabi is from Imo State, Nigeria. She had her Secondary School education at Federal Government Girls' College, Abuloma, Rivers State. She attended the Rivers State University of Science and Technology for her LLB, and King's College, London for her LLM.
She was elevated to the rank of Senior Advocate of Nigeria in December, 2020.