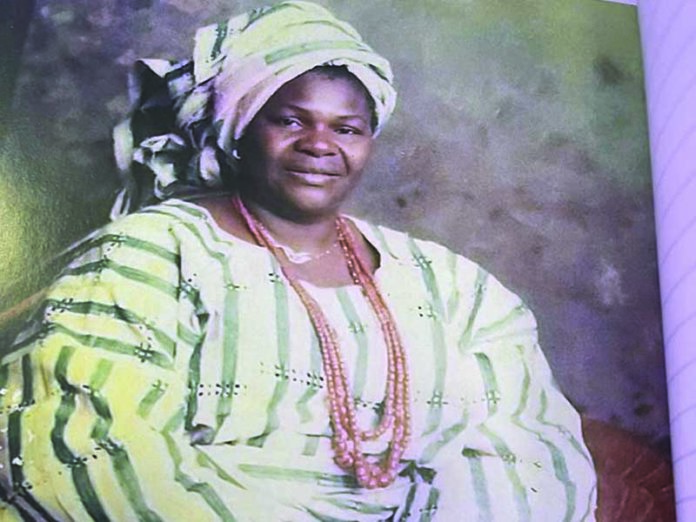 TRIBUTE TO ADENUGA
Even in death, she cuts a perfect portrait of loveliness and humanity at its finest. Few people get to transit from being utterly indispensable to "eternally unforgettable." A real mother does. If she is a mother to treasure, she can never be replaced. This truth, amongst so many others, manifested in how Madam Afolasade Margaret Akande was buried last Friday at the prestigious Vaults and Gardens, Ikoyi, Lagos. Like a renaissance artist intoxicated by the muse, Mama's children chose to paint beautiful and everlasting pictures in her memory. The beauty is in the detail, writes Lanre Alfred
What a Day to Go
Unlike her peers, she did not evaporate without an eyewitness. She did not groan in dying, twisting the sweaty sheet around her chest. She did not gasp for breath feeling as if her senses drowned while she thrashed alone in the dark. Nobody has such terrible memories of Chief Folasade Akande.
When her time was up, she departed the world, leaving priceless memories of her behind for her loved ones. What a day to go! Yes, on January 27, her 80th birthday. Alas, she passed away early hours of that day when goodwill and congratulatory messages were coming in from family and friends.
Effortlessly, Mama Akande evolved as a worthy inspiration to generations of family and friends alike, emitting a rare shine that imbues the day with light and hangs upon the cheek of night like luminous beams of lighthouses.
The second of the five children of Pa Michael Agbolade Adenuga Sr. and his wife, Juliana Oyindamola, both of blessed memory, her siblings include the late Mrs. E.O. Osunsade popularly called Aunty Olu; Otunba Demola Adenuga, the Bajulaiye of Ijebuland and accomplished businessman; Otunba Yetunde Adegbola and Dr. Mike Adenuga, the multibillionaire Chairman of Globacom and Apesin of Ijebuland, the last born and the most famous of the Adenuga children.
Indeed, if not for covid-19, her multibillionaire younger brother would have shut down a whole city anywhere in the world and celebrate the illustrious life of their beloved sister, who they had variously described as a pillar of trust, hope, compassion and support to everyone around her. Friends of the Adenugas say Mama never shied from giving them crucial and beneficial moral support in the most trying and pleasant moments; that she was undoubtedly their guiding light through the wilderness of life and their interminable gust of calming wind on life's stormy seas.
Fondly called Mummy Ikoyi, among other terms of endearments for which she is known, Mrs Akande's eight decades spell on earth was highly eventful, lively and full of impact. There is hardly anyone who knew her who did not have a name for her. She was that full of life and action, getting involved in almost everything she came across in the most positive of ways. Little wonder her siblings, nieces and nephews nicknamed her 'the professional letter writer.'
Mama Akande was always known to express herself in writing whenever she felt offended or slighted. She exhibited such prowess much better in her various complaint letters to the Nigeria Telecommunications Limited (NITEL) of yore whenever her telephone lines malfunctioned. She had no time to engage in verbal exchange. She was highly cultured.
As the child of doting parents, Mama Akande, just like the other of her siblings, was not spared of the good things of life, including education. She not only attended the best of schools of her time but was encouraged with the best life can offer to pursue her dreams. Consequently, she qualified as a Chartered Secretary from the Institute of Chartered Secretaries, United Kingdom.
On her return to Nigeria, she was engaged by the defunct National Electric Power Authority (NEPA). But like her industrious mother, she soon delved into the trading business, where she excelled. Her industrious nature propelled her to become a major wholesale distributor for Nigerian Breweries Limited and Guinness Nigeria Limited, where ingenuity and classy entrepreneurship shot her to the top.
She had a catalogue of fond names given to her as occasion demands. To her cousin, The Awujale of Ijebuland, Oba Sikiru Adetona, she was 'Sade Olowo Ketu' because her shop was located in Ketu, Lagos, from where she transacted business for many years.
To her children, she was Shady Girl or Mumskid, owing to her loving and fun-filled nature.
Bittersweet Memories of a Beloved Enchantress
At the ceremony that was at once sorrowful and uplifting, Madam Akande was remembered as a woman of unimpeachable nobility whose life of compassion and style transcended humanity's familiar and often pedestrian vanities.
A committed and active member in her church's affairs, her funeral service was put together by the Church of the Resurrection, Anglican communion, Victoria Island, Lagos, an event which was held on Friday. Internment followed immediately at Vaults and Gardens. At the funeral, the goodwill enjoyed by Adenugas and Akandes was brought to full display as many of his friends, family, and business associates trooped out to participate in the celebration of life Mama Afolasade.
As the ceremony progressed through the day, memories of the deceased and strains of the tender feelings they invoked in her family and friends unleashed a flood of tears.
A middle-aged man, obviously a recipient of one of the deceased's fabled kindness probably spoke for many when he said Madam Folasade was the first privileged woman he had seen to have got down on her haunches, looked them in the eye and treated them as equals.
No doubt, Mama's children were palpably shaken with grief, and they mourned, as did many in the church and others that came out to pay homage to the deceased.
This remarkable display of grief and support continually invoked questions about the true womanhood of Madam Afolasade. To many, she was a woman at ease with children and the elderly, able to bring immeasurable happiness into their lives but not capable of anything insidious and wily.
It is never easy to criticize someone of privilege, wealth, and position for helping the poor and disadvantaged. Thus. Madam Afolasade did a lot of good in her life, excited profuse tributes in her wake.
According to her family, the deceased often said all she wanted to do was bring a little bit of happiness into people's lives, be a source of hope to the hopeless especially, and that she achieved with remarkable humility and forthrightness.
Her humanity was real, and her compassion was infectious, making it possible for her to touch so many lives in different ways and different measures. This reality was fervently attested to by friends and family she left behind. Many revealed that they were touched by her presence while alive, that she touches their lives even in death.
Madam Afolasade died on her 80th birthday, left behind her husband, Philip Babasola Akande and four wonderful children. They are Jimi, Tunde, Yewande and Tosin. She was a dedicated Christian, wife, mother, and grandmother who lived a virtuous lifestyle until her death. Describing the deceased, one of her younger friends, Modupe, in an emotion-laden voice, extolled the virtues of her friend, claiming she was "a friend and life-fulfilling counsellor who had a wonderful life of passion, a life of selfless service to humanity. She was a mother of astounding qualities who relished greatness and prodded me to be great and do great things."
Friends and family admitted she was a perfect embodiment of human compassion and will to bring a little happiness into people's lives. Maybe as humans, this is the most important gift anyone can hope to deliver. Like very few people most respected world over, not those of realism, but Mahatma Gandhi, Mother Teresa, Archbishop Desmond Tutu, Nelson Mandela, Princess Diana – people of humanity, Madam Akande could be said to have strived in the interest of the underprivileged and downtrodden. There is no gainsaying she was the Queen of the Akande clan and a doting mother to her children, a title no monarch could claim. Madam Afolasade loved her children very deeply and was prepared to sacrifice her happiness for theirs.
A Life Cast in Gold
Her final ceremonial progression through Victoria Island and Ikoyi's streets raised treasurable memories of her life among family, friends, and even close neighbours. The recollections bespeak the misery of a watching world that fell in love with the beautiful daughter, wife, mother, and grandmother.
Despite the pain of remembering, no one wished to let go of the brilliant memories of Madam Akande. Hovering by her side as she was borne toward an enchanted future, the children rued the final departure of their mother, struggling in their grief to deal with the humbling reality that their sweet, chaste mother had finally set out alone into eternity.
In one sense, though, Madam Akande was not gone. The day before she was blessed and buried, her son made a rare, profoundly wrought surmise after days of puzzling grief that no one who knew his mother will ever forget her. He averred that many others who never met her, but felt they knew her, will remember her.
Echoes of a Befitting Funeral
Even her coffin captured this mixture of the traditional and the personal. It was draped with the royal standard; on top of that rested a spray of white lilies, Mama's favourite flower. And there was something else: a bouquet of white tulips from and a wreath of white roses. Madam Akande's cortege was joined along the way by the most important people in her life. They walked behind her coffin, and then so did representatives from each of the families and communities whose lives Mama had touched like no other human. The deceased would turn in her grave for the honour and unrivalled show of love that her beloved children attracted for her sake.
This was a day of remembrance, yes, and a day of grieving. The flood of despair that poured forth frequently resulted in a cascade of tears. The cleric, no doubt, delivered a remarkably personal and pointed tribute to Mama's memory. He noted that though it was not enough to canonize her memory, it was the least he could do to venerate a woman and mother who was passionately inured in her desire to do good for others.
Indeed, Madam Akande's life and meteoric streak across her community's consciousness enraptured people by its endearing qualities. No simple word or grand funeral ceremony can capture the essence of her extraordinary appeal. Her poise and beauty swayed men, but her hold on women was stronger still.
Madam Akande was a living embodiment of the best humanity could ever offer. She was a dedicated Christian, wife, mother, sister, grandmother. Yes, she was Dr. Mike Adenuga's sister.